Guillen family attends Fort Hood memorial, sees the room where Spc. Vanessa Guillen likely died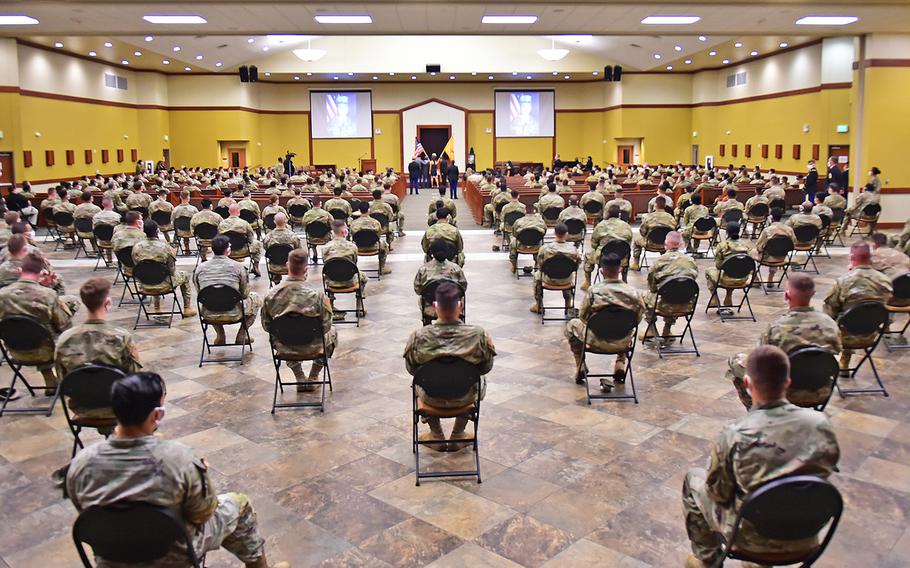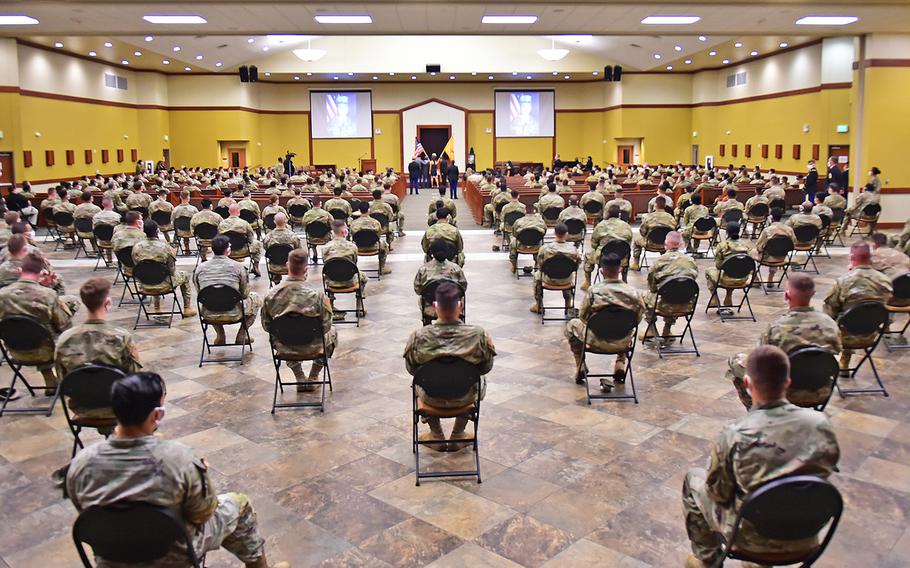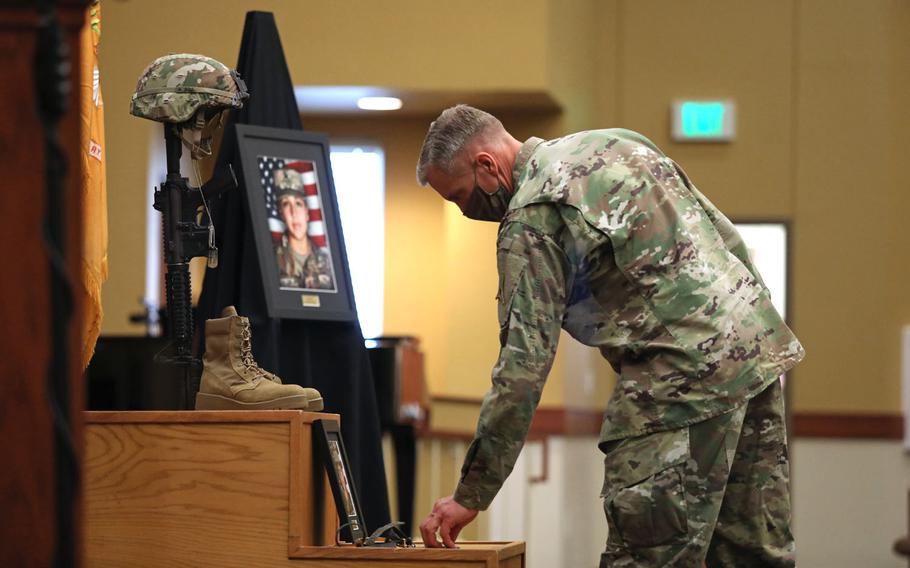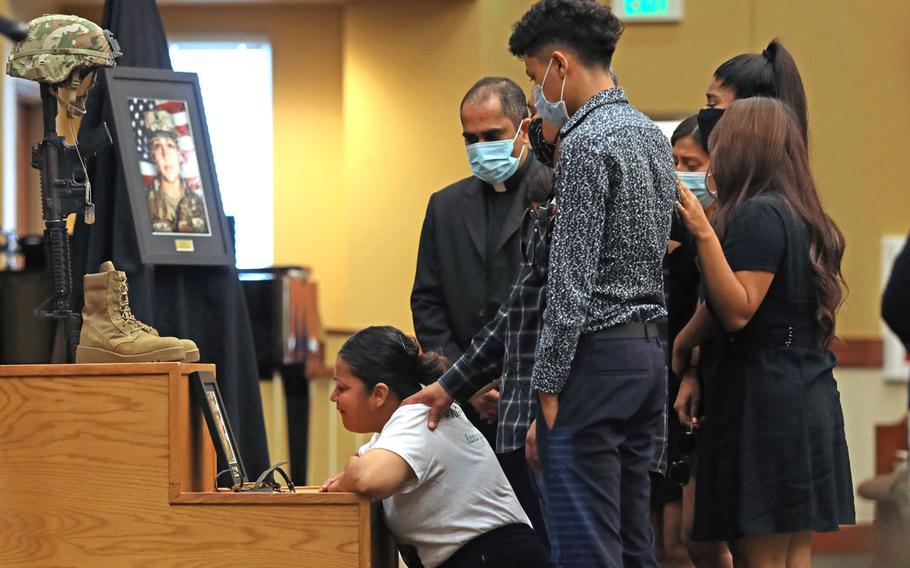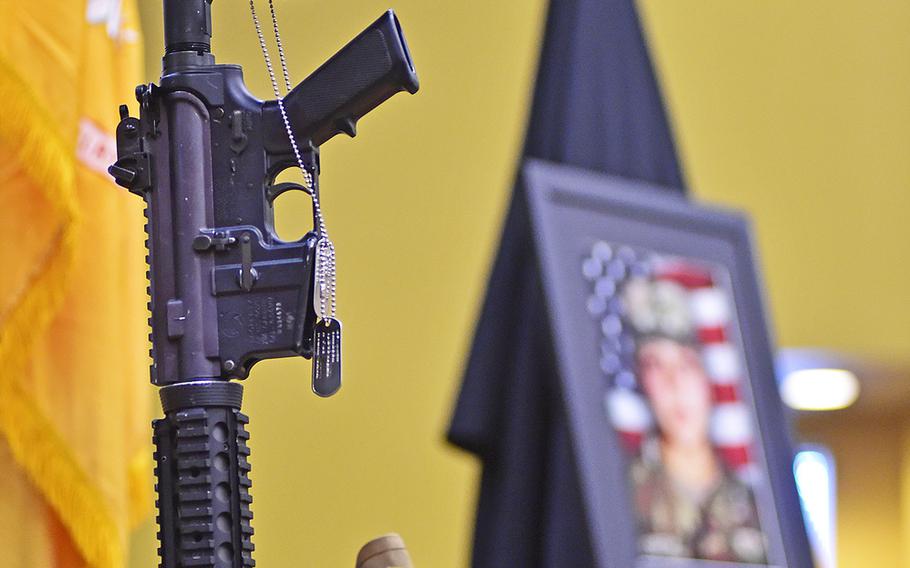 AUSTIN, Texas — Soldiers of the 3rd Cavalry Regiment held a memorial service Friday to honor the life of Spc. Vanessa Guillen, a small arms repairer for the regiment's engineer squadron who was killed by another soldier on April 22.
Guillen's family attended the closed service, as did Fort Hood commanders and Army Chief of Staff Gen. James McConville.
"This is difficult to discuss because the tragedy of her loss has forever changed our squadron and it has forever changed her family," Lt. Col. Edward Gavin, the engineer squadron commander, said during the ceremony, according to a base release. "We wrestle with feelings of anger, depression, anxiety, fear, frustration and sadness. And, we have so many questions, some of which may never be answered."
After the service, Natalie Khawam, the Guillen family attorney, addressed a crowd gathered outside of the base's east gate where a mural was painted with the soldier's image. A protest seeking justice for Guillen was scheduled at that location for later in the afternoon.
"We were all able to witness a very beautiful memorial for Vanessa over at Fort Hood, but it's not enough," Khawam said. "That special investigation? Not enough. We didn't mince our words when we said we want a congressional investigation. Do you understand? We want a congressional investigation."
Guillen, a 20-year-old Houston native, was reported missing in late April. She was last seen working in one of the regiment's arms room. More than two months later, her remains were found along the Leon River more than 20 miles from the base.
Spc. Aaron Robinson, 20, a fellow soldier in the squadron is believed to have killed Guillen with a hammer in an arms room, and then moved her body to site along the river using a large plastic box. When confronted June 30 by local law enforcement in Killeen, the city located outside of Fort Hood, Robinson shot himself in the head and died.
A civilian suspect, Cecily Aguilar, 22, was being held without bail on three federal charges related to helping Robinson, her boyfriend, mutilate and hide Guillen's body.
"My sister did not have to go to war, go to combat to die," said Lupe Guillen, the soldier's 16-year-old sister. "Someone killed her. She got murdered. The most gruesome, horrifying, disgusting way someone could take a human's life. My sister was taken away from me."
The family has called for a congressional investigation into what happened to Guillen and the subsequent investigation lead by the Army Criminal Investigation Command, which the family believes did not respond fast enough to find the soldier. The Army has said it is creating an independent review panel to review the climate and culture of Fort Hood.
"They all express their condolences. They all express their words," said Lupe Guillen. "But I said, 'Words are nothing. Actions speak louder than words.' If you want to take action, take action and demand a congressional investigation as well."
The family was also shown the arms room where the killing is believed to have occurred. The soldier's mother, Gloria Guillen, along with her priest who traveled from Houston, gave a blessing and prayed with a rosary in the room, Khawam said.
"He blessed the room with holy water," she said. "He blessed everyone going in and out of that room going further. Our soldiers do need to be protected and this is all about helping those from this point forward so that way no one's forgotten and no one's unsafe again."
Khawam said new evidence that she was provided by Army investigators shows that after Guillen entered the arms room with Robinson on April 22, he remained there for another 43 minutes before using his access code to lock the door at 11:13 a.m.
"It just doesn't pan out," she said. "We need to have that base opened up, turned inside out, flipped upside down, every nook and cranny turned around. We want to see what's going on. We want to know the truth. We demand the truth."
The Guillen family also made statements that the soldier faced sexual harassment on base but felt too afraid to report it. Base officials initially said there was no evidence to corroborate those allegations, but later backtracked. They've said the soldier did face some form of harassment, but it was not sexual in nature.
"My sister is one of the many thousands of girls being sexually harassed," Lupe Guillen said. "They signed a contract with the U.S. Army to serve the nation to protect its people. They did not sign to be someone's property. They did not sign to be seen as a sexual object."
On July 30, Khawam and the Guillen family plan to release the details of the #IAmVanessaGuillen bill, which will create an independent agency where service members could report instances of sexual assault and harassment. Under the existing sexual harassment and assault program, troops report allegations to other service members or their chain of command.
Lawmakers in support of the bill are also expected to attend the announcement in Washington, D.C., Khawam said. She also noted they have the support of President Donald Trump and plan to meet with him July 29 at the White House.
"We appreciate the president's support," the attorney said. "Congress is responsible for passing the bill and the president is responsible for signing this bill. That means everyone is involved. It's not going to be polarized. It's not going to be Democrat or Republican or independent. It's not going to do anything but serve the American people."
thayer.rose@stripes.com Twitter: @Rose_Lori