Guard troops in Louisiana, Texas begin operations after Hurricane Laura strikes
by
Corey Dickstein
August 26, 2020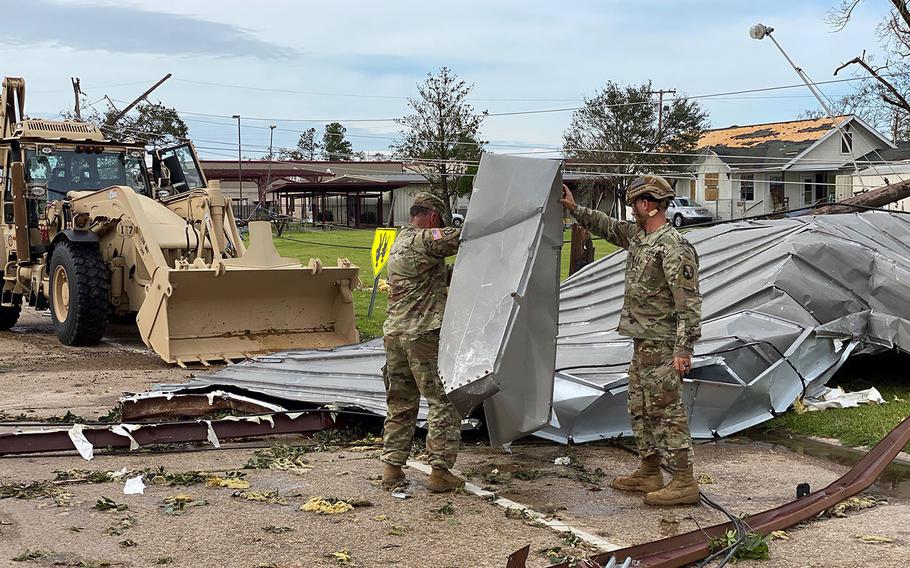 WASHINGTON — More than 6,400 National Guard troops in Texas and Louisiana responded in the hours after Hurricane Laura made landfall along the Gulf of Mexico coast as a dangerous Category 4 storm.
National Guard officials in Louisiana posted photos on social media of their troops conducting route-clearance operations Thursday morning as Laura moved northward. The storm struck early Thursday, making landfall with 150 mph winds near Cameron, La., about 30 miles east of the Texas border, the National Hurricane Center said, warning of continued "life-threatening" flooding throughout the region.
About 5,400 National Guard troops started response work in Louisiana on Thursday afternoon, National Guard officials said. About 1,000 were responding in Texas. Officials said more troops could respond in the coming days as the extent of flooding and damage is assessed.
The Guard troops activated included crews charged with conducting search-and-rescue missions, route clearance, damage assessment and supply delivery operations in the areas impacted by the storm. Louisiana Gov. John Bel Edwards said at least one person — a 14-year-old girl — had been killed by the storm as of Thursday morning.
The National Hurricane Center had warned Wednesday that Hurricane Laura had strengthened into an "extremely dangerous" Category 4 storm with winds exceeding 150 mph. The center issued a hurricane warning for the region stretching from Texas' San Luis Pass, just south of Galveston, to Intercoastal City in Louisiana, just south of Lafayette. The center also warned of the risk of "catastrophic" storm surge flooding, which it labeled "a life-threatening situation."
The storm was continuing to move north through Louisiana early Thursday afternoon, retaining tropical storm strength as it moved toward the state's border with Arkansas, according to the National Hurricane Center.
Army Col. Thomas Friloux, the director of the Louisiana National Guard's Joint Staff, said Wednesday that he expected at least 6,000 of the state's Guard troops to respond in the coming days. He said they were outfitted with 220 high-water vehicles, 19 helicopters and 65 boats.
In Texas, 1,000 Guard troops were activated to operate 20 aircraft — including helicopters and cargo aircraft, which began ferrying in supplies ahead of the storm — and 177 high-water vehicles, National Guard officials said.
The Coast Guard said Thursday morning that it had begun search-and-rescue operations via helicopter and boat.
Hurricane Laura struck about three years after Hurricane Harvey hit the same region of Texas and Louisiana in late August as a Category 4 storm that caused massive flooding, especially throughout Houston. That storm left the region with an estimated $125 billion in damage and killed more than 100 Americans. The entire Texas National Guard — 12,000 troops — was activated in response to that storm.
In addition to troops responding to Laura, Texas has about 2,000 troops on active duty to respond to the coronavirus pandemic. They could be quickly deployed to respond to the hurricane, if needed, officials said.
In Louisiana, the National Guard ceased its coronavirus response ahead of Hurricane Marco, which fizzled to less than tropical storm strength before making landfall near the Mississippi River's mouth late Monday, Friloux said. It had about 1,100 troops working that mission.
He said troops would return to the coronavirus mission as areas of the state hit by Laura were stabilized.
"As soon as any part of the state can go back to [coronavirus] testing, as well as food bank support or any kind of support we're doing for [coronavirus] response, those particular Guard soldiers and airmen will go back to that mission," Friloux said. "So, we will end up at some point having both [coronavirus] and Hurricane Laura response going on at the same time."
The pandemic also affects how the Guard can shelter victims displaced by the storm. In Louisiana — where authorities strongly urged coastal residents to retreat inland — evacuees without a place to go will be housed in hotels, Friloux said. Evacuees are often housed in crowded school gymnasiums or other makeshift shelters holding hundreds of people in a small area where social distancing would not be possible.
Friloux said Wednesday that the Louisiana Guard anticipated the first impacts of Hurricane Laura to impact the coast in the evening. He said his troops had evacuated 106 people by Wednesday afternoon and were prepared with 921,000 liters of water and 528,000 pre-packaged meals to distribute after the storm.
"Our Guardsmen are well prepared and trained to respond to these emergencies when called upon," Friloux said. "Luckily, we were already responding to [the coronavirus], then we had to respond to Hurricane Marco."
dickstein.corey@stripes.com Twitter: @CDicksteinDC