Green Beret killed in Afghanistan last week was veteran of seven deployments
by
Corey Dickstein
August 27, 2019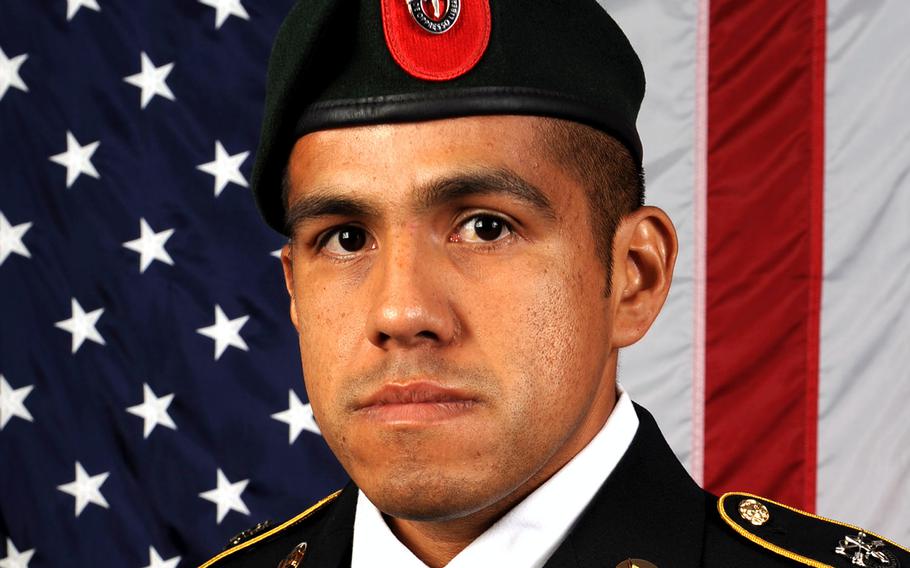 WASHINGTON — Army Master Sgt. Jose J. Gonzalez, one of two Green Berets killed in action during a raid last week in northern Afghanistan, was a father of two and a veteran of seven deployments who had been previously wounded in combat, officials said Tuesday.
Gonzalez, 35, spent 17 years in the U.S. military initially as a Marine before joining the Army and serving as an infantrymen and later a Special Forces engineer, according to military biographical information released Tuesday. Gonzalez's family initially requested the Army withhold information about the fallen soldier, including his service photograph, but approved the release of some details and the photo Tuesday afternoon, a U.S. Army Special Operations Command spokesman said.
Gonzalez was a member of the Army's 7th Special Forces Group based at Eglin Air Force Base on Florida's panhandle. He was killed with Army Master Sgt. Luis F. Deleon-Figueroa during a raid alongside Afghan special forces in Faryab province, according to U.S. and Afghan officials. The Taliban claimed responsibility for the soldiers' deaths.
Gonzalez and Deleon-Figueroa were posthumously promoted to master sergeant and awarded the Purple Heart and Bronze Star Medal, according to Army statements.
The Purple Heart was the second for Gonzalez, who was wounded in action on a prior deployment. The Army did not disclose when or in which country Gonzalez was previously wounded. The service said he had served in Iraq and Afghanistan and had also deployed in 2018 to South America.
Gonzalez's other awards included two additional Bronze Star Medals including one with combat "V" device for valor, three Army Commendation Medals, the Combat Infantryman Badge, Parachutist Badge, Special Operations Diver Supervisor Badge, the Special Forces Tab and the Navy Sea Service Deployment Ribbon from his time in the Marine Corps.
He joined 1st Battalion, 7th Special Forces Group in 2014 after completing the grueling Special Forces Qualification Course, according to the Army.
Gonzalez is survived by his wife Brenda and two children, according to a verified GoFundMe campaign set up in his honor.
Officials said the bodies of Gonzalez and Deleon-Figueroa were returned to the United States on Friday. Their deaths marked the 13th and 14th combat fatalities among American troops in Afghanistan in 2019, making it the deadliest year for U.S. servicemembers there since 2014.
Their deaths also come as the United States and the Taliban appear to be closing in on an agreement that could bring home at least some of the roughly 14,000 U.S. troops in Afghanistan. The two sides have reported they are ironing out final details of such an accord during talks in Doha, Qatar, which could eventually end U.S. involvement in the 18-year war in exchange for the Taliban ensuring terrorist networks would not find safe harbor in Afghanistan.
dickstein.corey@stripes.com Twitter: @CDicksteinDC