GOP to attempt override of Obama defense budget veto
---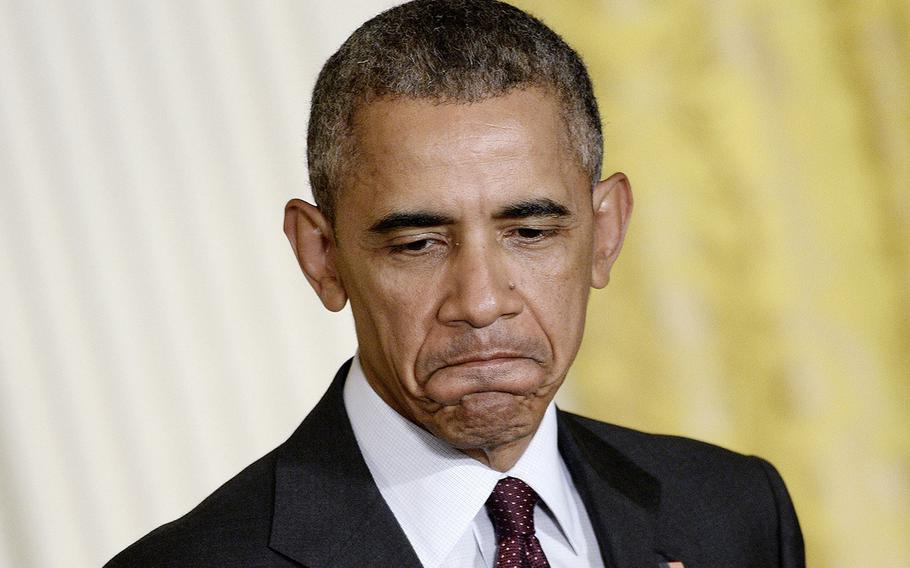 WASHINGTON — Republicans in the House will take on President Barack Obama with a Nov. 5 vote on overriding his veto of an annual defense budget bill that includes military pay and benefits.
An outraged GOP majority set the date Thursday, immediately after Obama made good on a promise to reject the National Defense Authorization Act, despite their warnings that the veto would put politics over the needs of troops.
It is the latest move in a protracted and increasingly bitter budget battle in Washington. Congressional Republicans, on one side, will not lift federal spending caps on defense and non-defense spending called sequestration. The Obama administration and Democrats, on the other side, have opposed any budget bill until sequestration is repealed.
Without a solution, the DOD could be without a new budget in December and be forced to freeze pay for troops and furlough about 350,000 civilian workers.
"By placing domestic politics ahead of our troops, President Obama has put America's national security at risk. This indefensible veto blocks pay and vital tools for our troops while Iranian terrorists prepare to gain billions under the president's nuclear deal," House Speaker John Boehner said in a statement following the veto. "Congress should not allow this veto to stand."
There was a torrent of similar Republican criticism of the veto, with many of the lawmakers hammering the president for standing between troops and needed resources. The NDAA has been vetoed as recently as 2007 – then by President George W. Bush — but typically such vetoes are due to measures included in the bill and not as part of a larger political fight.
"This bill gives them what they need — equipment, weapons, pay, and important reforms to combat military sexual assault and expand military benefits," said Rep. Martha McSally, R-Ariz., a retired Air Force colonel and former A-10 pilot. "The president is vetoing these provisions, not over substance, but as an act of stubborn political grandstanding."
The 2016 NDAA includes a $515-billion base defense budget that lays out troop pay, personnel benefits and policy for DOD, and the $89-billion war fund called Overseas Contingency Operations. It calls for an historic reform of the 20-year pension system, hikes in Tricare fees, protections for the A-10 Thunderbolt II and a review of troops carrying personal guns on bases, among a raft of other initiatives.
Republicans in Congress have little chance at overriding Obama's veto.
In the Senate, they were able to garner enough votes during an NDAA vote earlier this month to potentially overturn Obama. But House Republicans failed to gain the 290 votes for a veto-proof majority. Also, Democrats who voted against the bill then might be less willing to oppose the president directly.
Obama rejected the bill because it funnels about $38 billion in daily DOD expenses through the OCO war fund, which allowed Republicans to fully fund defense while avoiding a larger debate over removing the sequester caps on federal spending.
"I'm going to be sending it back to Congress and my message to them is very simple: Let's do this right," Obama said during the veto signing. "We're in the midst of budget discussions — let's have a budget that properly funds our national security as well as economic security."
The standoff has thrown troop pay and DOD's finances into uncertainty.
The DOD annual 2015 budget expired at the end of September but Congress could not agree on a new budget so instead passed a temporary fix — stop-gap legislation that keeps the department finances on auto pilot until it expires Dec. 11.
Now, the clock is ticking and options to avoid pay freezes and furloughs are limited.
Congress could come together for a "grand bargain" that would lift the sequestration spending caps that have remained stubbornly in place since 2011, a solution suggested to GOP lawmakers this week by Michael O'Hanlon, co-director of the Center for 21st Century Security and Intelligence at the Brookings Institution in Washington, D.C.
Sen. John McCain, R-Ariz., and Rep. Mac Thornberry, R-Texas, said they might be open to increases in spending for some non-defense programs. In 2013, Republicans and Democrats compromised on a bill that delayed the sequestration caps.
Still, such a deal would be a heavy lift amid the current political divisions on Capitol Hill.
Passing another stop-gap budget is also a possibility – some lawmakers have even discussed a yearlong measure, called a continuing resolution, which would keep current funding levels and put off the tougher debate over a sequester until later in 2016.
Defense Secretary Ash Carter warned a yearlong budget resolution would be damaging and in effect the same as sequestration. In the House, 102 Republicans told Boehner and chamber leadership they will not support a continuing resolution or any defense budget that follows the sequester cap.
tritten.travis@stripes.com Twitter: @Travis_Tritten
---
---
---
---