Goldfein says the Air Force is preparing for a long-term 'new abnormal'
by
Corey Dickstein
April 22, 2020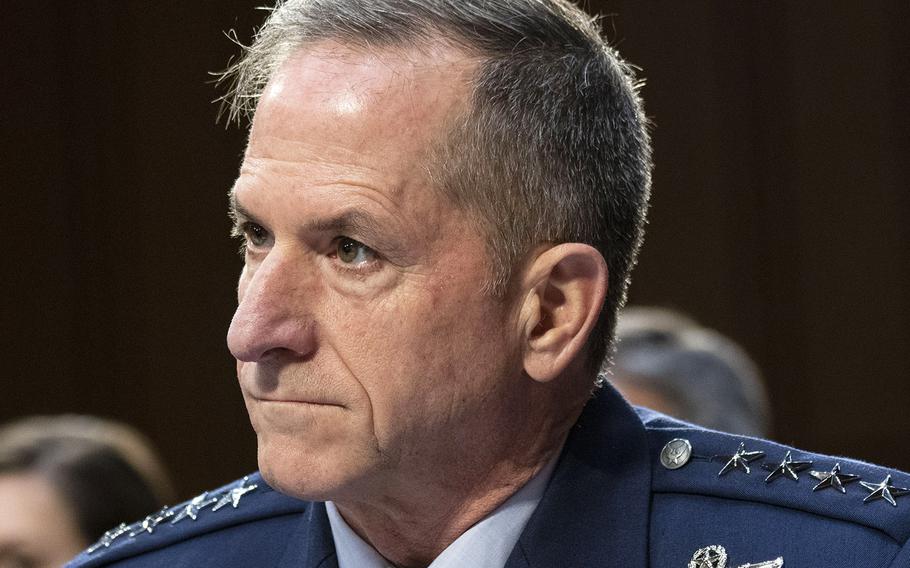 Stars and Stripes is making stories on the coronavirus pandemic available free of charge. See other free reports here. Sign up for our daily coronavirus newsletter here. Please support our journalism with a subscription.
WASHINGTON — The Air Force's top general said he believes the coronavirus will impart a long-term "new abnormal" on the U.S. military as the outbreak is unlikely to subside totally until a vaccine is widely available.
Gen. David Goldfein told reporters Wednesday that he has ordered an Air Force-wide "reset" for June 1, when he wants the service to find ways to increase operations tempos slowed by the pandemic. The Air Force chief of staff said he would like to see plans to increase the number of recruits coming into the service by that deadline and procedures to safely ramp up some of the Air Force operations that have been curtailed in an effort to slow the spread of the virus.
"All the projections are no vaccine for upwards of a year," Goldfein said during the video news briefing. "So, that means we've got to refine our ability to survive and operate and do the missions our nation requires. And we've got to bring back those missions we have slowed down, so that we can get back to some kind of sense of new normalcy in an abnormal world."
As an example, Goldfein said he expected the Air Force's air mobility mission, which is primarily responsible for shuttling troops and equipment around the world, to see an increase in operations in the coming months.
While some such flights have continued amid the pandemic and the Pentagon's stop-movement order because they were deemed essential to combat, logistics and other missions, Goldfein anticipates he'll need more crews flying. In addition to military personnel and gear, air mobility aircraft have transported coronavirus testing material around the world. The stop-movement orders, which restrict most Defense Department personnel from any travel including most changes of station and deployments, were extended this week through June 30.
So far, no airmen on crews within the service's Air Mobility Command have tested positive for the coronavirus, Goldfein said. He attributed that to drastic measures the service has taken to shield crew from potential exposure as they travel across the world.
"We keep them in a bubble," he said. "They go to their rooms [after landing on a mission.] Whatever needs to get to them is delivered, and we keep them that way so that they can keep flying all the way through coming home."
The service has taken a similar approach with its nuclear forces, which also have not seen a confirmed case of the virus among the airmen who fly nuclear-capable bombers or staff the service's intercontinental ballistic missiles platforms, Goldfein said. In some cases, service members in the nuclear force are spending two weeks or more in the field operating nuclear systems to ensure they are not exposed to the disease.
"We've changed the battle rhythm to keep them isolated," the general said. "That's a no-fail mission. We always have to get it done and figure out how to operate."
In total, the Air Force has reported 337 cases of coronavirus among its active-duty and Reserve forces. Military-wide, 3,578 troops have tested positive for the virus, according to the latest Pentagon data released Wednesday.
Another aim of Goldfein's reset is to find ways to increase the number of recruits participating in basic training. The Air Force has downsized its incoming classes of recruits from about 700 per week to about 460 as it has implemented social distancing and other guidelines issued by federal health officials in an attempt to curb the virus.
Goldfein said Wednesday that five recruits had tested positive of the about 6,000 who have entered Air Force initial entrance training since the outbreak began in the United States. In addition to shipping smaller recruit classes to Joint Base San Antonio-Lackland Air Force Base in Texas, the Air Force last month opened a temporary, second basic training site at Keesler Air Force Base in Mississippi. A single class of 60 recruits is conducting training there, and the service will soon decide whether additional recruits will be sent to Keesler.
In the coming weeks, Goldfein hopes to see his training leaders find ways to increase the size of basic training classes, as long as they can do so while adhering to health officials' safety recommendations. That includes the building of a tent city at Lackland to allow recruits to spread out further during training.
"Those are all the protocols that we're putting in place to see if we can get back up from 50%," the general said. "We're probably not going to be able get to 100% until the protocols change, but if we can get from 50 to 60, 70, 75%, that will certainly be helpful."
The smaller number of new airmen coming into the service has not yet created major holes in Air Force units, but Goldfein said he worries it could if he cannot find a way to boost basic training in the coming months.
However, more airmen are choosing to remain in the Air Force amid the pandemic, he said. That is especially true among pilots and aircraft maintainers, who are often recruited from the Air Force by commercial airliners.
With those companies flying significantly less during the pandemic, airmen are choosing to remain in their stable military jobs.
"It's not surprising with the economy being in a challenging state," Goldfein said. "Companies are not hiring as quickly. … So we're actually seeing our retention numbers go up, which somewhat mitigates for the lack of throughput at basic training."
dickstein.corey@stripes.com Twitter: @CDicksteinDC