Germany cautions Trump-led US to lead 'responsibly'
---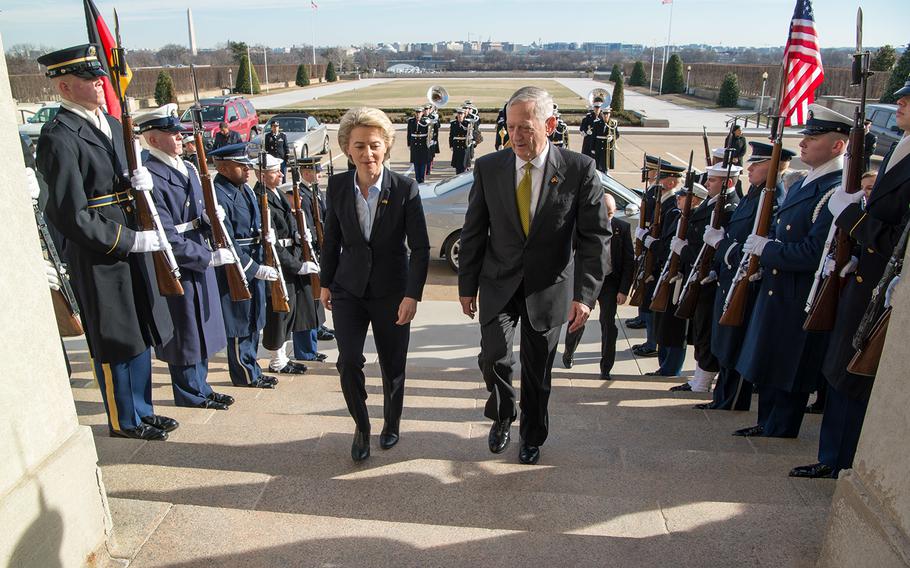 MUNICH — German Defense Minister Ursula von der Leyen urged the United States on Friday to keep a united front against Russia, avoid "going over the heads" of allies, refrain from torture and not turn the war against terrorism into a battle against Islam.
"The world needs a globally committed, responsible America," von der Leyen said at the start of the three-day Munich Security Conference.
Her comments, which highlight widespread concerns among Europeans about U.S. President Donald Trump's overtures to Russian President Vladimir Putin and some of the president's more provocative public declarations, came even as allies sought to address U.S. criticisms about a security free-rider.
Von der Leyen conceded that Europe, and Germany in particular, must do more to ease the security burden on the Continent carried by the U.S.
More than 30 heads of state, military brass and diplomats have gathered in Munich to gauge the future direction of U.S. foreign policy under Trump and the sharp demands it is placing on allies to boost their respective militaries.
German Chancellor Angela Merkel said in Berlin on Friday that her country was moving forward with a plan to elevate defense spending to the NATO-prescribed level of 2 percent of gross mational product by 2024. The plan will not be accelerated to appease Trump, she said.
"We must do more here, no question, but the matters of development aid and crisis prevention are also important," Merkel told reporters. She added that Germany had increased defense spending by 8 percent in its 2017 budget.
U.S. Vice President Mike Pence will address the Munich conference on Saturday, offering a first glimpse for many European leaders into how Trump intends to deal with its allies.
The conference's theme captures the unease across much of Europe, which has been jolted by the rise of Trump, and follows the release of the Munich security report "Post-Truth, Post-West, Post-Order?"
"Trump has made it obvious that established partnerships, alliances, rules, and protocols mean little to him," wrote Munich Security Conference chairman, Wolfgang Ischinger, in an editorial ahead of the talks. "In his tweets, he rants about the media, attacks independent judges, targets individuals and companies, and belittles international organizations."
On Friday, Defense Secretary Jim Mattis addressed the conference, and he echoed recent comments about the need for NATO members to step up their investments in defense to 2 percent of GNP.
"We are going to adapt the alliance, and now comes the hard part," he said.
He said that allies must summon the political will to confront gaps in spending and shape NATO to better deal with terrorism threats while still deterring a more assertive Russia.
"The allies recognized 2014 as a watershed year, and we could no longer deny reality," Mattis said, referring to Russia's intervention in Ukraine. "We all see our community of nations are under threat on multiple fronts."
Allies have been roiled by the Trump's recent declaration that NATO is "obsolete," sparking worries that America is losing interest in its support for the alliance.
"NATO cannot be taken for granted, not by the United States, nor us Europeans," von der Leyen said. Regarding NATO's Article 5 pledge that an attack on one requires a response from all 28 members, the German defense minister said: "This is priceless and not up for negotiation."
European allies are also concerned by Trump's criticism of the European Union, which is struggling with the defection of Britain and growing concern across the Continent about the ability of bureaucrats in Brussels to lead the bloc at a time up economic and social upheaval.
The influx of refugees into Germany, France and other parts of Europe has divided public opinion, ushering in the rise of populist political leaders who share Trump's skepticism about international institutions such as the EU.
In the Baltics, an area particularly concerned about a more assertive Russia, political leaders appear ready to speed up spending. "We failed to deliver and we need to deliver," said Lithuanian President Dalia Grybauskaite.
The political feasibility of the U.S. demand for more defense spending is likely to be hotly debated at the conference. But some have already reacted negatively to Mattis' comments in Brussels that U.S. taxpayers will no longer accept allies who fail to shoulder their share of the security burden. On Friday, European Commission President Jean-Claude Juncker said Europeans should resist Mattis' demands.
"It has been the American message for many, many years. I am very much against letting ourselves be pushed into this," Juncker said, as cited by Reuters news agency.
Pence and Merkel are expected to address the conference on Saturday. Sen. John McCain, who has criticized Trump's overtures to Russia, will also attend.
During the past two years, the U.S. has deployed soldiers to the Baltics and Poland in an effort to reinforce allies nervous about a more aggressive Russia. The U.S. Army has returned tanks, artillery and other armored fighting vehicles to the Continent.
"The Trump administration is a tectonic change in trans-Atlantic relations. Business as usual will not work," wrote the Atlantic Council's NATO expert Jorge Benitez in an editorial published Thursday by CNN. "If America's allies offer Mattis and Trump only pledges of support that go unfulfilled, they will provoke a U.S. response that may cause historic damage to security in Europe."
vandiver.john@stripes.com Twitter: @john_vandiver
---
---
---
---