Gen. Milley apologizes for quip about House Intelligence Committee chairman Adam Schiff
by
Joseph Ditzler
October 5, 2020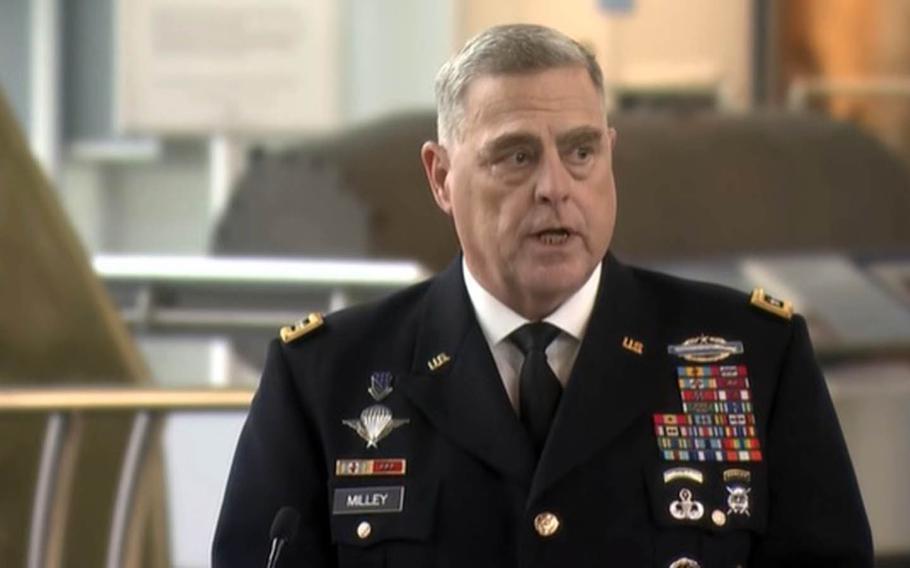 Gen. Mark A. Milley, chairman of the Joint Chiefs of Staff, in a tweet Monday apologized for a remark he made Thursday about a ranking congressman during a change in leadership at the Defense Intelligence Agency.
"Today I spoke with the Honorable Representative Adam Schiff and apologized for a comment I made, in jest, during opening remarks at the DIA change of command," said a tweet on the Joint Staff account, @thejointstaff. "My comments were in no way meant to be offensive."
Milley presided over a change in directors at the agency headquarters on Joint Base Anacostia-Bolling in Washington, D.C. The event, like many other changes of command throughout the U.S. military during the coronavirus pandemic, was downsized. About 50 people attended, including high-ranking military and Defense Department officials. The ceremony was also livestreamed.
Rep. Adam Schiff, D-Calif., chairman of the House Intelligence Committee, apparently was invited to witness Lt. Gen Robert Ashley Jr. relinquish agency command to Lt. Gen. Scott Berrier but did not attend. Milley made note of Schiff's absence at the beginning of his remarks.
"I actually thought — I was looking at the invite list — and I saw Adam Schiff, Congressman Adam Schiff was here, he didn't, I don't think, show up, but I'm pretty sure CIA has an empty seat so that's appropriate for covert operations," Milley said.
After recognizing representatives from the National Reconnaissance Office, the National Geospatial-Intelligence Agency, Director of National Intelligence John Ratcliffe and undersecretary of defense for intelligence Joseph Kernan, Milley continued: "We don't have ABC, NBC, CBS, but I thought we were going to have a hearing when I saw Schiff. I wasn't sure it was going to be a hearing or an indictment. I wasn't sure."
The audience did not respond. Neither did Schiff respond on Twitter, his official website or on his campaign Facebook page.
However, some commenters on Milley's post on Monday, which included a video of the ceremony, took the chairman to task.
"Hey @RepAdamSchiff how about a little oversight on the mouthy General?" wrote Tyson Manker. "500,000+ post-9/11 veterans have been thrown from the military for minor infractions since 2001. When are these generals going to be held responsible?"
Another commenter cited Milley's previous apology for taking part in a photo op for President Donald Trump on June 1, when law enforcement officers cleared protestors from Lafayette Square, outside the White House, so the president, flanked by Milley, Defense Secretary Mark Esper and others, could walk unimpeded to the nearby St. John's Episcopal Church.
Stockrocket owl tweeted: "This makes twice you've had to apologize. I think you need to step down. I question your judgment."
Schiff wasn't Milley's only target Thursday. He recalled that while on patrol as a colonel in Baghdad, his infantry unit was fixed in a "very, very serious firefight." Gen. James McConville, attending Thursday as the Army chief of staff, at the time was a colonel flying an Apache helicopter gunship overhead.
McConville laid down rocket fire that day, Milley recalled: "He literally saved my life."
Later, Milley's predecessor, Gen. Joseph Dunford, a native of Qunicy, Mass., asked McConville: "Jimmy, what were you thinking that day" when he came to the aid of Milley, of Winchester, Mass.
McConville, according to Milley, turned to Dunford and said: "Sir, I've been regretting it every day of my life."
ditzler.joseph@stripes.com Twitter: @JosephDitzler