GAO: Some troops struggle with financial literacy when it comes to retirement benefits
---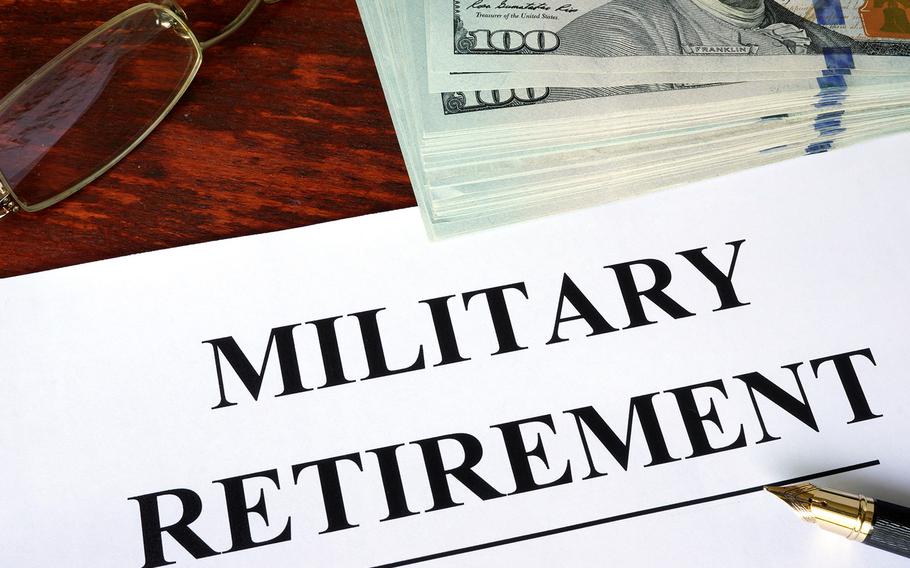 WASHINGTON — The military offers a smorgasbord of benefits aimed at setting up troops for success during service and retirement. However, some service members aren't financially literate enough for long-term financial planning after the recent transition to the new retirement system, according to a new report from the Government Accountability Office.
The study, conducted at the request of Sens. Patty Murray, D-Wash., and Dick Durbin, D-Ill., found the Department of Defense does a lot to inform troops on the new retirement system — known as the Blended Retirement System — but service members across the military aren't being assessed on their financial literacy.
"According to DOD officials, service members will make more financial decisions that may impact their ability to successfully save for retirement under BRS than under the Legacy Retirement System, which makes providing effective financial literacy training to service members particularly important," the GAO's study found.
Among the myriad of potential concerns among troops and their families, financial well-being is a top stressor, even topping mental health, according to Rebecca Burgess, a veterans studies research fellow at the American Enterprise Institute, a Washington, D.C., think tank.
"Surveys of veterans and military families conducted by Blue Star Families and other consulting firms consistently find that military pay and benefits and financial health are in the top tier of concerns, much more so than mental health issues," Burgess said. "Veterans consistently say that they think they have enough mental health resources and know where and how to access those, but I've yet to see a survey Q&A that asked that same question about veterans and their awareness of available to them financial planning resources."
It isn't a matter of inadequate financial training tools, but younger troops without a lot of financial obligations aren't equipped with the background to understand the basics of retirement, according to researchers at the GAO.
"Junior service members struggle with contributing to their retirement," said Charlie Jeszeck, Director of Education, Workforce and Income Security Issues at the GAO.
"The DOD determines BRS lump-sum payments at retirement by applying an interest rate [or discount rate] to calculate the present value of annuity payments service members forgo by taking a lump sum," the GAO reported. "DOD can take certain steps to help service members understand how to compare the BRS lump-sum payment option with the full annuity option. Without this information, service members may not make informed decisions and potentially risk their retirement savings."
While some formal training sets troops up for success on paper — it doesn't properly access their financial literacy, the report found. This sets up a key challenge for leaders to educate the force on critical background knowledge needed to fully benefit from one of the military's top perks. However, troops might not totally grasp the importance of planning their finances and take the time to learn about their options.
"Several military supervisors said some service members advanced through the computer based BRS opt-in course as quickly as possible, and may not have understood the content," the report stated. The challenges of navigating retirement can be amplified by some of the obtuse and inconvenient parts unique to the military such as the Thrift Savings Plan having to physically mail a service member their password for an initial login.
"Service members reported difficulty receiving their initial TSP password because they relocate often and may lack a permanent mailing address," according to the report.
Financial illiteracy isn't unique to the military. However, soldiers have a lot on their plate already between weapons proficiency, field exercises, professional development courses, military schools, physical training and deployments — the rapid pace of service makes it easy for an 18-year-old infantryman or woman to brush off long-term financial planning.
"Civilian peers aren't doing much better [with financial literacy], but we see these issues play out more in the veteran community," Burgess said.
beynon.steven@stripes.com Twitter: @StevenBeynon
---
---
---
---