Fort Polk, La., suffers damage to several buildings from Hurricane Laura
by
Caitlin M. Kenney
August 28, 2020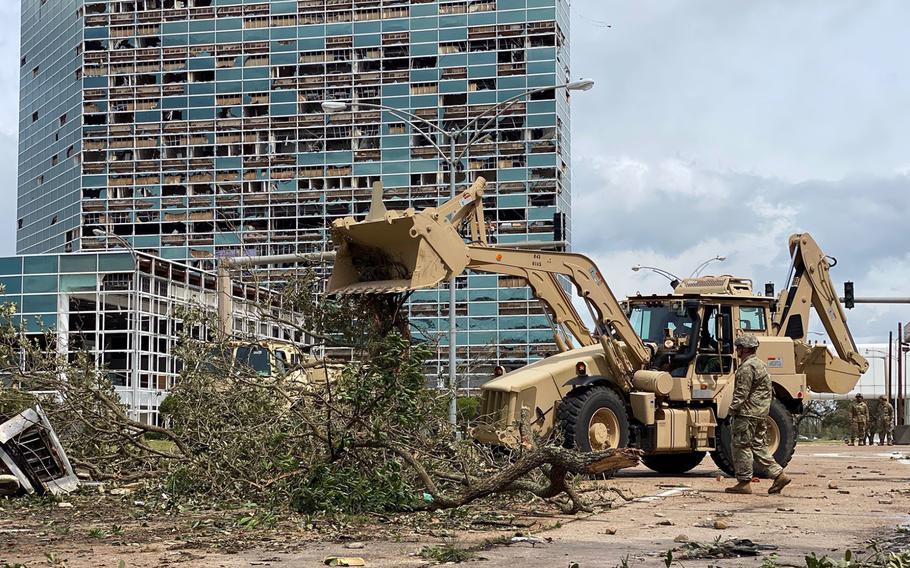 WASHINGTON — Several main buildings on Fort Polk, La., have suffered damage and lost power from Hurricane Laura after the historic storm swept through the region Thursday.
The Main Post Chapel, which was being used as a shelter, suffered damage, forcing people to move to another chapel on the installation, according to Fort Polk's official Facebook page. The post's commissary was also not able to open Friday due to a failed generator.
A statement on the base Facebook page said Fort Polk had downed trees, power lines and road flooding.
The Army post is located about 70 miles north of Lake Charles, which suffered extensive damage from the hurricane. A 14-year-old girl from Leesville, the town outside the gates of Fort Polk, was killed when a tree fell on her house, Louisiana Gov. John Bel Edwards said Thursday. Nine other storm-related deaths have occurred in the state, according to the state health department.
Bayne-Jones Army Community Hospital on Fort Polk also suffered damage and lost power from the hurricane, according to its Facebook official page. The hospital will be open Monday for inpatient and emergency services only.
Ice was being provided to on-post residents Friday and one of the main gas stations has also run out of fuel, according to Fort Polk's Facebook page.
"More fuel is on the way, but arrival time is unknown," according to the post.
As of Friday, the Louisiana National Guard said they had evacuated more than 2,000 people and 20 pets from Calcasieu Parish, where Lake Charles is located. There are more than 6,200 Guard troops supporting efforts in response to Hurricane Laura.
Kenney.Caitlin@stripes.com Twitter: @caitlinmkenney