Fort Hood to add drive-thru clinic, closes most child care centers, as base commanders brace for coronavirus outbreak
---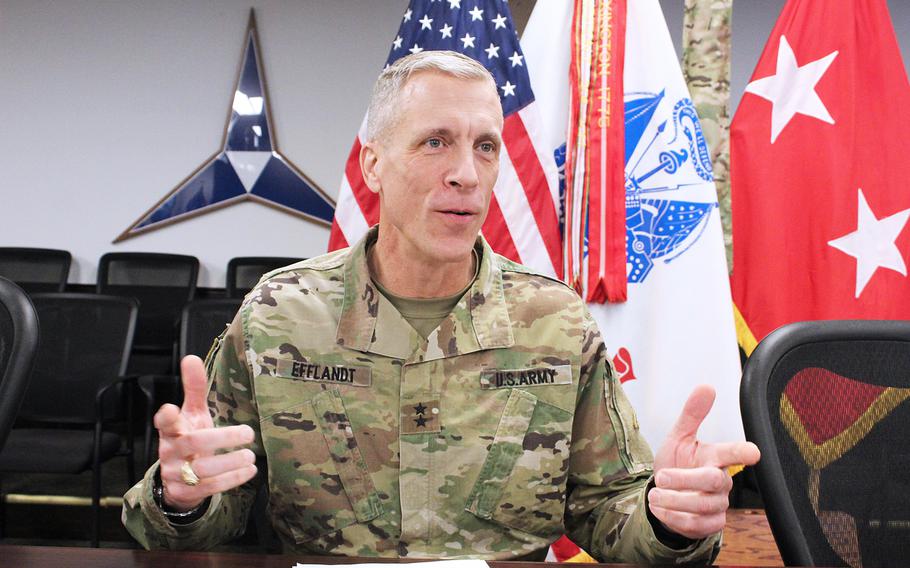 Stars and Stripes is making this story and other coverage of the coronavirus pandemic available free of charge. See other stories here, and sign up for our daily coronavirus newsletter here.
AUSTIN, Texas — A four-lane, drive-thru respiratory clinic projected to open at Fort Hood as early as next week and the closure of all but one child care center are among the measures Army leaders at the central Texas base are taking to minimize the coronavirus pandemic sweeping the country.
Along with other changes that include smaller physical training groups, Fort Hood officials also said during a town hall meeting Thursday they are shaping their response by examining how the coronavirus impacted the military in other hard-hit regions, such as South Korea and Washington state.
"Korea has already begun opening schools and child development centers," said Maj. Gen. Scott Efflandt, deputy commander of III Corps and Fort Hood. "The measures they have taken, which are the same as the best practices that we are implementing here, are effective and when implemented, return operations to a state of normalcy. I feel very confident we are on the right path at the Department of the Army to get through this challenge."
As of Thursday, Fort Hood had no positive cases of the virus — though Texas has 143 cases with 3 deaths, according to the Texas Department of State Health Services.
However, about 160 miles south at Joint Base San Antonio, officials announced three new cases of the virus within the installation;s community Thursday, bringing the total to four.
"What we enjoy in central Texas, for a lot of reasons, is currently a low threat level," Efflandt said. "We've already identified the next steps. What we are waiting on is the environmental reasons to get to that point."
To keep people feeling ill out of hospitals and away from the general public, Col. Rich Malish, commander of the Carl R. Darnall Army Medical Center, said the base is opening a drive-thru respiratory illness clinic in the hospital's east parking lot to screen and test for coronavirus without requiring individuals to enter the main hospital. The clinic could be operational as early as next week.
Anyone feeling symptoms similar to ones associated with the virus, such as a fever and dry cough, are asked not to go into the hospital or to their unit's sick call, but rather to call the nurse hotline for guidance.
Of the dozens of questions answered during the hourlong town hall, child care, training and health precautions were the top concerns voiced by the Fort Hood community. Efflandt, and his top enlisted adviser, Command Sgt. Maj. Adam Nash, said the base is taking all measures necessary to slow the spread of the virus to protect soldiers and families, while also continuing to maintain readiness.
When asked specifically about why field training continues on base despite calls for social distancing, Nash said this is a "careful balance" that all leadership teams face right now. Most Fort Hood units have a requirement to maintain combat readiness, he said.
"I assure you that every one of our leadership elements here at Fort Hood is taking the health and safety of our Army family as we meet our global demand," Nash said. "Our leadership continues to take decisive measures to mitigate spread of this infectious disease and this includes in the field environment."
For similar reasons, Col. Jason Wesbrock, Fort Hood garrison commander, said officals chose to keep base gyms open despite closures affecting most off-base fitness facilities.
"Fitness centers on this post are part of physical readiness and building capabilities," he said. While units are barred from doing group training in the gyms, the facilities remain open for soldiers to work out.
However, the base has closed child development centers, with the exception of one facility for mission-essential personnel — which has left some families grappling with keeping children home and working. Soldiers with working spouses are encouraged to communicate with their chain of command if their families need help with child care. These situations need to be dealt with on a case-by-case basis, the commanders agreed.
The child care centers will also freeze their lists so families will not lose their place in a facility during the closure, Wesbrock said. They are also reimbursing payments or crediting accounts.
"That's the right thing to do during this difficult time," he said.
thayer.rose@stripes.com Twitter: @Rose_Lori
---
---
---
---