Fort Carson Green Beret, Fort Hood EOD soldier killed in Afghanistan firefight
By
Phillip W. Wellman and Corey Dickstein
June 27, 2019
---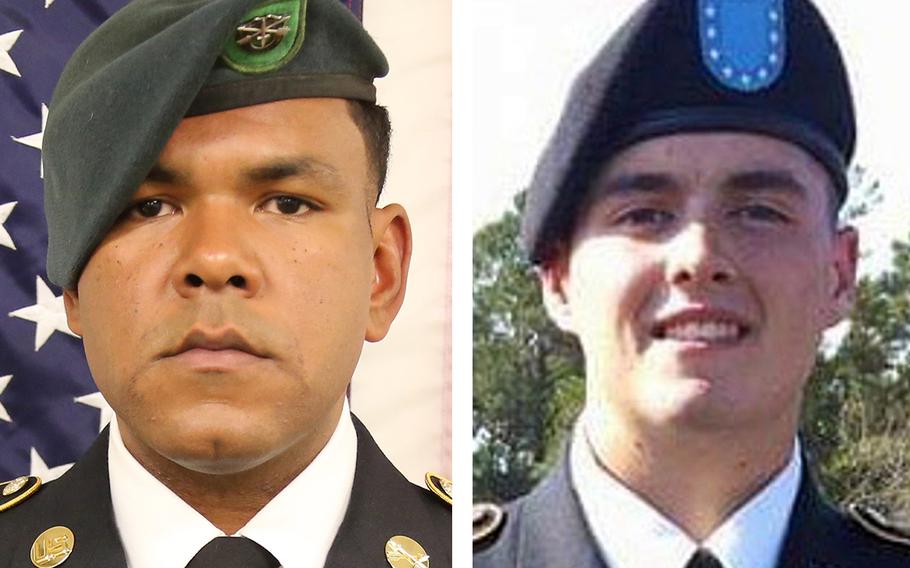 A 32-year-old Green Beret and a 24-year-old explosive ordnance disposal soldier were killed Tuesday in a close-quarters firefight with Taliban insurgents in southern Afghanistan, Pentagon officials said.
Special Forces Master Sgt. Micheal B. Riley and EOD technician Sgt. James G. Johnston were killed by small-arms fire in Uruzgan province, according to a Pentagon statement issued Thursday. They were working alongside Afghan forces when the firefight broke out, said a defense official, who spoke on the condition of anonymity. The official declined Thursday to provide additional details about the operation.
The firefight was under investigation, according to the Pentagon statement.
Riley of Heilbronn, Germany, was assigned to 2nd Battalion, 10th Special Forces Group at Fort Carson in Colorado. Johnston of Trumansburg, N.Y., was assigned to the 79th Ordnance Battalion, 71st Ordnance Group at Fort Hood, Texas.
Johnston entered active-duty military service in July 2013 as an explosive ordnance disposal specialist and deployed to Afghanistan in March.
He and his wife of more than three years, Krista Johnston, were expecting a baby girl, according to public Facebook posts. Posting photos of her fallen husband in recent days, Krista Johnston encouraged friends and family members to wear Hawaiian shirts on Friday in his honor.
She wrote she was traveling Thursday with Johnston's parents to Dover Air Force Base in Delaware, where his remains were scheduled to arrive.
"My heart and everything else is hurting and I don't really have the ability to keep putting words together, but I thank all of you so much for the kind words and support," she wrote Thursday morning on Facebook. "I love you husband, forever and always you better watch over me and our baby girl."
Johnston's battalion commander described him as "the epitome of what soldiers all aspire to be."
"Intelligent, trained, always ready," Lt. Col. Stacy M. Enyeart, commander of 79th Ordnance Battalion, wrote in a prepared statement. "We will honor his service and his sacrifice to this nation as we continue to protect others from explosive hazards around the world."
Johnston's awards and decorations included a Bronze Star Medal, a Purple Heart, an Army Commendation Medal and the Combat Action Badge, according to the Army.
Riley, who was on his sixth deployment to Afghanistan, was a seasoned and experienced soldier who will always be honored and remembered, 10th Special Forces Group commander Col. Lawrence G. Ferguson said in a statement from U.S. Army Special Operations Command.
"It is with a heavy heart that we learn of the passing of Master Sgt. Micheal Riley in Afghanistan," Ferguson said. "Mike was an experienced Special Forces noncommissioned officer and the veteran of five previous deployments to Afghanistan. We will honor his service and sacrifice as we remain steadfast in our commitment to our mission."
Riley's awards and decorations include the Bronze Star Medal, five Army Commendation Medals, the Special Forces Tab, the Ranger Tab, and the Combat Infantryman Badge, according to the Army.
He was the second member of his unit killed in action this year in Afghanistan. Army Sgt. 1st Class Will D. Lindsay, a Green Beret with 2nd Battalion, 20th Special Forces Group, died March 22 during combat operations in the northern Kunduz province. An EOD soldier, Spc. Joseph P. Collette, was also killed in that incident.
NATO's U.S.-led Resolute Support mission announced the deaths Wednesday without providing the names of the soldiers or further details. Pentagon policy is to wait 24 hours after next of kin are notified before releasing the names of servicemembers who have died.
Taliban spokesman Zabihullah Mujahid said Thursday that the group was responsible for the killings but was unable to provide any details.
On Wednesday, the insurgents said they had killed two Americans in an ambush in Wardak province, about 60 miles south of Kabul. Uruzgan province is far from Kabul, about 35 miles north of Kandahar. The United States has not indicated soldiers besides Johnston and Riley were killed this week in Afghanistan.
The deaths came days before American and Taliban representatives were to resume talks aimed at an agreement to end the United States' longest war, now in its 18th year. The seventh round of discussions is scheduled to start Saturday in Qatar's capital, Doha.
Secretary of State Mike Pompeo said Tuesday during a visit to Kabul that Washington was hopeful an agreement could be reached soon.
"I hope we have a peace deal before Sept. 1, that's certainly our mission set," Pompeo told reporters.
American officials have stated that if the United States and other foreign forces withdraw, the Taliban must ensure terrorists will not use Afghanistan to orchestrate attacks abroad.
Tuesday's deaths bring the number of U.S. servicemembers killed in combat in Afghanistan this year to nine. More than 2,400 American military personnel have been killed since the war began and more than 20,000 others have been wounded.
Pompeo told reporters in New Delhi on Wednesday that he was praying for the slain soldiers, their families and their fellow soldiers.
"I think this drives home the need for us to be successful, right," Pompeo said. "The mission set that we've undertaken in Afghanistan is a reconciliation to reduce the level of violence, to reduce the level of risk to Afghans, broadly, and the risk to American servicemembers."
Zubair Babakarkhail contributed to this report.
wellman.phillip@stripes.com Twitter: @pwwellman
---
---
---
---