Fort Bliss soldier shot by military police acted erratically, pointed gun at them
by
Rose L. Thayer
September 15, 2020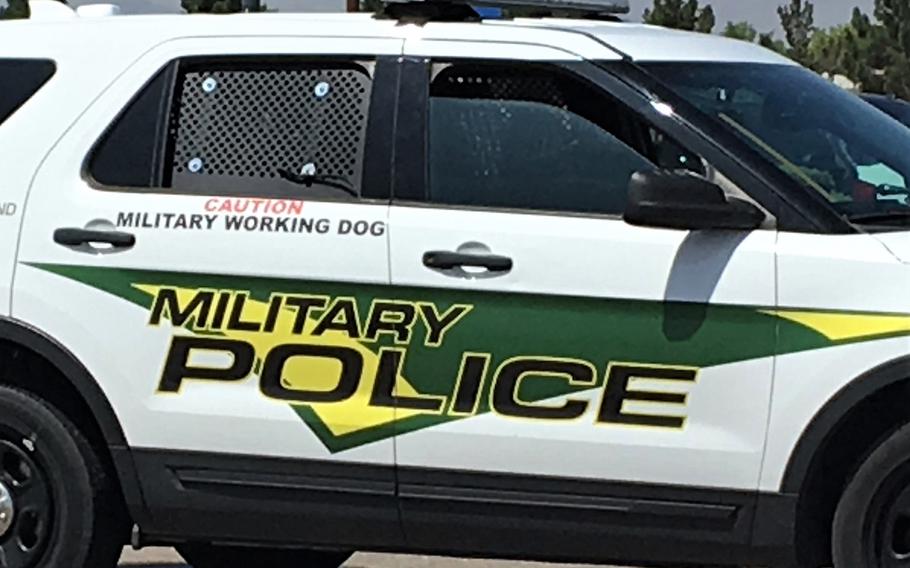 AUSTIN, Texas — A Fort Bliss soldier was shot and wounded early Tuesday morning by military police after he pointed a gun at them following a confrontation with a car service driver, officials at the west Texas base said.
Described as a 20-year-old Hispanic man on his first duty assignment with the Army, the soldier pointed a handgun at the five military police soldiers who arrived on scene in the 1st Armored Division's area of the base, Lt. Col. Allie Payne, spokeswoman for the division and Fort Bliss, said Tuesday afternoon during a news conference. She did not release the soldier's name.
"We have no idea to the motive or what happened beforehand," Payne said. "We'll find that out after the ongoing investigation."
Police and the soldier fired shots, but only the soldier was injured, she said. He is listed in stable condition at a hospital in El Paso, the city closest to the gates of Fort Bliss. The soldier is an infantryman who enlisted nine months ago. He arrived at Fort Bliss just three weeks ago.
"He was not compliant with the instructions from the private company driver. He wasn't compliant with instructions of military police," Payne said.
While Payne confirmed the weapon was not government property, she did not say how or where the soldier obtained the gun. Army policy does not allow soldiers living in the barracks to store a weapon there.
The incident began just after midnight Tuesday when a driver for a private car service, such as a taxi or ride-share company, drove onto Fort Bliss to pick up the soldier from the barracks to take him off base. The driver did not feel safe because of the soldier's erratic behavior and asked someone nearby to call police.
When the military police soldiers arrived, the soldier pointed his gun at them, Payne said. The number of shots fired is part of the investigation. The soldiers who responded were of varying ranks, ages and experience levels.
"We have no doubt if you look at circumstances of the initial report that we, provided the hour, the conditions, the light, we have no doubt that they responded with the appropriate amount of patrols," Payne said.
Because deadly force was used, Fort Bliss Directorate of Emergency Services will conduct an internal investigation to determine if the use of force was justified. The review should take about two weeks, Payne said.
Special agents with the U.S. Army Criminal Investigation Command are investigating the incident and processing the scene and have recovered the subject's handgun. At this time, no charges have been filed in relation to the incident, Payne said.
"We want to find out why this happened. We want to understand why this occurred. We won't know until we get further into the investigation," she said.
Thayer.rose@stripes.com Twitter: @Rose_Lori