Five US military facilities are among the locations selected for final coronavirus vaccine trials
by
Corey Dickstein
September 3, 2020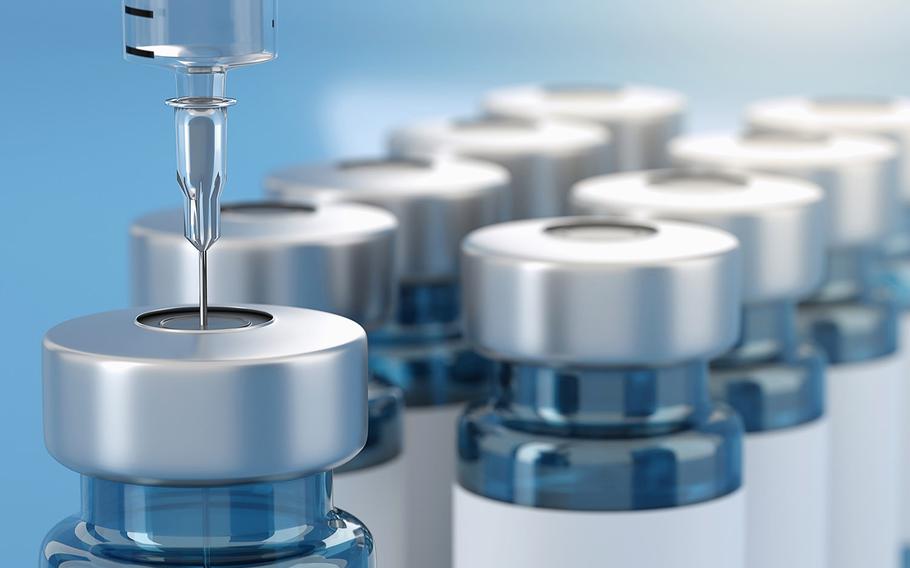 Stars and Stripes is making stories on the coronavirus pandemic available free of charge. See other free reports here. Sign up for our daily coronavirus newsletter here. Please support our journalism with a subscription.
WASHINGTON — Five U.S. military locations will participate in the final stage of clinical development for a potential coronavirus vaccine, and the government is looking for volunteers to participate, Pentagon officials said Thursday.
The military medical facilities chosen in Texas, California and the Washington D.C. area were among dozens of locations across the country selected to participate in Phase III testing of drug maker AstraZeneca's AZD1222, one of four vaccine candidates undergoing testing. In Phase III, thousands of volunteers are given the potential vaccines to study its effectiveness and safety, according to the National Centers for Disease Control and Prevention.
Officials are asking Military Health System beneficiaries – service members, their families and retirees – near the selected facilities to volunteer for the study. They can do so by completing a survey at www.coronaviruspreventionnetwork.org and entering a code corresponding to one of the five military locations.
Those facilities and their survey codes are:
Naval Medical Center San Diego in California (Code: NMSD)
Joint Base San Antonio Brooke Army Medical Center in Texas (Code: BAMC)
Wilford Hall Ambulatory Surgical Center in Texas (Code: WHASC)
Walter Reed National Military Medical Center in Maryland (Code: WRMC)
Fort Belvoir Community Hospital in Virginia (Code FBCH)
The survey takes about 10 minutes to complete. Those selected for participation will be notified by coordinators at those sites, Pentagon officials said.
Officials are particularly looking for volunteers with increased risk of contracting the coronavirus to participate. Those include workers in essential jobs including health care workers, emergency responders, grocery workers and restaurant staffers. They are also looking for individuals who live or work in densely populated residential environments, including nursing homes. Officials also want members of communities who have been hit hardest during the pandemic to participate, including older individuals, people with underlying health conditions and minorities including African Americans, Latin Americans and Native Americans.
The studies are part of the public-private Operations Warp Speed, the government-led effort to develop and distribute a vaccine for the coronavirus. The Defense Department is a participant in the effort and one of its key responsibilities is supporting a quicker distribution of the vaccine across the country.
"Now that vaccines have passed the first phases of testing for safety, dosing and response, we are ready to move into the next phase where volunteers are needed to join large clinical studies," Tom McCaffery, the assistant secretary of defense for health affairs, said in a statement. "We are excited to have several sites identified to support the next steps in the vaccine development process."
Operation Warp Speed seeks to produce 300 million doses of a vaccine to be delivered by January 2021, according to the Defense Department.
Details on precisely how the vaccine will be distributed once it is approved for the general public have not been made public. But U.S. troops are not expected to be among the first to receive the vaccine unless they work in a field with high exposure to the coronavirus, such as medicine, according to preliminary government distribution plans published this week by the National Academies of Sciences, Engineering, Medicine.
Pentagon officials have routinely said its troops have tested positive for the coronavirus at a lower rate than the general American population and those who do contract it typically weather the virus well. Only seven U.S. service members have died of complications caused by the virus. As of Wednesday, 38,424 service members had tested positive for the virus, 575 required hospitalization at some point and 23,011 have recovered from the disease.
Across the United States, more than 6.1 million Americans had contracted the coronavirus, Johns Hopkins University said Thursday. More than 186,000 of the virus' U.S. victims have died, the university said.
dickstein.corey@stripes.com Twitter: @@CDicksteinDC