Five service members ask Navy for reprieve from order banning off-base church attendance
by
Rose L. Thayer
July 1, 2020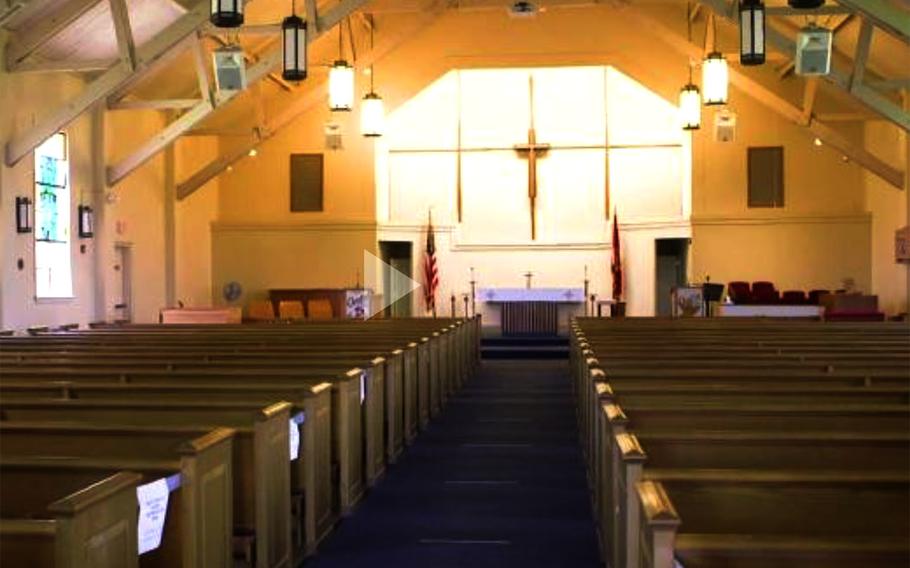 Stars and Stripes is making stories on the coronavirus pandemic available free of charge. See other free reports here. Sign up for our daily coronavirus newsletter here. Please support our journalism with a subscription.
At least five service members have hired a lawyer to fight a Navy order that bars them from attending indoor worship services to prevent the spread of the coronavirus because they believe it violates their constitutional right of religious freedom.
First Liberty Institute, a Texas-based legal office focused on defending religious freedoms, sent letters beginning Monday to five commanders, asking them to grant the service members an accommodation and to encourage the Navy to rescind the "unlawful order."
"The commander in chief has already declared churches are essential in America," said Michael Berry, general counsel for First Liberty and the lawyer for the five service members. "It really strikes me that the Navy is either blatantly disregarding the president, the commander in chief, or they haven't been paying attention and are completely tone deaf to what's going on."
Air Force Maj. Daniel Schultz, who is assigned to the Naval Post Graduate School in California and therefore falls under the order's restrictions, is part of his off-base church's leadership and worship team, according to Berry's four-page letter to Air Force Lt. Col. Matthew Garvin, commander of the school's Air Force element.
"Maj. Schultz is a devout Christian, and his sincerely held religious beliefs compel him to participate in religious services at his church, in person," Berry wrote. "Because [the order] bans him from attending church and participating on the worship team, the Navy order substantially burdens Maj. Schultz's sincerely held religious beliefs."
Berry's other four clients have declined to have their names or the specifics of their requests released publicly.
The Navy first issued orders to prevent the spread of the coronavirus in March, only granting sailors permission to travel from home to work and to the grocery store or pharmacy for essential items, said Capt. Sarah Self-Kyler, spokeswoman for the Navy's Fleet Forces Command. Since then, Navy chaplains have worked to make worship opportunities available to sailors in ways that don't require large gatherings of people, she said.
"The [Defense Department] places a high value on the rights of members of the military services to observe the tenets of their respective religions or to observe no religion at all," Self-Kyler said.
On June 24, the Navy released a new order to reiterate the March guidelines, which haven't changed, she said. However, the update did provide more specifics on what is and isn't allowed because many service members live in civilian communities that have begun reopening.
The order warns "the easing of community restrictions is not aligned with the Navy imperative to maintain [the coronavirus] infection as low as achievable across the force."
"While all region and installation commanders maintain a strong working relationship with local and state leadership and consistently monitor current health conditions, the Navy's unique mission sometimes demands that it impose greater burdens on its force than are imposed on our civilian counterparts in order to ensure operational effectiveness," Self-Kyler said.
In regards to religious services, the June order allows for sailors to attend drive-thru and outdoor events, but specifically bans attendance at indoor religious services held off base, as well as other places, including bars, casinos, conferences, sporting events, concerts, public beaches, amusement parks and other events "designed to promote large gatherings."
On-base religious services are allowed depending on available opportunities.
At this time, all churches on bases at Health Protection Level Charlie remain closed. Seventeen of the Navy's 50 bases in the continental United States are now at the Bravo protection level, which allows commanders to lessen on-base restrictions but keeps social distancing safety measures in place. For Berry, the real problem with the order is that it allows participation in other activities such as house parties of any size, so long as precautions are taken and no one in the home has recently exhibited flu-like symptoms. The order also states to avoid social events in homes with more than 10 people who don't live there "to the maximum extent possible."
"In other words, Maj. Schultz cannot attend religious services at his church, but he can host a party at his house with the same number of people that attend his church," Berry wrote.
However, the Navy updated the order Wednesday night to limit in-residence gatherings to just 10 guests in addition to the members of the household and removed the word "social" to allow for those events to occur regardless of their nature, Self-Kyler said Thursday.
"The Navy works to support every sailor's religious practices to the broadest extent possible within the bounds of military readiness, health and safety. These provisions, among others outlined in the original message, are essential to safeguarding the health, safety, and welfare of our service members and ensuring the Navy's operational readiness," she said.
The letter to Schultz's command requests a response within one week about whether a religious accommodation will be approved.
Thayer.rose@stripes.com Twitter: @Rose_Lori