Fewer than half of National Guard troops deployed in virus fight have access to federal health care coverage
by
Rose L. Thayer
April 9, 2020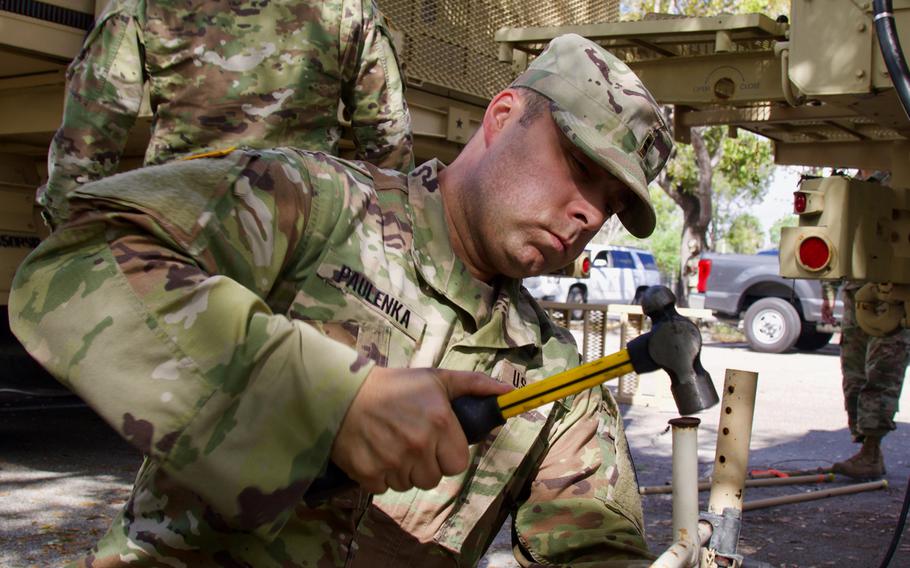 Stars and Stripes is making stories on the coronavirus pandemic available free of charge. See other free reports here. Sign up for our daily coronavirus newsletter here. Please support our journalism with a subscription.
Fewer than half of the 28,400 National Guard members deployed in the battle against the coronavirus pandemic are on orders from the federal government, leaving the majority of troops without access to military health coverage.
An executive order signed by President Donald Trump on Tuesday night provided medical coverage for about 11,000 Guard members and opens the possibility that all troops deployed on coronavirus missions could attain military health insurance. The new order relieves weeks of anxiety for some troops who were exposing themselves to the highly contagious virus without the ability to enroll in Tricare health insurance. The coverage is only available to Guard members on federal orders for more than 30 days and Trump's new directive authorized troops to deploy for up to 31 days.
That one day makes a different in the lives of some troops, said retired Brig. Gen. J. Roy Robinson, president of the National Guard Association.
"Guard soldiers and airmen could go to military treatment facilities if they are hurt or fear they are infected with the coronavirus, but most are not serving near such a facility," he said in a statement. "Only Tricare enables them to go to local doctors and hospitals without using their private insurance or digging into their pockets."
More than 28,400 National Guard troops are deployed across all states, territories and Washington, D.C., providing support to their local communities. Missions include cleaning nursing home facilities and testing staff and residents for the virus, staffing test and screening sites, expanding hospital bed capacity and building field hospitals, and screening passengers at airports for coronavirus symptoms.
However, the medical coverage — and the other federal benefits afforded National Guard members working in a federal capacity — are not available to all Guard members activated in response to coronavirus. Only troops conducting missions approved by the Federal Emergency Management Agency are on the federal status known as Title 32, which provides federal money to states for those service members but allows the governor to maintain control over them.
Expanding the orders to more than 30 days also allows troops to get a housing allowance. Other benefits such as retirement points, GI Bill benefits and death gratuity don't have the same time-limit restrictions as medical coverage and the housing allowance.
In states and on missions without the federal approval, troops remain on state active duty, which only leaves them the option of workers' compensation, should they become ill or injured while working during the coronavirus pandemic. They also could visit a military facility, if one is nearby.
Trump's directive Tuesday also approved Arizona, Colorado, Kentucky, Mississippi, Montana, Nevada, North Carolina, Oregon, Pennsylvania, South Carolina, Virginia, Wisconsin and West Virginia for Title 32 status. Those states join 21 others, three territories and Washington, D.C.
As of Wednesday, that amounted to about 11,000 service members on federal status and eligible for Tricare, Air Force Gen. Joseph Lengyel, chief of the National Guard Bureau, said Wednesday during a call with reporters. Now that the 31-day authorization is available, he said he expects more states will ask for federal funding.
Some states were "kind of going slow, putting their folks on the orders, because they knew everybody was working pretty hard to get this over a 30-day length of time so that they could properly cut the orders and get people their insurance benefits and their basic allowance for housing benefits, and they wouldn't have to then break orders and recut them," Lengyel said. "So you're going to see that number in [federal status] increase rapidly."
The process to get federal status approved has been slow, he said, but with Trump's approval Tuesday of federal funds in 13 more states, he anticipates the Guard numbers to increase by about 10,000 in the next two weeks.
Some troops might never get the federal status because of the nature of their mission, such as the Guard members who worked polling stations for Wisconsin's state elections Tuesday.
Overall, there is enough funding for 44,000 troops on federal status, Lengyel said, referencing the $1.5 billion set aside in the most recent coronavirus relief package signed into law last month.
"Keep in mind that states are being very deliberate about how bring on National Guard members," he said.
thayer.rose@stripes.com Twitter: @Rose_Lori