Female veterans demand action from House lawmakers to stop sexual harassment, assault in the military
by
Caitlin M. Kenney
July 30, 2020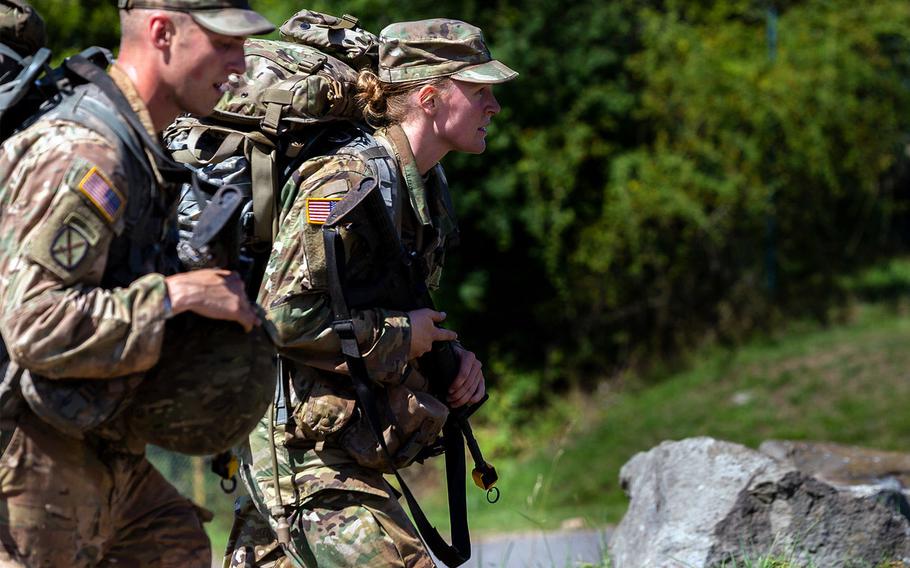 WASHINGTON — Two female veterans who experienced sexual harassment and assault in the military called on House leaders to take steps to protect service members after the disappearance and killing of Army Spc. Vanessa Guillen at Fort Hood, Texas.
"Women do not report because we fear for our safety, we fear for our future, we fear for retaliation, and I've come to see this too many times," Lucy Del Gaudio, an Army veteran and member of the grassroots movement Justice for Vanessa, said Wednesday before a military personnel subpanel of the House Armed Services Committee.
The hearing was held after thousands of stories were posted to social media by people detailing their experiences with sexual assault and harassment in the military in response to reports that before Guillen died, she told her family that she was being sexually harassed in her unit.
Del Gaudio said she was sexually assaulted in 1992 by a senior noncommissioned officer when she was serving overseas and when she reported the incident, she received retaliation. Her case was eventually closed by the Army's Criminal Investigation Command, but she said she was not notified. The officer who she said attacked her was given an assault charge and later a promotion, Del Gaudio said, but she "was pushed out" because she could not get over what had happened.
"I wanted to stay in the military. I wanted to make it a career. My brother served in the Marines for 22 years. My [other] brother served in the Army for 32 years. I wanted that and it was taken away from me because I didn't feel safe," Del Gaudio said.
Rep. Jackie Speier, D-Calif., chairwoman of the committee, announced at the hearing Wednesday that she is leading a congressional delegation to Fort Hood within the next month in response to the Guillen case.
"We are going to continue to investigate this," she said.
On July 20, Army Secretary Ryan McCarthy directed there be an independent panel to review the climate and culture of Fort Hood to determine whether it reflects the Army's values of respect and workplaces free of harassment. On Thursday, the Army announced the names of the five experts who will conduct the review, which will look into historical data and conduct interviews with service members, civilian and members of the community. They will submit their findings and recommendations to the Army, which will have another team consider them and look to implement changes.
Fort Hood's Sexual Harassment and Assault Response and Prevention program was recently inspected by a team from the Army Forces Command's inspector general office. On Wednesday, Col. Patrick Wempe, the inspector general for the command, told House lawmakers that Fort Hood's SHARP program meets the Army's standard.
Other female veterans told their stories during the House hearing Wednesday.
Melissa Bryant, also an Army veteran and member of Justice for Vanessa, described how she experienced sexual harassment during a summer at Fort Hood when she was a ROTC cadet. She had to laugh off comments about her physique with junior enlisted soldiers because she "didn't want to make a scene." Bryant said the men were either indifferent or oblivious to the nature of the talk.
"I imagine this is how Vanessa Guillen felt when she was sexually harassed by someone who outranked her, even when he was also lower enlisted and not in her direct chain of command," she said.
Guillen's sister, Lupe Guillen, has said the soldier was too afraid to report the harassment, but Army investigators have wavered on confirming the allegations. For the entirety of the two-month search for Guillen, investigators said they interviewed hundreds of people but they could not corroborate the allegations. Following identification of Guillen's remains earlier this month, investigators told The Washington Post that she might have faced harassment, but it was not sexual in nature.
Guillen, a 20-year-old small arms repairer assigned the 3rd Cavalry Regiment, went missing April 22 and her remains were found more than two months later buried alongside a river miles from the base. A fellow soldier from her unit, Spc. Aaron Robinson, hit her with a hammer and killed her in an arms room on base, according to court documents. Robinson shot and killed himself June 30 when confronted by civilian law enforcement in Killeen, the town just outside Fort Hood.
Bryant said the grassroots movement is calling for the shutdown of Fort Hood in response to Guillen's killing and future enlistments be halted until an on-the-ground investigation by a congressional delegation is conducted.
Del Gaudio also called for the congressional visit and investigation of Fort Hood, as well as stopping the practice of reporting sexual assault and harassment to commanders and instead create an outside investigative entity. Del Gaudio also requested the Defense Department's annual reports on sexual harassment and assault be required to include a break down in data by installation to identify problem bases.
"The culture of power and control creates and molds toxic leadership. This system is so static, it is gorilla glued to the floor of the basement. We can't even see the glass ceiling when it comes to the elimination of harassment and sexual assault in the military," Del Gaudio said.
Lessons on sexual harassment and assault should not be done in small blocks in schools or once a year during training, but as a continuous discussion, Del Gaudio said. It has to become part of the culture, and personnel must know that they will be protected when they speak, she said.
"It's a conversation. It's happening all the time. We have to have the candid discussions," Del Gaudio said.
Rep. Trent Kelly of Mississippi, the ranking Republican on the committee, said he agreed with Del Gaudio and service members need to be taught and trained on sexual harassment and assault early, continuously, and in person throughout their career.
Kenney.Caitlin@stripes.com Twitter: @caitlinmkenney