Female military veterans emerge from midterm elections as a small but growing caucus
by
Claudia Grisales
November 9, 2018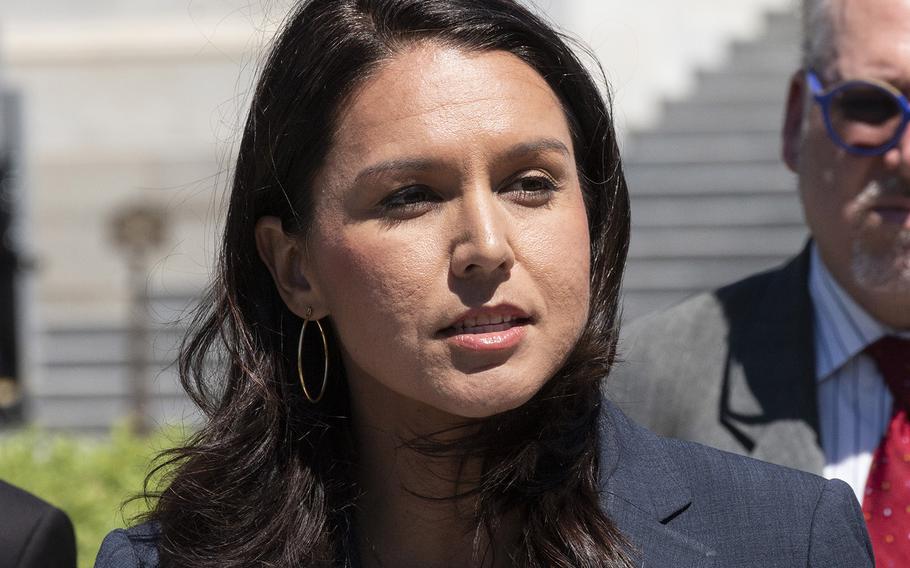 WASHINGTON – Female veterans posted groundbreaking wins and performances in this week's midterm elections, expanding membership to a small, but emerging caucus on Capitol Hill.
About a dozen of the women, mostly Democrats, ran in general elections – an unprecedented number, experts said.
Of those veterans, at least four won their bids to Congress, including three who flipped seats in traditionally Republican districts. Two more remain locked in tight races days after the election.
"They ran an unprecedented number of women," Jeremy Teigen, a political science professor at Ramapo College of New Jersey, said of political parties supporting female candidates. "There were 12 women with military service experience who ran… and that's huge. I don't think there's ever been 12."
The female veterans were also part of a historic wave of more than 100 women elected to Congress. All 435 seats in the House and 35 of the Senate's 100 seats were up for grabs in Tuesday's midterm elections.
With at least four female military veterans claiming victory, it would bring their small caucus to six or more when the new Congress convenes in January. That's up from the four serving in the congressional session that ends this year.
"We're excited to see this number of veterans, especially female veterans as members of Congress next year. We think they bring a different perspective," said Ellen Zeng, spokeswoman for With Honor, a new "cross-partisan" group focused on electing candidates with military service to public office. "There's definitely a hunger in the electorate for outsiders and fresh faces."
Teigen and other experts said the candidates built upon the successful campaigns of Sen. Tammy Duckworth, D-Ill., a veteran combat helicopter pilot who lost both legs during her military service, and Rep. Tulsi Gabbard, D-Hawaii, a member of her state's National Guard. Gabbard won her seat in 2012, while Duckworth, now in her first term, was elected in 2016.
At least nine of this year's female veteran candidates ran as Democrats, and two as Republicans.
"There certainly have been women who have run before, but Democrats tended to nominate them in relatively difficult places" to win, said Teigen, author of "Why Veterans Run: Military Service in American Presidential Elections, 1789-2016.""This year, we've seen some women with military service experience in that condition, but also in more competitive contests that gave them a shot at winning. In the past, it was a rarity to see your Tammy Duckworths and Tulsi Gabbards win."
It has been more than 30 years since the first female veteran served in Congress for an abbreviated term, he added.
Catherine Small Long, a Navy veteran from Louisiana, filled a House seat for the remainder of her husband's term in 1985.
After Long, Air Force Secretary Heather Wilson was elected to Congress for a full term, serving as a New Mexico congresswoman from 1998 until 2009.
Now, Congress has four female vets: Duckworth, Gabbard and Sen. Joni Ernst, R-Iowa, and Rep. Martha McSally, R-Ariz., an Air Force veteran, is still vying this week to win a Senate seat – she's locked in a battle against Democratic Rep. Kyrsten Sinema to replace outgoing Republican Sen. Jeff Flake.
But with Gabbard winning a fourth term Tuesday, the group of female vets is now poised to add at least three new members.
"They did really well," said Jon Soltz, chairman of progressive political organization VoteVets, which supported a slate of Democratic military veterans running for office. "They either won or outperformed in their districts."
Democrats Mikie Sherill of New Jersey, Elaine Luria of Virginia and Chrissy Houlahan of Pennsylvania all scored wins and took House seats in traditionally Republican districts in Tuesday's midterms.
In New Jersey's 11th District, Sherill, a veteran Navy helicopter pilot, beat her opponent, Jay Webber, a Republican state assemblyman. The two were vying to fill the seat for retiring Republican Rep. Rodney Frelinghuysen, who held the seat for 12 terms.
Sherill said one of her biggest concerns is seeing lawmakers working together, and that the election of veterans could help overcome congressional gridlock.
"I like to think so," Sherill said Wednesday during MSNBC's "Morning Joe" show about veterans on Capitol Hill. "There's a willingness to work with everyone."
In Virginia's 2nd District, Luria, a 20-year Navy veteran, pulled an upset when she ousted sitting Republican Rep. Scott Taylor.
And Houlahan, an Air Force veteran, beat Republican Greg McCauley for her first term for Pennsylvania's 6th District.
Two other Democratic female veterans who ran in high-profile races lost close votes in heavily Republican districts.
In Kentucky's 6th District, Democrat Amy McGrath, a veteran Marine fighter pilot, came within nearly 3 percentage points of unseating her opponent, Republican Congressman Andy Barr, who won a fourth term in office.
And Air Force veteran Mary Jennings "M.J." Hegar, a Democrat, also lost a tight race to incumbent Republican Rep. John Carter in Texas' 31st District, a conservative swath President Donald Trump won in 2016.
"I think a lot of candidates faced extremely high hurdles, even the ones who lost definitely over-performed their districts," Zeng said. "The caliber of their campaigns were very impressive, their message really resonated and showed up in those results, even for candidates who lost."
Next year, the new Congress will feature at least four female veterans in the House and two in the Senate. They will be among the dozens of military veterans who won seats in the midterms. In all, 200 former servicemembers competed in the general elections.
In another race still awaiting final results, The Associated Press and others cancelled their call Wednesday that Republican Rep. Will Hurd would win Texas' 23rd District, reporting instead that Democrat Gina Ortiz Jones, an Air Force veteran, was leading.
One possible motivating factor for these Democratic veteran candidates was to take on Trump, who sought five deferments to military service and made degrading comments about women.
"It's possible that the Democrats looked at a president who has low approval… who went out of his way to avoid military service and… [shown] some profoundly disturbing attitudes about women," Teigen said. "I wonder if Democrats looked at the female veteran as a political opposite to counter Trump."
grisales.claudia@stripes.com Twitter: @cgrisales