Fanning steps aside as acting Army Secretary as confirmation remains on hold
---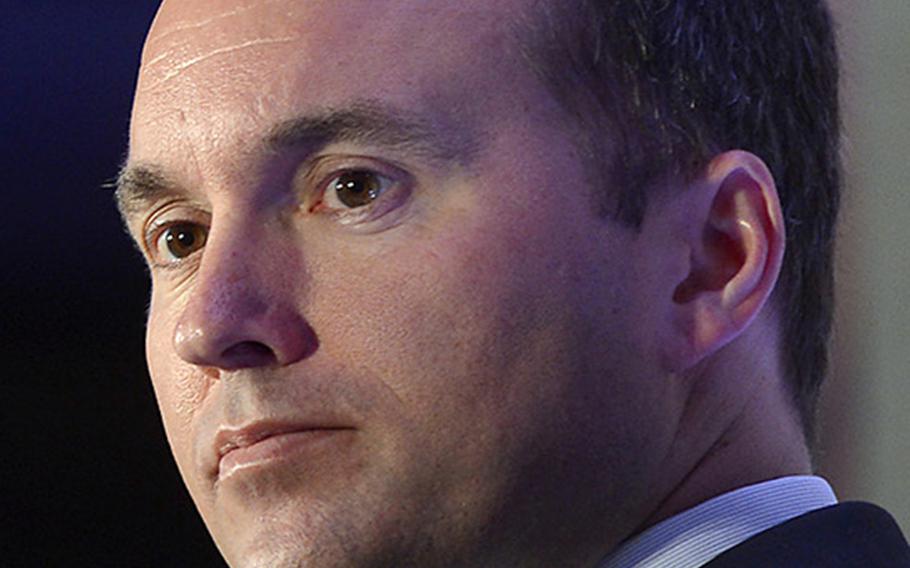 This story has been updated.
WASHINGTON — Acting Secretary of the Army Eric Fanning will step aside after lawmakers expressed concern over his holding the job without Congress confirming his nomination.
Fanning was nominated to the position in September by President Barack Obama to replace departed Army Secretary John McHugh. If confirmed, Fanning would be the first openly gay service secretary.
Sen. Pat Roberts, R-Kan., put a hold on Fanning's nomination to oppose Obama's planned closure of the detention facility at Guantanamo Bay, Cuba. Fanning's nomination has not moved forward since Roberts sent a letter to Senate leadership in September.
On Monday, the Pentagon said Fanning would "step out" of the role and perform other duties at the Pentagon until Congress voted on the issue.
"In conversations relating to Fanning's confirmation, members of the Senate Armed Services Committee expressed some concerns about his designation as acting Army Secretary pursuant to the Vacancies Act," Pentagon Press Secretary Peter Cook said in a statement. "As a show of comity to address these concerns, Fanning has agreed to step out of his acting role to focus on achieving confirmation in the near future."
The Vacancies Act outlines who and for what amount of time a person can temporarily fill a presidentially appointed position.
Sen. John McCain, R-Ariz., chairman of the Armed Services Committee, hopes to hold a hearing on the Fanning nomination as soon as possible but had no immediate comment on the situation Monday, according to spokesman Dustin Walker.
In the interim, Under Secretary of the Army Patrick Murphy will serve as acting secretary, Cook said.
"We expect this move to be of a short duration and for Fanning to achieve speedy confirmation," he said.
Obama has vowed to close the detention facility at Guantanamo Bay, but he decided not to submit a plan to Congress at the end of 2015 due to concerns over the costs of moving the prisoners and political blowback from districts across the country that might be asked to house them.
"Yes, the senator has placed a hold on the Eric Fanning nomination until he receives the appropriate assurances from the administration that the remaining terrorists held at Guantanamo Bay will not be transferred to Fort Leavenworth, Kansas," Katherine Knight, a spokeswoman for Roberts, wrote in an email to Stars and Stripes.
Roberts vowed to continue the hold until the White House makes the guarantee.
Stars and Stripes congressional reporter Travis Tritten contributed to this story.
Copp.tara@Stripes.com Twitter: @TaraCopp
---
---
---
---