Family of airman killed at Grand Forks AFB see same issues in military as Army Spc. Vanessa Guillen's family
---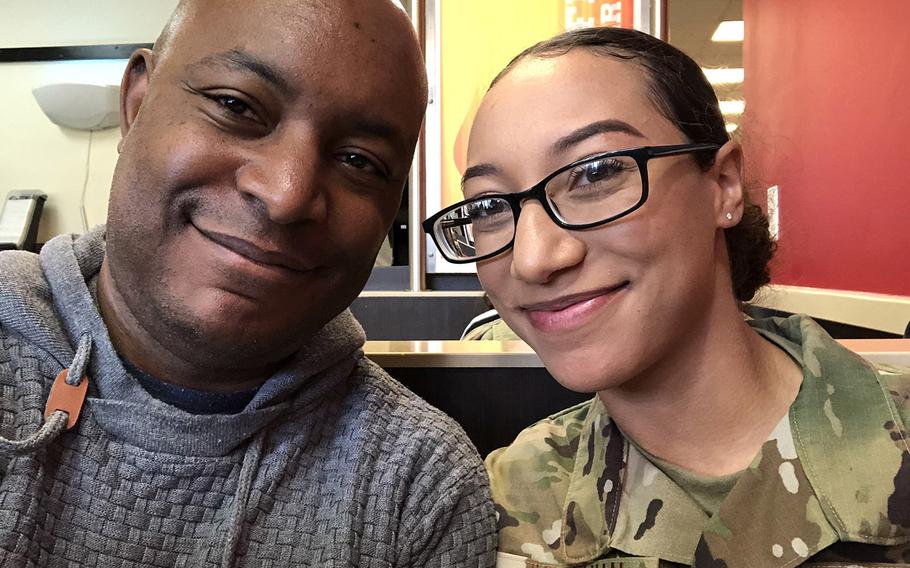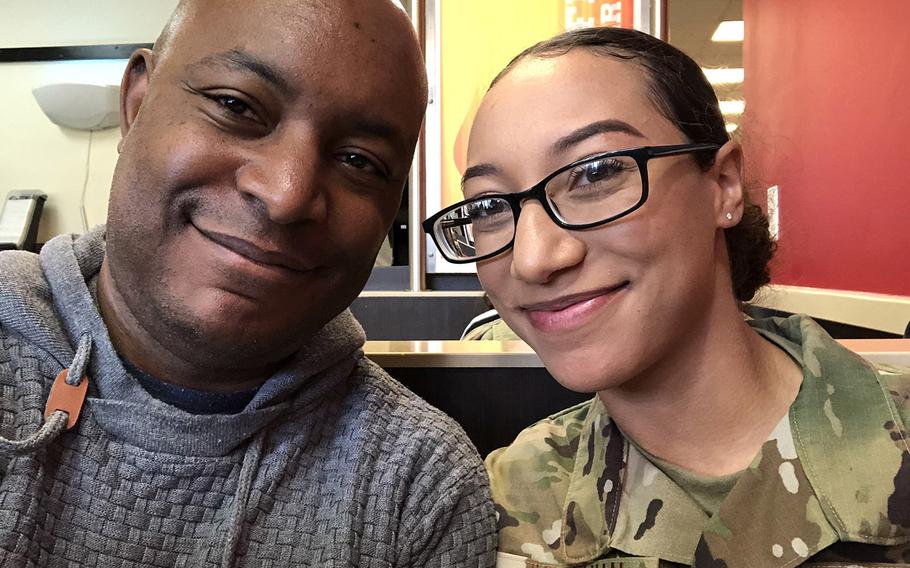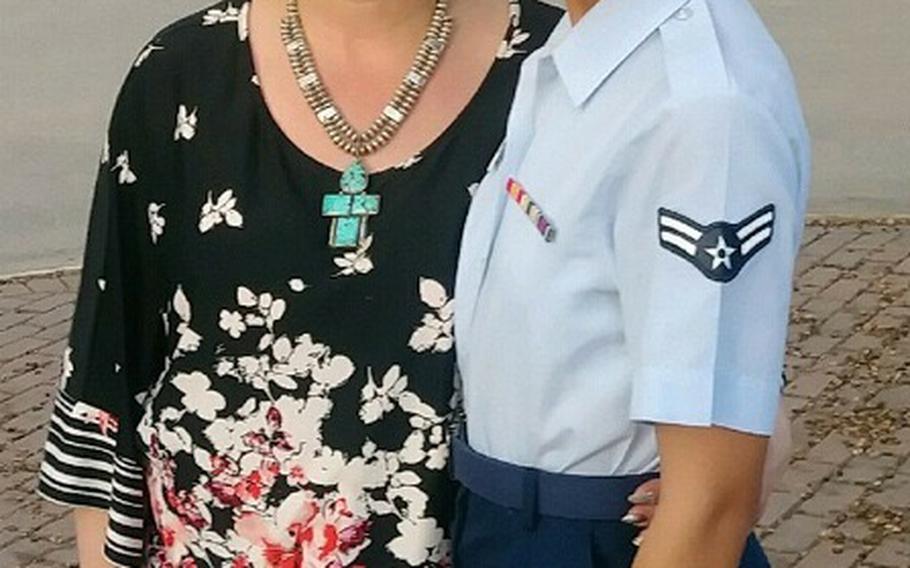 AUSTIN, Texas — It's been more than a month since Airman 1st Class Natasha Aposhian was killed at Grand Forks Air Force Base, N.D., and her parents said they are still struggling to understand why the service hasn't provided them answers.
"I'm devastated. I don't know how people go on," Megan Aposhian, the airman's mother, said from her home outside of Phoenix. "I don't think I'll ever heal from this, but I want answers. I want to know [what happened] as if I was there. I want to know what happened to my daughter."
The Air Force has only said Natasha, 21, died of a gunshot wound in a base dormitory at about 4:30 a.m. June 1 and Airman 1st Class Julian Carlos Torres, 20, also died in the incident. Officials have not released his cause of death and they have not said who shot Natasha.
Linda Card, a spokeswoman for the Air Force Office of Special Investigations, said Monday that she cannot provide any information beyond what was released in June. The investigation remains open, she said.
Natasha's parents said they are frustrated. They want people to know what happened to their daughter and they want to know why the Air Force won't officially confirm how their daughter was killed.
Megan Aposhian said investigators have told her privately that Torres shot her daughter, then shot himself in the head. She and Natasha's father, Brian Murray, believe this was an act of domestic violence because their daughter had told Torres the day prior to her killing that she did not want to date him any longer.
"I just want to know these answers: What kind of gun was it? How did he get the gun? Where was my baby shot? Did she die at the first bullet?" Megan Aposhian said. "This is my baby. We were best friends."
Murray added: "I understand the investigation is pending. It's been six weeks now and it's pretty evident that it's a murder-suicide."
Megan Aposhian said she also wants a copy of the autopsy, but the Air Force will not release it to her. She knows nothing will change the fact that Natasha, the second oldest of her four children, is gone. She knows the information will not change the fact that her two youngest children, ages 9 and 10, will never be the same.
"We're ruined," she said.
Fears of reportingIn the wake of the disappearance and killing of Army Spc. Vanessa Guillen at Fort Hood, Texas, Natasha Aposhian's parents said they hope the calls for investigations and reform can provide answers in their daughter's case as well. Guillen went missing April 22 from an arms room at Fort Hood. Her remains were found miles from the base more than two months later. She was killed by fellow soldier, Spc. Aaron Robinson, according to court documents.
During the search for Guillen and since her remains were found June 30, her family has been critical of Fort Hood and Army commanders and the manner in which the investigation was conducted by Army Criminal Investigation Command. Among their requests in the wake of Guillen's death, her family has asked Congress to review the investigation and the military's sexual harassment and assault program.
"We want the same reforms that Vanessa Guillen's family is asking for. The military has a major issue with domestic violence and sexual violence," Murray said. "There should be places where they feel safe to go to. I think that was part of the problem with my daughter as well. She's one who wouldn't want to get anyone in trouble. She was fearful of this guy, but probably afraid to go to [a] supervisor because of the fallout."
Megan Aposhian said her "heart breaks" for Guillen's mother. "They were there to fight for us, our country. And our own takes their lives," she said.
While she said she feared her daughter could be sent to combat, Megan Aposhian never imagined Natasha wouldn't be safe on a stateside base. Between her own experience and reading about Guillen's case, the mother now feels naïve that she was unaware of the domestic and sexual violence issues in the military. She said she had been proud her daughter chose to enlist.
The choice to serve came to Natasha Aposhian as she was feeling restless attending college in Tucson. She enlisted in December as an aircraft parts store apprentice because in military service "she knew where her path was going to lead her," Murray said. "For her, it was something where she felt like she had a purpose."
The last time she talked to her dad on May 31, Murray said they spoke through video chat. During the conversation, Natasha told him she had ended her relationship with Torres.
The two airmen had gone out a few times over the course of a couple weeks, Megan Aposhian said. But her daughter told her that she was afraid of him and he'd used misogynistic language to refer to her on social media.
"She said, 'I'm afraid he's going to kill me, Mom. I feel like I need to get an order of protection,'" Megan Aposhian said. "She did express that she was afraid of him and thought he was going to shoot her. I don't know why."
On May 31, Natasha told a friend she was going to go to her leadership, but she changed her mind because Torres had been nice when she delivered the breakup news to him, Megan Aposhian said.
By sunrise, she was dead.
End the fraternity cultureTo seek help in their quest for answers, Natasha Aposhian's parents worked with Arizona state Rep. César Chávez, a Democrat from Phoenix.
"Everybody is tackling it at different directions," Chávez said, noting the approaches, mostly from Congress and veteran and Hispanic groups, calling for different investigations and reviews into the death of Guillen from federal agencies outside of military.
"I would like to see a sudden change or change within this year that would end the fraternity culture that exists within the U.S. military. 'If something happens to you, we don't speak because we don't tattletale on each other,'" he said. "It's not right for anybody. If I can accomplish anything beyond trying to get some justice for the Aposhian and Guillen families, it is that."
Chávez took his initiative to the National Hispanic Caucus of State Legislators, which sent a letter on behalf of its 430 members to ask Air Force Secretary Barbara Barrett and Army Secretary Ryan McCarthy to "address the continued lack of safety experienced by female enlisted service members." The letter also was sent to the House and Senate Armed Services Committees.
New Mexico state Sen. Daniel Ivey-Soto, a Democrat from Albuquerque who serves as the caucus president, wrote the letter. He said local and state officials walk a fine line of holding the military accountable while welcoming the presence of bases in their states. But after reading about Aposhian and Guillen, he said the American people need more than commitments from the military. They need change.
"Let's not pretend [Guillen] is just a one off," he said.
While there are differences between the two cases, Ivey-Soto said what's clear is neither woman felt like they could go to their chain of command.
This is a readiness issue
In closing the first paragraph of the letter, Ivey-Soto wrote the two cases demonstrate a continuing culture where "enlisted women — especially enlisted women of color — have more to fear from those with whom they serve than from this nation's enemies."
The reality of that sentence makes him angry, he said. On the surface, it might appear as a women's issue. But to put it only in that category "is to do a disservice to our nation," Ivey-Soto said.
"This is a readiness issue. This is a military cohesiveness issue. That's where I think we can broaden the conversation. I think both conversations are necessary," he said. "We need to make sure that we have a military that part of its readiness is people trusting the folks that they are deployed with."
Natasha Aposhian's parents believe holding the Air Force accountable will create a better, safer military for everyone, Murray said.
"We still support our military and our service men and women. Obviously, we want the Air Force higher-ups to answer for what has happened and to be truthful. Because we want that, that doesn't mean we love our troops any less," he said.
Megan Aposhian said she also believes if Natasha were alive and had seen a fellow airman die from a similar fate as she did, she would want to create change.
"She would want it fixed and she would stand up," Megan Aposhian said. "She always put everyone before herself. She was a strong independent woman and she wanted to do the best things in life she could think of, like joining the Air Force."
Murray has asked anyone with information about his daughter's case to email him at justicefortasha@gmail.com. He's also created a GoFundMe page to raise money for the legal fees associated with their advocacy in Natasha's case. It is available at https://www.gofundme.com/f/justicefornatasha.
thayer.rose@stripes.com Twitter: @Rose_Lori
---
---
---
---