F-35 program faces critical year of tests, transition
by
Claudia Grisales
March 7, 2018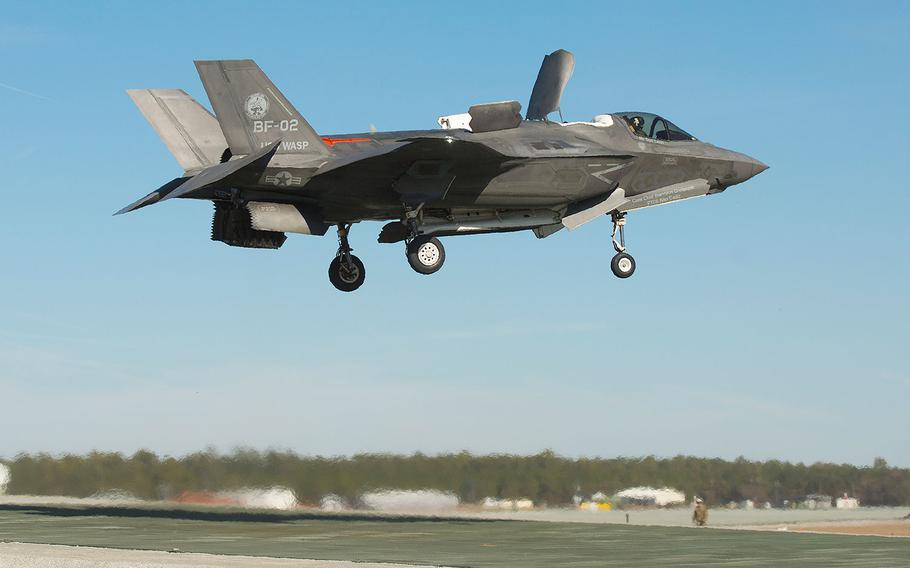 WASHINGTON — The F-35 program, the Pentagon's most expensive weapon ever, will face a series of critical tests this year.
After 17 years of costly development and engineering efforts, the program will enter into an operational test period this fall.
For the first time, the Marine Corps this week deployed a detachment of F-35B Lightning IIs aboard the USS Wasp, a Navy amphibious assault ship.
"We are on track for another productive and challenging year," Vice Adm. Mathias Winter, director of the F-35 joint program office, said Wednesday during a congressional hearing. "It will be a year of growth and transition."
Last year, the Department of Defense requested 70 F-35s. Pending a request this year, the department aims to see another 77 of the fighter jets. By 2023, the services are planning to see the addition of 99 F-35s each year.
The F-35 will complete its baseline development program by May of this year, and then enter an operational test period phase in September, said Rep. Mike Turner, R-Ohio, a senior member of the House Armed Services Committee.
This, after the F-35 program completed developmental weapons testing, and the deliveries of F-35s to U.S. and foreign military services.
"Last year marked several notable accomplishments for the F-35 program," said Turner, chairman of the House Armed Services subpanel on tactical air and land forces. "But the F-35 program continues to face challenges ahead."
The program, which has been marked by extreme cost overruns, a series of restructuring efforts and audits to draw down spending, has finally seen procurement costs for F-35s steadily declining in recent years, he said.
In 2017, Turner's subcommittee included a provision in the National Defense Authorization Act that requires the Government Accountability Office, or GAO, to review the F-35 program's continued costs and provide recommendations to address affordability issues.
A GAO report in September noted the F-35 program is facing challenges involving repairs, shortages of spare parts and delays in development of a related computer and network-based Autonomic Logistics Information System, also known as ALIS, Turner said.
"The F-35 is DOD's most expensive weapon system, with estimated sustainment costs of about $1 trillion," the GAO report stated. "With the military services planning for the ability to deploy and maintain the F-35 within four years, DOD is working to develop a sustainment strategy that will be both affordable and executable for the program's life cycle."
In the past months, the F-35 program has made strides addressing the concerns, but much work lies ahead, military leaders and lawmakers agreed Wednesday.
Among those, said Rep. Niki Tsongas, D-Mass., a ranking member of the subpanel, is the development of new, related software technology that could lead to more financial headaches.
"The F35 program has come a long way," Tsongas said. However, "the last 17 years of F-35 software development have seen dramatic cost increase and delays. How this new effort will somehow defy this unfortunate history remains an open question."
grisales.claudia@stripes.com Twitter: @cgrisales