F-22s intercept Russian bombers off Alaska's coast for second straight week
---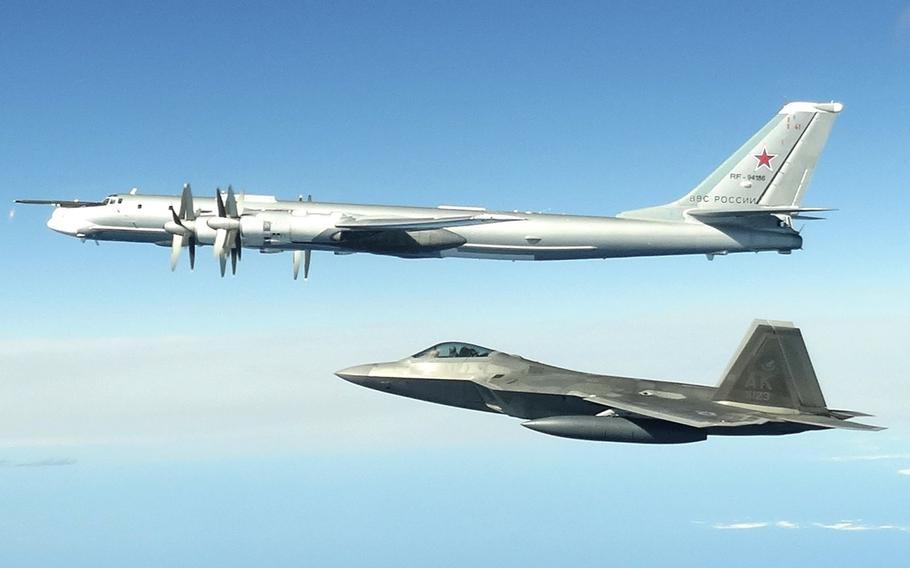 WASHINGTON — F-22 Raptor stealth fighter jets were scrambled late Tuesday to intercept two Russian bomber formations flying off Alaska's coast, the eighth such incident reported this year by U.S. military officials.
The latest intercept announced Wednesday by the North American Aerospace Defense Command comes about a week after a similar incident with a similar Russian formation flying unusually close to Alaskan shores on June 10. While Russian bombers flew within eight nautical miles of sovereign American airspace last week, they remained farther away Tuesday, according to the NORAD statement.
The first formation on Tuesday night featured two Tu-95 Bear bombers, two Su-35 Flanker fighter jets and an A-50 airborne early warning and control aircraft, NORAD said. The second included two more Cold War-era Bear bombers and an A-50. The Russian aircraft remained in international airspace at all times.
The second group of Russian aircraft flew within 32 nautical miles of Alaskan shores, NORAD said. U.S. airspace stretches 12 nautical miles from its shores. But NORAD — the command that defends American and Canadian airspace — expects all aircraft to identify themselves for national security purposes when flying within about 200 miles of U.S. and Canadian shores, in what are known as air defense identification zones.
It is not unusual for Russian military aircraft to fly near U.S. and Canadian airspace, especially off Alaska's coast, to observe off-shore training. NORAD has reported such incidents for three consecutive months. The United States, too, flies regular military flight operations near Russian territory, which are typically intercepted by Russian aircraft.
Air Force Gen. Terrence J. O'Shaughnessy, who commands NORAD and U.S. Northern Command, linked the uptick in Russian military flights off Alaska's coast to the ongoing coronavirus pandemic. The general has repeatedly warned Russia would test America's ability to defends its territory during the crisis.
"For the eighth time this year, Russian military aircraft have penetrated our Canadian or Alaskan Air Defense Identification Zones, and each and every time NORAD forces were ready to meet this challenge," O'Shaughnessy said in a statement issued Wednesday. "Despite the [coronavirus] pandemic, NORAD constantly monitors the northern approaches to our nations and our operations make it clear that we will conduct homeland defense efforts 24 hours a day, 7 days a week, 365 days a year."
dickstein.corey@stripes.com Twitter: @CDicksteinDC
---
---
---
---