Exchange doubles credit limit for troops to buy uniforms as new Army Greens hit stores
by
Corey Dickstein
September 4, 2020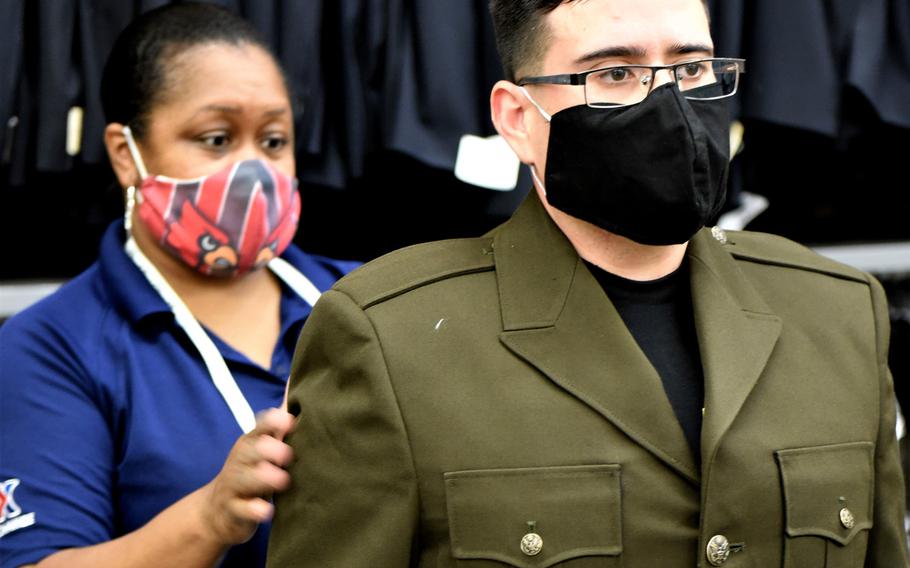 WASHINGTON — Most U.S. troops can now receive up to $1,000 credit with no interest for one year on military uniform purchases through the Army and Air Force Exchange Service's credit program, officials announced this week.
The change marks the first major adjustment to the Military Star card, the exchange's credit program since it was launched in 1979, and it comes as the Army's new World War II-inspired Army Green Service Uniform hits shelves at exchange shops at some installations. The changes double the long-standing $500 credit limit on zero-interest uniform-purchasing plans and extends them from nine-month payment plans to 12-month plans, exchange officials said in a Tuesday statement.
Soldiers, airmen, Marines and members of the National Guard and Reserve are eligible to participate in the program. About 474,000 troops are now enrolled in the uniform credit program, according to the exchange statement.
Sailors and Coast Guard members are eligible for a promotional 0% plan for purchasing uniforms on the Military Star card's standard credit line, which is separate from its uniform credit line.
The credit increase on the military clothing plan is meant to give troops new opportunities to build credit and give them more flexibility to pay for their uniforms, said Air Force Chief Master Sgt. Kevin Osby, the senior enlisted leader for the exchange.
"The Military Star card offers this benefit as a service to the services, reflecting the Exchange Credit Program's commitment to ensuring the readiness and resiliency of warfighters across the globe," Osby said in the statement.
It will also allow soldiers to pay over time for the new green uniforms, which will replace the blue Army Service Uniform as soldiers' standard office attire by 2027. The blues will become the Army's uniform for more formal settings, such as unit galas.
The Army Greens are expected to be available at most exchange stores within the continental United States by December and at Army posts across the globe by March, the exchange said.
Some soldiers have already adopted the new look, modeled after the popular World War II uniform known as "pinks and greens." Drill sergeants, recruiters, and general officers who deal with the public have been among the first to receive the new uniforms.
By December, the Army expects to issue the Army Greens to incoming recruits.
Early adopters of the new uniform will pay more for it. The standard uniform now costs about $500, said Daniel Koglin, a military clothing manager for the Army and Air Force Exchange Service. That does not include any optional items available to soldiers, including the so-called "Ike" jacket, inspired by the cropped jacket made iconic by Gen. Dwight Eisenhower during World War II.
dickstein.corey@stripes.com Twitter: @CDicksteinDC