Evacuations ordered for four military bases as Florence approaches East Coast
By
Claudia Grisales Rose L. Thayer
September 11, 2018
---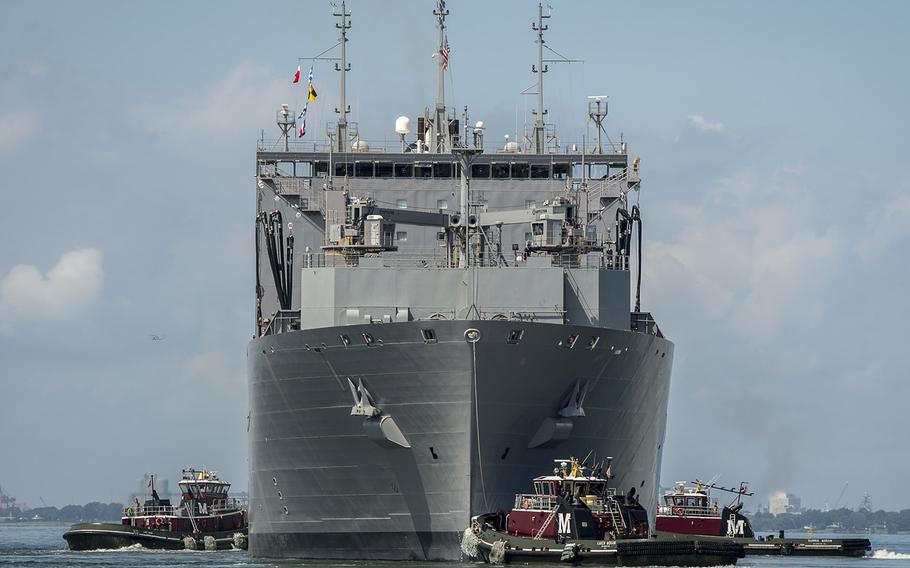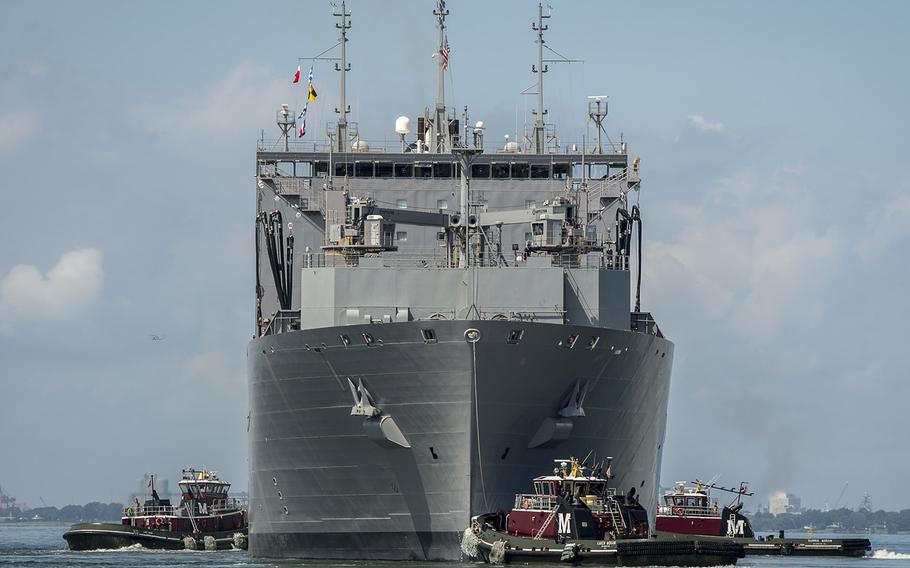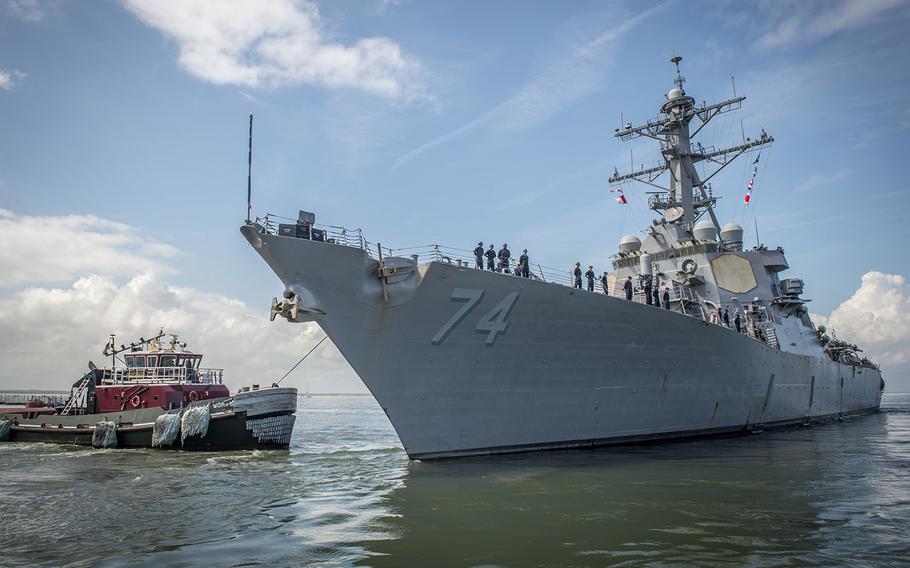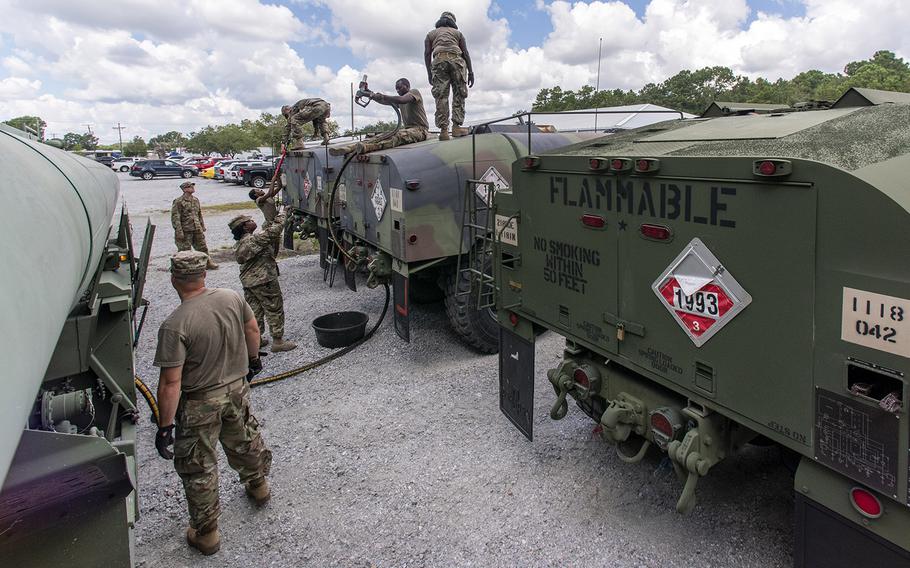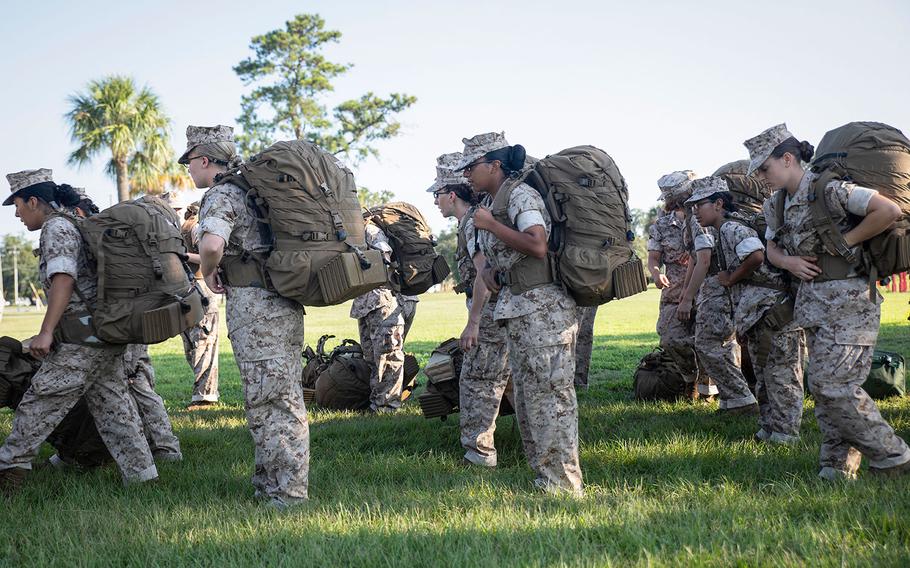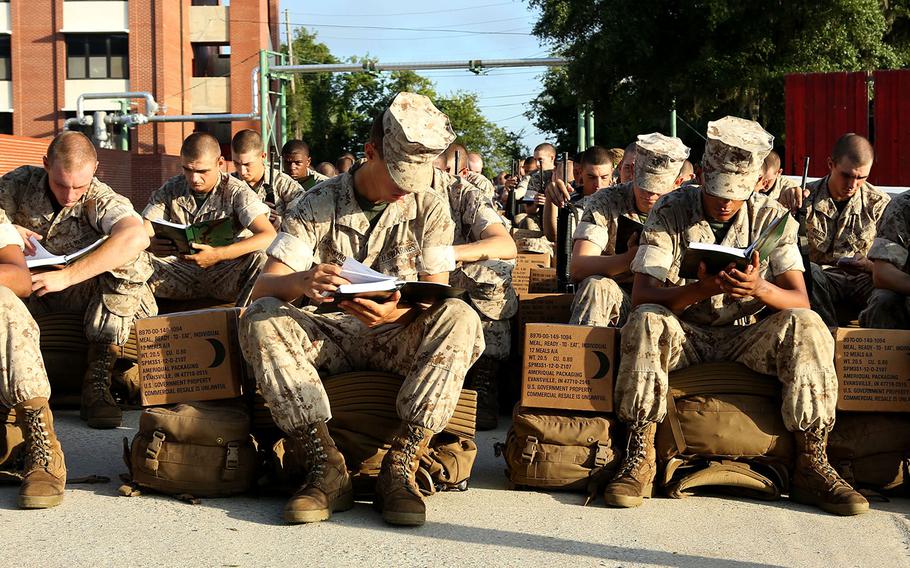 All or portions of at least four military installations along the East Coast have ordered evacuations in anticipation of Hurricane Florence, as the massive storm is expected to make landfall by Thursday.
Navy officials have authorized an emergency evacuation order in Virginia for personnel residing in Hampton Roads and Virginia Zone A of Naval Station Norfolk. The order follows the governor's evacuation order for the same area and will remain in effect until Saturday.
"The safety of our personnel and their families is my top priority right now," said Rear Adm. Charles Rock, the commander of Navy Region Mid-Atlantic. "Our mission is to support the fleet, fighter and family and the team at Navy Region Mid-Atlantic has been working around the clock to provide support and information during this very stressful time."
The Air Force is evacuating Joint Base Charleston in South Carolina and has a limited evacuation order at Joint Base Langley-Eustis in Virginia, as announced on each base's Facebook page. Both bases are following the lead of local and state evacuation orders, said Air Force Maj. Lindy Singleton. At Langley-Eustis, which sits near the mouth of the Chesapeake Bay, the order is for personnel who reside on Langley Air Force Base or in the Virginia Department of Emergency Management Evacuation Zone A.
The Air Force has ordered any personnel traveling to these bases to stay where they are. Officials are also monitoring Seymour Johnson Air Force Base in North Carolina, Pope Field at Fort Bragg in North Carolina and the Washington, D.C. area, Singleton said. Some aircraft at Seymour Johnson and Langley have started to move to other locations.
Langley's F-22 Raptors and T-38 Talon training jets began flying out Tuesday. They will fly to Rickenbacker Air National Guard Base in central Ohio.
Air Force Col. Jason Hinds said in a statement that the base's facilities can withstand hurricane force winds. But he said there's no reason to risk any damage to the base's fleet of advanced F-22 fighter jets. About 100 personnel will travel to Ohio to support the jets.
At Fort Bragg, the Federal Emergency Management Agency has begun staging supplies at the post while soldiers and airmen are working to mitigate damage to infrastructure and military equipment, according to The Fayetteville Observer.
"Our number one priority is the safety and well-being of our soldiers, civilians and their families," said Lt. Col. Mike Burns, a spokesman for the 18th Airborne Corps and Fort Bragg. "We understand that Hurricane Florence has the potential to impact our community and we are doing many of the things you would expect to prepare."
Fort Bragg also is bracing for the storm and taking steps to mitigate any damage it might cause by clearing storm drains and inspecting other infrastructure. Burns said military vehicles and other equipment that could be damaged by the storm are being moved indoors when possible. A spokesman for the 82nd Airborne Division said they are preparing to move more than 80 helicopters to Georgia ahead of the storm and are working to fill fuel and water tanks.
On Monday, a mandatory evacuation of Marine Corps Recruit Depot Parris Island, located along the southern portion of the South Carolina coast, was announced. Brig. Gen. James Glynn, commander Parris Island and the Eastern Recruiting Region, said the mandatory evacuation would begin at noon Tuesday. About 8,500 servicemembers are assigned to Parris Island.
"I have determined the safest course of action is to evacuate," he said. "For everyone's safety, I have issued the evacuation order well ahead of the storm in an effort to ensure everyone is able to seek refuge before the storm impacts the area."
The Coast Guard also announced it is moving its cutters, aircraft and boats outside the projected path of the hurricane and all non-essential personnel will be evacuated. The service warned that during and in the immediate aftermath of the storm, it might not be available.
For example, Coast Guard Capt. Kevin Carroll, commander for Sector Hampton Roads at Portsmouth, Va., said Monday that its 29-foot response boat, 45-foot response boat, 87 coastal patrol boats and 270-foot cutter are being relocated to safer areas. In addition, the Coast Guard is taking steps to ensure its aircraft are safe, such as its C-130s and MH-60 Jayhawk helicopters out of Air Station Elizabeth City in North Carolina, by moving them to other locations.
"The storm tracks are a bit chaotic. Based on that fact, the only course of action is to take it as if the storm is coming here," Carroll said. "In regards to our assets…we are taking steps to locate areas outside the possible affected zone and to have them pre-positioned so they would be out of harm's way. But after the storm passes, we're able to quickly bring them back in."
'Staggering' hurricane
Hurricane Florence's size is "staggering," National Hurricane Center Director Ken Graham warned.
"We could cover several states easily with the cloud cover alone," he said. "This is not just a coastal event."
There was little change in Florence's track during a Tuesday morning forecast from the National Hurricane Center. Sustained winds were 130 mph, and it remains a Category 4 storm and is expected to intensify to near Category 5 status as it slows over very warm ocean water near North and South Carolina.
The storm was about 400 miles south of Bermuda on Tuesday and is moving at 16 mph.
The center of the massive storm is forecast to make landfall along a stretch of coastline already threatened by rising seas and then meander Thursday, Friday and Saturday, inundating several states and triggering life-threatening floods.
Seven-day rainfall totals are forecast to reach 10 to 20 inches over much of North Carolina and Virginia, and as much as 30 inches in some areas. Combined with high tides, the storm surge could swell as high as 12 feet.
"The water could overtake some of these barrier islands and keep on going. With time, the wind pushes the water into every nook and cranny you can think of," Graham said. "All you have to do is look up at your ceiling, and think about 12 feet (of water). That, folks, is extremely life-threatening."
National Guard support, preparation
The Carolinas, Virginia and Maryland have all declared states of emergency and activated a portion of their National Guard.
About 2,000 South Carolina troops are already supporting with coastal evacuations ordered by the governor, said Lt. Col. Cindi King, a spokeswoman for the state National Guard. Troops are helping manage traffic control points, as well as aerial reconnaissance support for the South Carolina Department of Transportation. Other troops are preparing for sandbag and engineer missions.
"As this event evolves, we know mission requests from the counties will increase as we work to meet the needs of their emergency managers and first responders," King said.
South Carolina's governor ordered the state's entire coastline evacuated starting at noon Tuesday and predicted 1 million people would flee as highways reverse directions. Virginia's governor ordered a mandatory evacuation for some residents of low-lying coastal areas, and some coastal counties in North Carolina have done the same.
The Virginia National Guard initially will activate up to 1,500 soldiers, airmen and members of the Virginia Defense Force for possible assistance with the state's response operations for Hurricane Florence, the state's Guard announced Monday. Gov. Ralph Northam has authorized up to 6,000 troops for response operations. Personnel are scheduled to be in place by Wednesday afternoon at readiness centers in key locations throughout the state.
"The key to being able to rapidly respond is staging personnel and resources in strategic locations before the severe weather hits so they can quickly respond to assist communities if they are impacted by the severe weather from Hurricane Florence," said Brig. Gen. James Ring, Virginia National Guard director of the joint the staff.
In North Carolina, 215 Guard members were activated as of Tuesday, integrating into the state's emergency management disaster response plan, said Lt. Col. Matt DeVivo, spokesman for the state National Guard. An additional 7,000 Guard soldiers and airmen are ready to mobilize if needed.
North Carolina Gov. Roy Cooper said his state is "in the bullseye" and urged people to "get ready now."
The center of the storm might hit Camp Lejeune, the sprawling Marine Corps training base, where authorities were opening emergency operation centers, staging equipment and urging families on the base to build survival kits with food and equipment needed to sustain themselves for 72 hours.
Mandatory coastal evacuations were in effect for civilians in South Carolina, North Carolina and Virginia, but the military base posted on Facebook that different chains-of-command would decide whether to release non-essential personnel, and some relatives vented fears that they wouldn't be able to evacuate in time.
The U.S. Naval Academy in Annapolis, Md., hasn't installed any plan for evacuations, but officials said they are closely monitoring Hurricane Florence and will take appropriate actions to ensure the safety of its Brigade of Midshipmen, the faculty and staff and its facilities, according to Jennifer M. Erickson, director of media relations for public affairs at the Naval Academy.
For now, all of its sailboats have been relocated to dry land and hurricane moorings, Erickson said. The academy also canceled a parade scheduled for Friday as a result of the approaching storm.
The Associated Press contributed to this report.
Thayer.rose@stripes.com Twitter: @Rose_Lori
---
---
---
---