Esper to create DOD boards to study military diversity, says Pentagon must lead on the issue
by
Corey Dickstein
June 18, 2020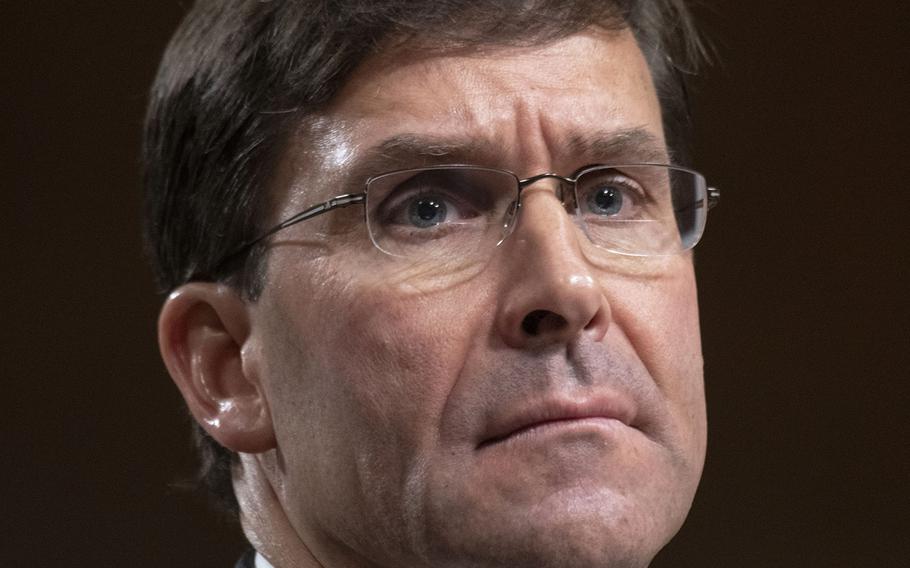 WASHINGTON — Defense Secretary Mark Esper announced Thursday that he would create two new groups charged with studying racial diversity challenges in the military in an effort to make the Pentagon a leader in a national conversation on systemic racism.
The defense secretary will build an internal board to conduct a fast-paced probe of diversity and racial issues across the force but focused largely on the military's officer corps, Esper announced in a video to the force posted Thursday morning. He also will begin a process to build an external advisory committee meant to provide "long-term and sustainable" guidance to Pentagon leadership on race-related issues.
"We are not immune to the forces of bias and prejudice — whether visible or invisible, conscious or unconscious," Esper said in the video. "We know this bias burdens many of our service members, and has direct and indirect impact on the experiences of our minority members, the cultural and ethnic diversity of the force, and representation in our officer ranks. These things have no place in our military. They have no place in our country."
The internal board, dubbed the Defense Board of Diversity and Inclusion in the Military, is charged with reporting to the defense secretary in December with "concrete, actionable recommendations" to increase racial diversity in the military and ensure individuals are treated equally.
The external board, to be called the Defense Advisory Committee on Diversity and Inclusion in the Armed Services, will take a longer term approach to solving racial diversity issues in the force. Pentagon officials said it would be modeled after the long-standing Defense Advisory Committee on Women in the Services, a board of civilians that the Pentagon created to provide direct recommendations to the defense secretary to ensure women were integrated properly into the force and were treated fairly. According to the Pentagon, the 20-person board has submitted since its 1951 founding more than 1,000 recommendations, of which defense secretaries have fully or partially adopted about 98%.
It was not immediately clear who would serve on either of the new boards nor when they would meet first. Pentagon spokespersons did not respond immediately to questions Thursday.
Esper said he also had directed top military and civilian Pentagon leaders to provide to him by the end of June ideas the Defense Department can implement immediately to root out racial biases. He asked others in the military to present him with their own ideas and vowed to visit with troops in the field in the coming months to discuss concerns they have about race within the ranks.
"I am convinced that there are a number of great ideas already out there right now — large and small — that can help us make important strides in ensuring the armed forces look more like the broader society we serve," he said.
The military once was seen as a leader on racial issues. For example, it moved to begin integrating its forces in 1948, well ahead of other portions of American society. But Esper acknowledged Thursday that perhaps it has fallen behind and encouraged the force to do what it could to help it lead on the issue.
As demonstrators have taken to America's streets in all 50 states in recent weeks to protest racial discrimination and police brutality in the wake of the May 25 killing of a handcuffed black man by a white then-Minneapolis police officer, military leaders have moved to stress inclusivity within their formations.
Air Force Gen. Charles "CQ" Brown — one of only two black four-star officers now in the military — was among those to recently share instances of discrimination that he had faced in uniform.
Brown, who was confirmed this month to become the next Air Force chief of staff, also will become the first black officer ever to lead a U.S. military service. In a video he shared recently, Brown described rarely having a black mentor within the military and being judged based on his skin color by other officers.
"I'm thinking about wearing the same flight suit with the same wings on my chest as my peers, and then being questioned by another military member, "Are you a pilot?" he said in that June 5 video.
Military officials have acknowledged black officers are promoted to the O-3 level — lieutenant in the Navy and captain in the other services — at about the same rate as their white peers, but significantly fewer progress beyond that rank.
While minorities make up some 43% of the active-duty force, they make up only about 23% of the officer corps, according to Pentagon data.
This week, the top military lawyers for each of the Pentagon's uniformed services acknowledged to lawmakers that black and other minority troops face a greater likelihood of punishment than their white comrades, but those generals and admirals said they had no idea why that was.
In the Air Force, black airmen were 71% more likely than white airmen to be punished, according to the data collected and published last month by the Alexandria, Va.-based watchdog group Protect Our Defenders. In the Army, black soldiers were 61% more likely to face punishment. In the Navy, black sailors were 40% more likely to be punished, and in the Marines, black troops were 32% more likely to be punished than white troops.
The military lawyers vowed their services would study the issue, would implement more training on unconscious biases and would work harder to recruit more minorities into their ranks in an effort to correct the issue. It was not clear Thursday whether that specific issue was one that the new boards would be directed to examine.
"My goal is to effect an enterprise-wide, organizational and cultural shift," Esper said Thursday in his video. "While we pursue these initiatives, I ask each and every one of you to reflect upon the issues of race, bias, and inequality in our ranks, and have the tough, candid discussions with your superiors, your peers, and your troops that this issue demands."
dickstein.corey@stripes.com Twitter: @CDicksteinDC