Esper plans to visit China amid escalating military tensions between the competing nations
by
Wyatt Olson
July 21, 2020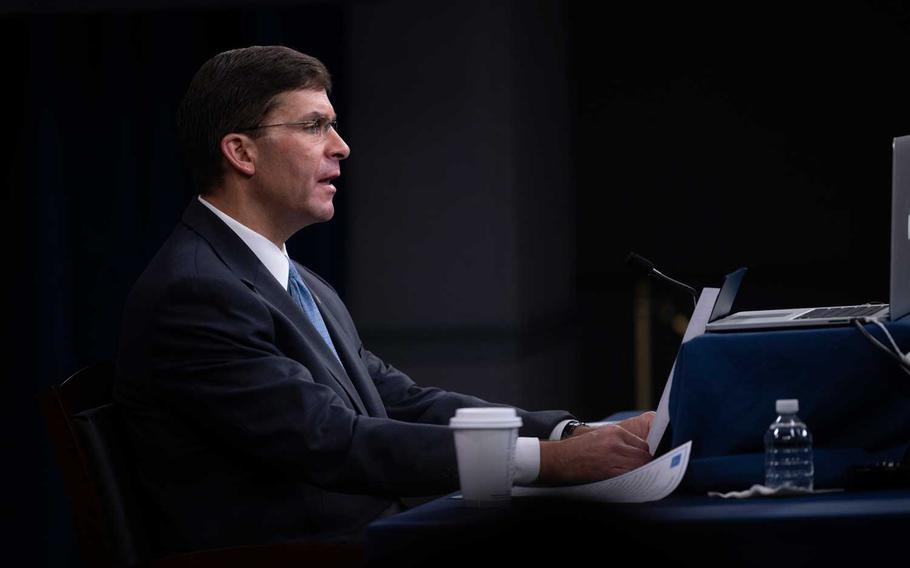 Defense Secretary Mark Esper said Tuesday that he hopes to visit China before the end of the year, even as Sino-U.S. relations have soured this year over the coronavirus and the contested South China Sea.
During a virtual speech to the London-based think tank International Institute for Strategic Studies, Esper said he had personally spoken with China's defense minister on multiple occasions.
"And before the year is out, I hope to visit [China] for the first time as secretary in order to enhance cooperation on areas of common interest, establish the systems necessary for crisis communications, and reinforce our intentions to openly compete in the international system in which we all belong," said Esper, who has been defense secretary since July 2019.
James Mattis, his predecessor, canceled a planned visit to China in October 2018 as tensions grew over a U.S.-China tariff war. China had also canceled a port visit to Hong Kong by the USS Wasp in late August 2018, a move apparently in response to U.S. sanctions of Chinese military officials over purchases of Russian-made missiles.
China was also stung in the summer of 2018 when it was disinvited by the United States to the Rim of the Pacific maritime exercise in Hawaii. China was not invited to this year's biennial RIMPAC to be held at sea next month.
Friction has only increased this year in the wake of the coronavirus, which originated in China late last year and became a global pandemic by the early months of 2020.
With a major coronavirus outbreak on the USS Theodore Roosevelt that sidelined the ship for weeks in Guam, China appeared to take advantage of the chaos by asserting greater control over the South China Sea. Beijing has claimed sovereignty over much of the sea, but Vietnam, the Philippines, Malaysia, Indonesia and Brunei maintain competing, unresolved claims.
Much of Esper's speech on Tuesday emphasized the U.S. military's Indo-Pacific strategy of preparedness, strengthened partnerships and promotion of a more networked region.
To that end, Esper touted the Pacific Deterrence Initiative, which would boost deterrents to China in the Pacific. Congress is now considering whether to fund the initiative for 2021.
Esper said China seeks to overturn the international, rules-based order in the Pacific that has existed since the end of World War II, a system that has fostered free trade and freedom of navigation.
"Most concerning to me, the People's Liberation Army continues its aggressive behavior in the East and South China Seas," he said. "Most recently, Beijing advanced national security legislation that violates its commitment to the Hong Kong people to enjoy a high degree of autonomy, calling the 1984 Sino-British Joint Declaration, a statement of policies rather than the treaty that it is."
Esper also expressed concern that China has conducted large-scale exercises simulating the forceful taking of Taiwan, the island nation just off China's southern coast that Beijing regards as a renegade province that must eventually come under its control.
"While we hope the [Chinese Communist Party] will change its ways, we must be prepared for the alternative," he said. "Together, we must uphold the free and open system that has secured peace and prosperity for millions and defend the principles that undergird it — namely, respect for sovereignty and independence for all nations, regardless of their size, peaceful resolution of disputes, mutual adherence to international laws and norms, and the promotion of free fair and reciprocal trade."
olson.wyatt@stripes.com Twitter: @WyattWOlson