Esper is worried federal agents in camouflage uniforms in Portland look like US troops
by
Caitlin M. Kenney
July 21, 2020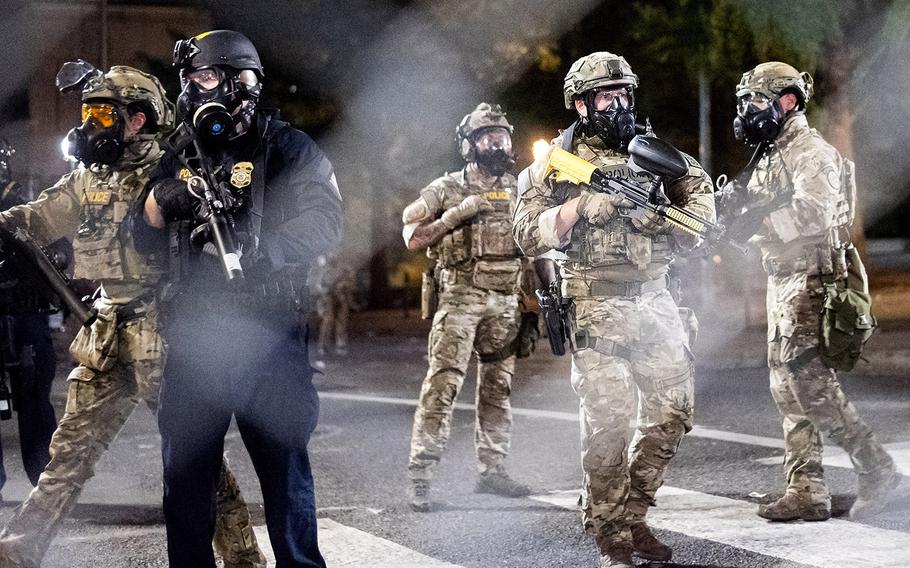 WASHINGTON — Defense Secretary Mark Esper is worried federal agents dressed in camouflage uniforms on the streets of Portland, Ore, could be mistaken for U.S. troops, the Pentagon's top spokesman said Tuesday.
"There are some law enforcement that wear uniforms that that make them appear military in appearance. The secretary has expressed a concern of this within the administration that we want a system where people can tell the difference," Jonathan Hoffman, the chief Pentagon spokesman, told reporters at the Pentagon.
The concern first surfaced in June during the racial injustice protests in cities throughout the country when law enforcement agencies responded to control crowds. Some of those agencies dressed in gear that made them look like military. The issue has resurfaced with the recent unrest in Portland, where federal law enforcement officers from agencies under the Department of Homeland Security are wearing camouflage uniforms and equipped with body armor and helmets that are almost identical to those worn by American troops.
Oregon Public Broadcasting on Thursday reported eyewitness accounts of federal agents wearing camouflage uniforms and using unmarked vehicles to drive throughout downtown Portland to detain protestors. There have been nightly protests outside of the federal courthouse for weeks and agents were brought in to protect federal property.
Hoffman emphasized there are no Defense Department personnel deployed to Portland or planning to be deployed to the city. He also said Esper could at some point discuss the uniform issue with Attorney General William Barr and Chad Wolf, the acting secretary of the Department of Homeland Security.
"I don't have a timeline on that and I don't have any guideline from the secretary on what that would look like, but he has expressed an interest in the topic," he said.
Following the protests in May and June in Washington, D.C., a review that includes the Army is looking at some of the concerns raised during that time including identification of personnel, Hoffman said. He also said Tuesday that he did not know the status of the identification issue within the review.
"I know [Esper] has expressed his concern that in some cases, law enforcement, appropriately performing law enforcement duties, were misconstrued with military personnel who would not be appropriately doing those roles," Hoffman said.
The military is generally not allowed to conduct law enforcement missions within the United States due to the Posse Comitatus Act of 1878, unless they are given narrow exceptions such as if the president invokes the Insurrection Act of 1807. The last time it was invoked was in 1992 in response to the Los Angeles riots.
National Guard personnel operating under a state's authority of Title 32, such as when they are activated during a natural disaster, are exempt from the Posse Comitatus Act, according to a RAND document about the law.
Kenney.Caitlin@stripes.com Twitter: @caitlinmkenney