Esper: Army Corps of Engineers has enough funds to allow another 20 miles of wall to be built along U.S.-Mexico border
by
Rose L. Thayer
August 27, 2019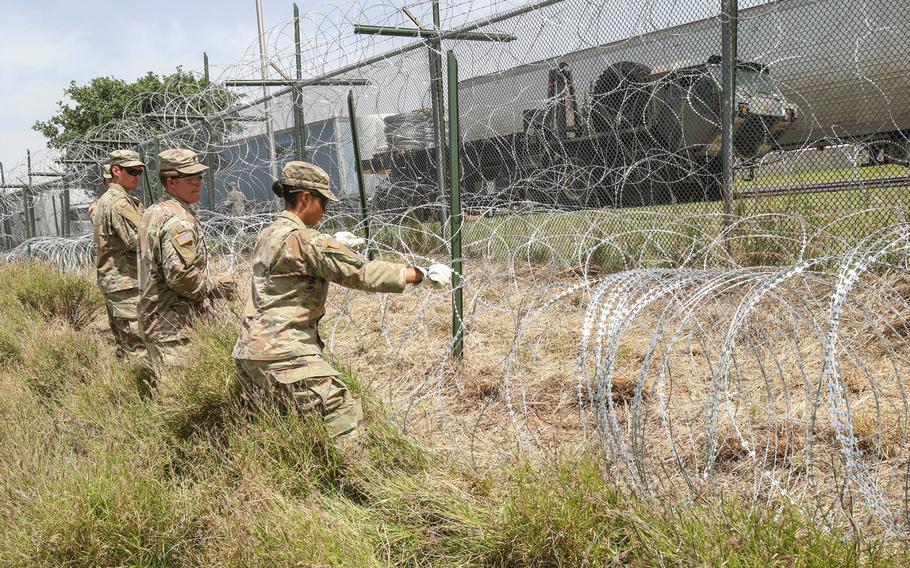 AUSTIN, Texas — Defense Secretary Mark Esper said Wednesday that Defense Department money saved building the wall along the U.S.-Mexico border has allowed him to approve another 20 miles of barrier to be constructed in Arizona.
"The reason why we were able to do 20 miles is because the Army Corps of Engineers successfully negotiated lower prices than expected, which freed up money to do more miles," he told reporters Wednesday during a news conference at the Pentagon.
The money for the extra miles of barrier was part of the $2.5 billion previously approved for 129 miles of border wall under former acting Defense Secretary Pat Shanahan. Earlier this year, Shanahan approved the money be transferred to the Corps of Engineers to award contracts for border wall construction. The money was pulled from drug interdiction funds following plans outlined in President Donald Trump's Feb. 15 declaration of a national emergency at the border.
The American Civil Liberties Union filed a lawsuit in California on behalf of the Sierra Club and the Southern Border Communities Coalition to stop Pentagon funds from being used to build the wall. The Supreme Court ruled last month against a hold on the funds related to the lawsuit, which is now in the hands of the Ninth Circuit Court of Appeals. On Tuesday, court documents were filed as part of the lawsuit and included a memo from Esper to the Department of Homeland Security on Monday approving the expansion.
The court documents state the newly approved wall will be 30-foot tall fencing with roads and lighting. It will be built in three different areas in the Yuma and Tucson sectors of the border in Arizona.
The approved border wall extensions were planned for these two sectors as well as the El Paso sector, which contains the two most western counties in Texas and all of New Mexico, based on U.S. Customs and Border Patrol's website.
In addition to funding for the border wall, the Pentagon began sending troops more than a year ago to support U.S. Customs and Border Protection operations along the southern border. As of last month, about 6,000 active-duty and National Guard troops were stationed at the border.
They serve in administrative and support roles as well as using Border Patrol's mobile surveillance cameras in remote areas along the border. Their presence at the border is approved through September, which is the end of the fiscal year.
Trump called on active-duty troops following a rise in migrants at the southern border, though those numbers have dropped during the summer. From January to May, the number of migrants apprehended at the border rose from about 58,000 to more than 144,000. In July, more than 82,000 people were apprehended.
thayer.rose@stripes.com Twitter: @Rose_Lori