DOD comptroller Norquist is nominated by Trump to be deputy defense secretary
by
Caitlin M. Kenney
July 23, 2019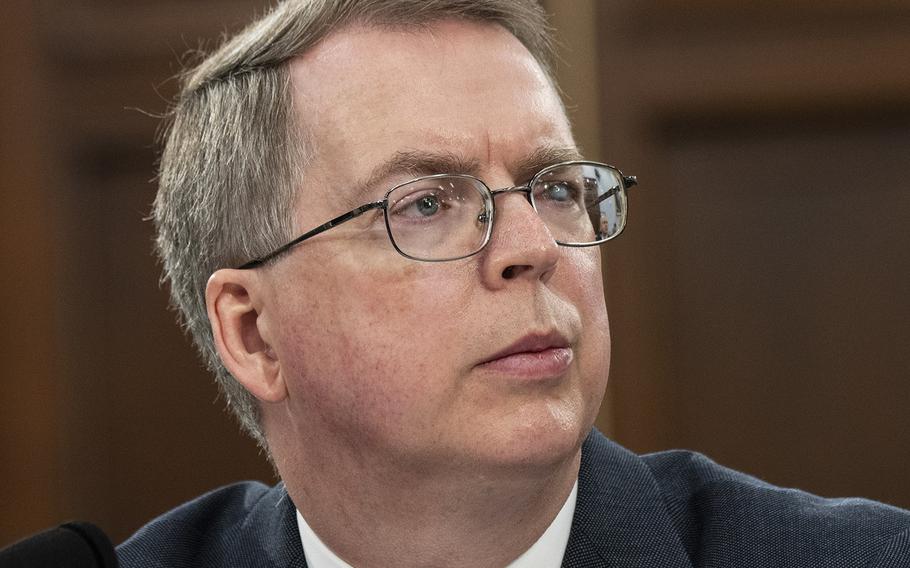 WASHINGTON—David Norquist was nominated Tuesday by President Donald Trump to be the next deputy defense secretary, a job that he has been doing since January.
Trump announced his intention to nominate Norquist as deputy secretary in June along with Mark Esper, who the Senate voted to confirm Tuesday as defense secretary.
Norquist's nomination once again sets in motion a chain reaction of job switches in the Pentagon leadership to help fill open positions.
Norquist does not have to step down from his role as performing the duties of deputy defense secretary after being nominated, Jonathan Hoffman, chief Pentagon spokesman, said Tuesday. However, Mark Esper, now confirmed as defense secretary, plans to delegate the duties of deputy defense secretary to Navy Secretary Richard Spencer out of deference to the Senate so not to presume Norquist's confirmation, Hoffman said. Since July 15, Spencer has been the acting defense secretary while Esper underwent the Senate confirmation process for that job.
Norquist will return full time to his position as the Pentagon's comptroller and chief financial officer, which he has held since 2017, while awaiting Senate confirmation as deputy defense secretary.
The secretary positions for the Army and Navy are now filled by the principle deputy of each service. Undersecretary of the Navy Thomas Modly is now performing the duties of the Navy secretary while Army Undersecretary Ryan McCarthy will step up to be acting Army secretary now that Esper, the previous Army secretary, has been confirmed by the Senate to be defense secretary. Trump had previously announced he intends to nominate McCarthy to be Army secretary.
Norquist's confirmation hearing is scheduled for Wednesday morning before the Senate Armed Services Committee. His confirmation could be as a quick process as the Senate nears its monthlong August recess in two weeks.
"The deputy secretary of defense is the number two civilian role at the Pentagon, so it's incredibly important to receive a formal nomination and confirm the nominee quickly," Sen. Jim Inhofe, R-Okla., chairman of the Senate Armed Services Committee, said in a statement Thursday about Norquist's hearing. "But while there is a sense of urgency, the committee must thoroughly consider nominations that we receive."
Norquist has been working in federal financial management for about three decades, according to his Pentagon biography. He was also the first Senate-confirmed chief financial officer for the Department of Homeland Security. As the Pentagon's comptroller, Norquist was responsible for overseeing the department's first full audit since it was required by Congress in the early 1990s. At the time it was released in November 2018, Norquist said he believed it was the largest financial audit ever undertaken with $2.7 trillion in assets and $2.6 trillion in liabilities.
Norquist received Bachelor of Arts in Political Science and a Master of Public Policy from the University of Michigan. He also received a Master of Arts in National Security Studies from Georgetown University in Washington, D.C.
Kenney.Caitlin@stripes.com Twitter: @caitlinmkenney