DOD begins planning to reopen bases under the coronavirus 'new normal'
by
Corey Dickstein
May 22, 2020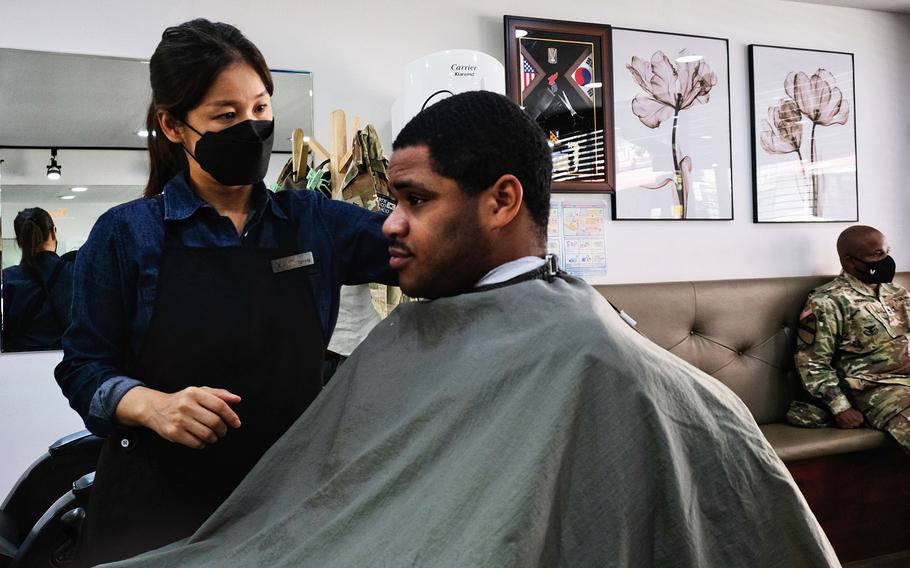 Stars and Stripes is making stories on the coronavirus pandemic available free of charge. See other free reports here. Sign up for our daily coronavirus newsletter here. Please support our journalism with a subscription.
WASHINGTON — The Pentagon green-lighted plans this week that could allow some commanders to ease coronavirus-driven protection measures on military bases as widespread shutdowns to mitigate the pandemic in the United States drag into a third month.
Defense Secretary Mark Esper issued guidance Tuesday to those commanders that allows them to lower the health protection conditions at bases in areas where surrounding communities have faced few cases of the virus or appear to have outbreaks under control. Since late March, U.S. military bases worldwide have been placed at HPCON-Charlie or HPCON-Delta, the most restrictive levels of force protection. This week, a few overseas installations lowered them following the new guidance.
Esper's new instructions come at a time when the military has shown signs the virus' spread is slowing among its troops, according to the Pentagon's No. 2 general. Air Force Gen. John Hyten, the vice chairman of the Joint Chiefs of Staff, said Thursday that the pandemic's impacts on the U.S. military have been significantly smaller than on the rest of the United States, which has seen more than 1.5 million positive cases and 94,729 deaths as of Friday morning, according to Johns Hopkins University.
As of Friday, the Pentagon reported more than half its 5,959 troops who have at some point tested positive for the virus have since recovered. Only 161 service members have faced hospitalization at some point due to the virus. Defense officials reported less than 250 new cases of the virus in the past five days for the second consecutive week.
Hyten also spoke of "new normal" that the Defense Department must adapt to as it ramps up training and other operations to ensure it is prepared for combat or the dozens of missions that it is charged with worldwide. Separately, other senior Pentagon leaders and federal health officials warned of the potential for recurring outbreaks of the virus later this year.
"We really have to think about how do we as a nation, and then we as a military, operate in a [coronavirus] world," the general said Thursday during a virtual town hall with military families. "We have to keep a close eye on it as we adjust our training, adjust our lifestyles and adjust our structure [because] we do not know what the future is going to bring … [and] we need to be able to respond better and learn from what we've done this time."
Just as the military adjusted to unforeseen past challenges, Hyten said he expected it would meet the changes necessitated by the pandemic. He compared moving back to a normal operational tempo for military troops amid the pandemic to how the military adjusted to past major events. Among them, he singled out, the 9/11 attacks and Iraq's 1990 invasion of Kuwait, which spawned the first U.S.-involved Gulf War and, ultimately, ushered in three decades in which the American military focused primarily on efforts in the Middle East.
"We will figure out how to deal with this challenge and continue to operate and live in an amazing country with amazing people," Hyten said. "We always have and we always will."
Esper's new guidance, which allows but does not necessarily encourage commanders to lower restrictions on posts commensurate to their surrounding communities, comes as governors across the nation relax some orders meant to mitigate the spread of the virus, such as stay-at-home directions.
Pentagon officials said the defense secretary's criteria is based on White House guidance to state and local officials for easing coronavirus-related restrictions. In Esper's guidance, he wrote commanders must work with their local and state officials to ensure certain criteria have been met in their area before lowering HPCON levels.
Those criteria include:
The downward trajectory of reported cases of coronavirus- or influenza-like illnesses in their area for a 14-day period. The downward trajectory of diagnosed coronavirus cases or positive tests as a percent of total tests during the preceding 14-day period. The necessary capacity in on-post military treatment facilities or local hospitals to treat coronavirus patients. And, those facilities must demonstrate an adequate diagnostic program to test at-risk medical workers and individuals showing symptoms of the coronavirus.Esper's guidance calls for commanders to lower health protection levels to HPCON-Bravo when "sustained transmissions is no longer evident" in local areas, or HPCON-Alpha when local transmission becomes "focal and sporadic," or the military's base level HPCON-0 when the virus is no longer detected in the area.
Under HPCON-Bravo, Esper said troops should continue social distancing practices, wearing face coverings and he encouraged the continued use of telework as much as possible. But schools, day care facilities, gyms and some other facilities closed under HPCON-Charlie can begin to reopen. Under HPCON-Alpha, Esper said commanders should encourage continued social distancing practices but face coverings would no longer be required and workers should return to their normal worksites.
Some military installations in South Korea, Japan and Germany were among the first to lower their health protection conditions to Bravo this week, Stars and Stripes reported. U.S. bases in Italy, however, retained HPCON-Charlie status even as that nation's health officials loosened restrictions, including allowing restaurants and bars to open.
In South Korea, American service members on Wednesday flocked to local eateries and barber shops, embracing the opportunity to spend time off post or outside of their homes for the first time in months. U.S. military officials on the Korean Peninsula loosened anti-coronavirus restrictions everywhere but the Seoul area, where installations remain at HPCON-Charlie.
Troops elsewhere in South Korea can now also visit salons and museums, U.S. Forces Korea announced. Bars and clubs on the peninsula remain off-limits.
On Okinawa, some on-base restaurants, gyms, movie-theaters and other establishments were allowed to reopen, though American troops remain barred from using mass transit, visiting off-base bars, barber shops and hotels, officials said.
In Germany, troops assigned to the Army's 21st Transportation Command were given approval Thursday to travel within the country and hold a Memorial Day barbecue with no more than two families, unit officials announced. A midnight to 5 a.m. curfew was lifted, but barracks or block parties remain prohibited, as do visits to local bars, night clubs, massage parlors and movie theaters.
In the United States, too, there have been early signs of the easing of some restrictions, as commanders have approved some large-scale training with certain restrictions, including the wearing of face coverings, social distancing when possible and, in some cases, quarantines.
At Fort Carson, Colo., the soldiers of the newly established 4th Security Force Assistance Brigade this week were preparing for their first major, brigade-level training exercise in June — a rotation to the Joint Readiness Training Center at Fort Polk, La., which had been shuttered for the previous two months. Officials said Friday that the 4th SFAB was set to conduct its training required ahead of its expected summer deployment to Afghanistan.
In another sign of positive trends in the United States, for the first time in weeks, the Army last week opened the doors of some recruiting stations to the public in locations nominally impacted by the virus. Military officials said they expected more recruiting locations for the Army and the other services to allow potential recruits to meet with recruiters in offices in the coming weeks.
But Esper has also warned of the potential for second wave of the virus, which was repeated by the Navy and Marine Corps' top officers on Thursday, according to CNN. Esper, who publicly backed President Donald Trump's claim that a vaccine would be ready by the end of the year, said May 7 that the Pentagon was "preparing for the long haul" with potentially multiple recurrences of outbreaks.
His guidance instructs commanders to raise health protection levels if those situations or other new outbreaks happen.
"If upward trajectories related to these criteria are observed or medical facilities become significantly burdened by the treatment of individuals who have contracted [the coronavirus], then commanders shall consider increasing the HPCON level," he wrote.
Military officials this week also implemented guidance for installation health commanders to reopen some facilities for elective medical procedures that have been paused since March 24. Those openings rely on installation commanders' decisions on local health protection conditions. The guidance, issued Tuesday in a memorandum from Assistant Secretary of Defense for Health Affairs Tom McCaffery, allows posts at HPCON-Charlie to resume outpatient elective procedures. Officials can begin inpatient elective procedures when their installations lower to HPCON-Bravo, the guidance states.
Active-duty service members preparing for a deployment should be prioritized for those procedures, McCaffery wrote.
Hyten on Thursday also praised the resiliency of service members as they have weathered the unprecedented changes thrust upon them by the pandemic. He said they have generally fared better than others in the face of the sometimes-deadly virus.
"Our force is on a whole young, fit, healthy and because of that we fight through all diseases much better than the rest of the country and the rest of the world," he said. "So what you take out of this is — focus on fitness and a healthy lifestyle. If you're healthy and fit and you happen to get hit by [coronavirus] or whatever other virus out there you have a good chance of fighting through it and being just fine."
But not all the troops who contracted the disease recovered. Two service members, a New Jersey Army National Guard captain and a Navy chief petty officer, died of complications caused by the virus. The sailor, 41-year-old Chief Petty Officer Charles Robert Thacker Jr., contracted the virus aboard the USS Theodore Roosevelt. That aircraft carrier, sidelined for nearly two months in Guam by the military's largest outbreak by far, saw more than 1,200 sailors contract the coronavirus, according to the Navy.
The ship this week departed Guam with a partial crew to begin flight training operations needed to certify they vessel's ability to perform its mission. The remainder of the crew is expected to rejoin the ship in the coming weeks, and the Roosevelt is expected to complete its scheduled Pacific deployment, Jonathan Hoffman, the Pentagon's chief spokesman said Thursday.
dickstein.corey@stripes.com Twitter: @CDicksteinDC
---
---
---