DOD announces full benefits to married same-sex couples
---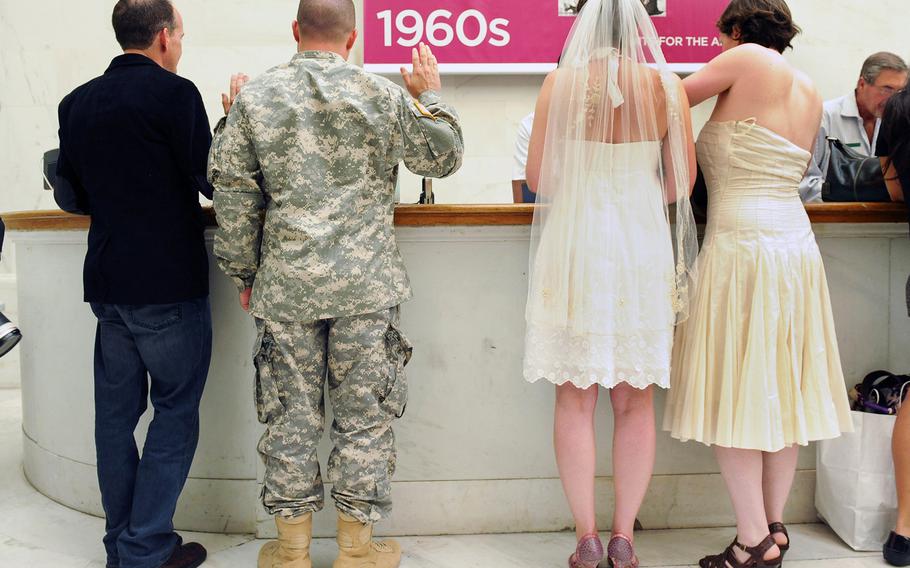 WASHINGTON — Pentagon officials announced Wednesday that the DOD will provide marriage benefits to same-sex couples for the first time, giving gay spouses access to health care, housing allowances and family separation pay.
The move comes little more than a month after the Supreme Court struck down the Defense of Marriage Act, which Defense Department leaders have said prevented them from offering federal marriage benefits to gay troops. Numerous government agencies have taken steps to offer health care and other benefits to same-sex married couples in the wake of the ruling.
In a statement, Defense Secretary Chuck Hagel said the move reflects the Defense Department's commitment to "ensuring that all men and women who serve in the U.S. military and their families are treated fairly and equally."
The change, set to go into effect no later than Sept. 3, will mean tens of thousands of dollars in direct payments and covered health care costs for legally married same-sex military couples.
Housing allowances alone can reach up to $30,000 in annual payouts for married troops with dependent children.
Defense Department officials will also allow same-sex troops to take nonchargeable leave "for the purpose of travelling to a jurisdiction where such a marriage may occur."
Thirteen states and the District of Columbia currently allow gay marriages. In a memo to defense staff, Hagel called the inconsistent state rules a potential hardship for same-sex couples, and said the extra leave time would "help level the playing field."
Troops stationed outside the United States will be allowed up to 10 days of uncharged leave for a same-sex wedding, per approval from their command. Troops inside the United States but stationed more than 100 miles from a state that allows gay marriage will have seven days. Servicemembers will be able to use the marriage leave time only once in their career.
Gay troops who are already legally married could see retroactive benefits back to June 26, the date of the Supreme Court decision. Same-sex married couples who apply for benefits in the future will follow the same procedures and documentation as opposite-sex couples.
Since the military's "don't ask, don't tell" law was repealed in 2011, gay rights advocates have pushed for extension of the married couple benefits to same-sex troops, arguing that the policy still amounted to discrimination in the ranks.
Defense Department leaders did extend access to family support programs and other resources to the couples, but said the Defense of Marriage Act — which forbade the federal government from officially recognizing same-sex marriages — preventing them from going further.
Mark Mazzone, spokesman for the military LGBT advocacy group SPART*A, said the changes will be a financial boost to many same-sex couples thus far deprived of equal benefits, and the leave time for travel to states that allow same-sex marriage show the military is committed to reaching out to gay troops.
"While some states are still saying same-sex marriage is a no-go, it's clear with this that the military is accepting it," he said.
In a statement, officials at the American Military Partner Association called the pending Pentagon announcement "a huge step forward for our families who for far too long have been excluded and cut off from support."
Pentagon officials acknowledged that the new policy will require a host of policy regulation updates and some technical upgrades to existing systems. For example, the Defense Enrollment Eligibility Reporting System does not currently recognize same-sex partners for ID cards, and will have to be upgraded to implement the new policy.
Still, Pentagon officials are confident the changes can be handled in coming weeks.
The changes apply only to "legally married same-sex couples" and not gay troops who have state-backed civil unions.
shane.leo@stripes.com Twitter: @LeoShane
---
---
---
---