DOD announces broad travel restrictions for countries affected by coronavirus
---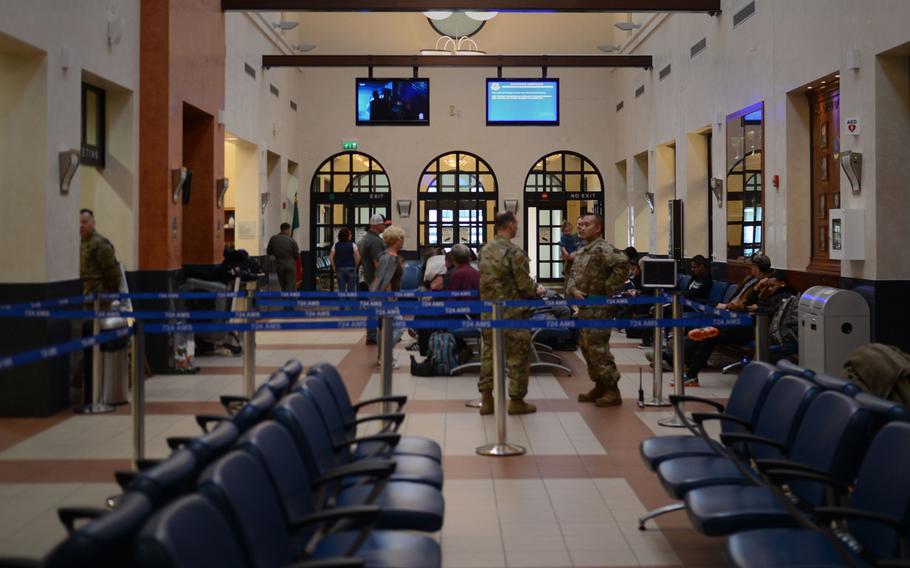 Read more coronavirus coverage from Stars and Stripes.
The Defense Department imposed travel restrictions effective Friday and, in some cases, banned travel for 60 days to countries affected by COVID-19, according to a memo from Defense Secretary Mark Esper.
The order encompasses eight countries in Asia, Europe and the Middle East — including several locations where the United States has a substantial military presence.
The order essentially bans travel to, through or from China, Italy, Iran and South Korea — all of which are under a Travel Health Notice Level 3 by the Centers for Disease Control and Prevention, according to Esper's memo. A CDC level 3 advisory means a widespread community transmission of the disease is occurring.
The "stop movement" order applies to all uniformed service members, DOD civilians and family members, encompassing "all forms of official travel," including permanent changes of station, temporary duty and government-funded leave.
For uniformed personnel, the order also bans personal leave and other non-official travel.
Official travel to countries under a level 2 CDC travel advisory — which includes Japan, Singapore, the United Kingdom and Bahrain — are deferred for anything other than essential missions. Level 2 means a sustained community spread of the disease is underway.
However, official travel by family members of uniformed and DOD civilian employees to level 2 countries is barred for 60 days starting Friday. DOD hiring for civilian positions in level 2 and level 3 countries is also on hold for that period, according to Esper's order.
His memo allows exceptions for "compelling cases," including mission-essential travel, humanitarian reasons and extreme hardships.
Combatant commanders have authority to grant exceptions for command members, as do secretaries of military departments and chief management officers for their respective organizations, the memo states.
An accompanying personnel and readiness memo details further instructions for all DOD travel, emphasizing risk reduction, screening prior to boarding military aircraft and managing patients who show COVID-19 symptoms.
All DOD organizations should identify service members who "travel or have traveled in the prior 14 days" to a level 3 or level 2 country, whether by military or commercial carriers or by personal means. That instruction applies to all travel, official or personal. Those personnel should be placed on 14-day restricted movement.
Military air crews are exempt from most travel guidance for countries under level 3 and level 2 advisories, according to the memo.
In some cases, the DOD expects that "DOD sponsored travelers" who recently visited those countries switch en route to military or DOD-contracted aircraft "to the greatest extent possible," according to the memo.
The memo also lays out detailed instructions for service members on "restricted movement," including a 14-day quarantine inside their home or "other appropriate domicile," limited close contact with others and self-monitoring for a fever, cough or difficulty breathing.
"DOD strongly recommends that DOD civilian employees, contractor personnel and family members" who travel through, to or from countries under levels 2 and 3 advisories follow the travel guidance for uniformed personnel. The DOD instructions are "more stringent than CDC guidance," the memo states.
That also means limiting workplace access for 14 days for those who traveled to the affected countries and working from home if possible.
ditzler.joseph@stripes.com Twitter: @JosephDitzler
---
---
---
---