DOD: Allen emails to Petraeus friend 'inappropriate and flirtatious'
by
Chris Carroll Jennifer Hlad
November 13, 2012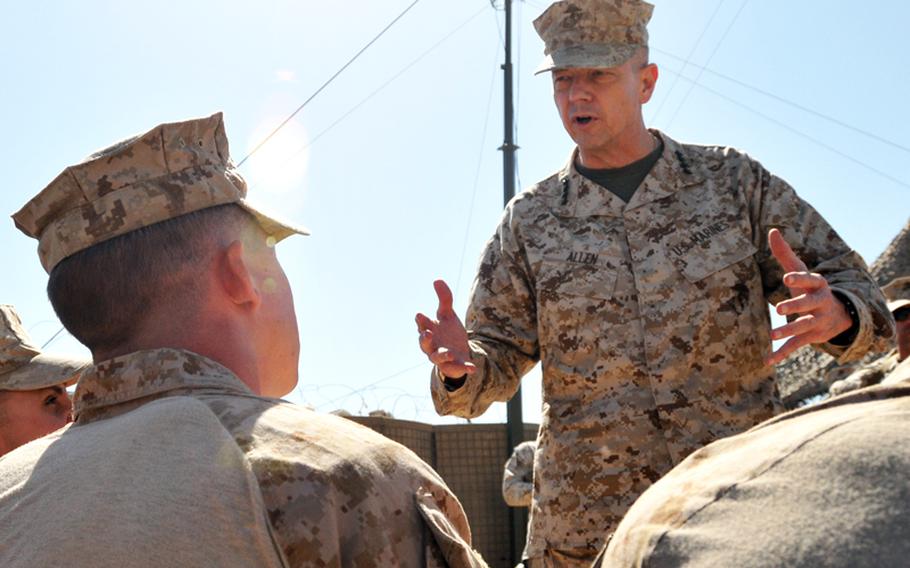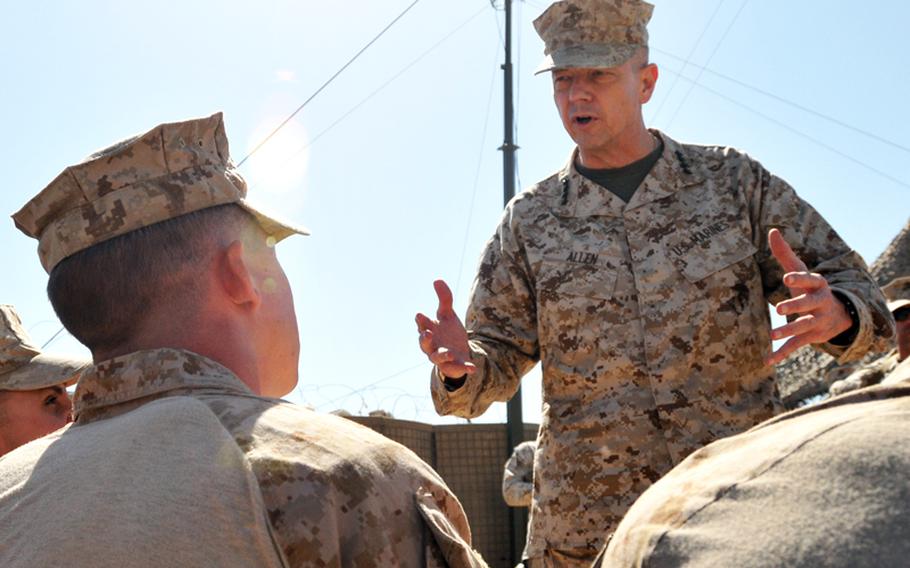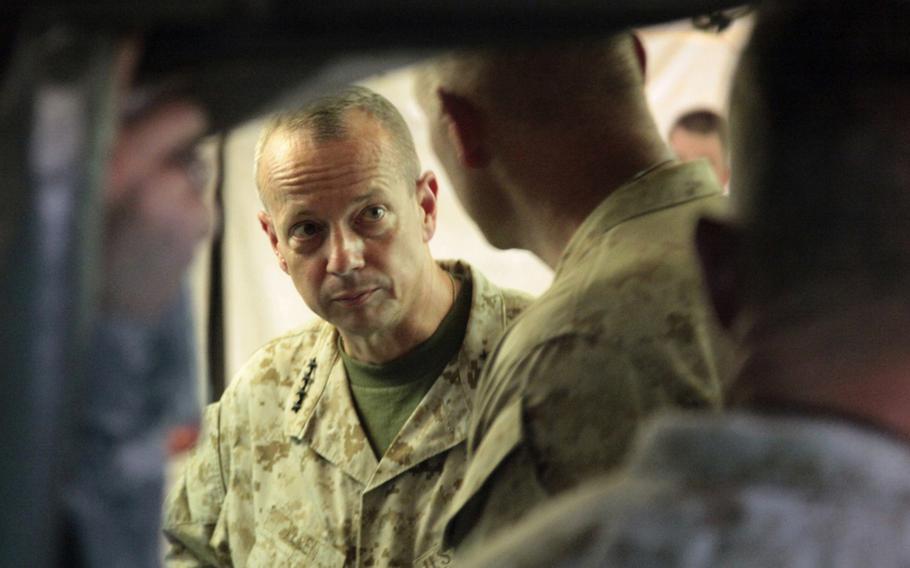 WASHINGTON — A trove of what the Pentagon is calling "inappropriate and flirtatious" emails has snared Gen. John Allen, the top U.S. commander in Afghanistan, in the snowballing sex scandal that last week brought down CIA director and former Afghan war leader Gen. David Petraeus.
The Pentagon is investigating precisely what is contained in emails Allen exchanged with a married Tampa, Fla., socialite, but defense officials say the incident is a distraction as Allen delivers recommendations this month on how to array U.S. and allied forces to successfully conclude the Afghan war.
Allen, whom Pentagon officials say denies having an extramarital affair, will remain in command in Afghanistan while the confirmation of his replacement, Marine Corps Assistant Commandant Gen. Joseph Dunford, moves ahead this week.
But Defense Secretary Leon Panetta abruptly told reporters during a trip to Australia that he had asked to delay the confirmation of Allen to the prestigious posting of NATO Supreme Allied Commander, Europe, and head of U.S. European Command.
A statement released Tuesday by the Senate Armed Services Committee said that, if confirmed, Dunford would take over in Afghanistan in February, the expected date of Allen's departure. The change of command in Europe has been delayed until March at the earliest, the statement said.
White House press secretary Jay Carney said Tuesday that President Barack Obama stands behind Allen as commander in Afghanistan despite the revelations.
The problem was an apparently vast collection of emails Allen exchanged with Jill Kelley, a Petraeus family friend at the center of an investigation that prompted the CIA director to step down on Friday amid revelations of an affair with his biographer.
"(There was) no security stuff, no hatefulness — 'flirtatious' is kind of the word that we're using to characterize it," a defense official said. The official did not know if any overtly sexual communication had taken place.
The emails Allen exchanged with Kelley between 2010 and 2012 cover 20,000 to 30,000 pages, raising questions about how much time a general with one of the hardest jobs in the U.S. military spent communicating with a woman who functioned as a "social liaison" at MacDill Air Force Base, Fla.
The number of emails remains unclear, as is the question of what portion of them were sent by Allen, the official said.
Kelley, 37, does not work for the Defense Department but did volunteer at MacDill, according to a Washington Post report. Kelley and her husband, a surgeon, were friends with Petraeus and his wife, Holly. The couples met when Petraeus headed U.S. Central Command in Tampa.
Speaking on the condition of anonymity, the military official said the Pentagon has no evidence that Allen, who is married and has children, engaged in an adulterous relationship — a crime under military law — and investigators are now combing through the emails to determine the nature of their interactions.
If Allen is found not to have committed adultery — military law requires sexual intercourse to have taken place — it wouldn't necessarily mean he's in the clear, conduct-wise.
"The rule in the Uniform Code of Military Justice is conduct that would bring discredit upon the service," the official said.
The FBI uncovered the emails while investigating a complaint by Kelley that she had received a series of anonymous harassing emails believed to have been sent by Paula Broadwell, a researcher who wrote a biography of Petraeus and with whom the retired general later admitted to carrying on an extramarital affair. Panetta said he learned Sunday evening of the Allen emails, which the FBI forwarded Monday to the Pentagon Inspector General.
The imbroglio comes just as Allen was engaging with the Obama administration on his vision of how U.S. forces should be arrayed in Afghanistan now that surge forces have been withdrawn. The recommendations were expected in mid-November.
"I owe the president some analysis on that," Allen told the Senate Armed Services Committee in March when asked how many troops would need to remain in the country throughout 2013 to effectively battle Taliban insurgents.
Allen said then that the United States needed "significant combat power in 2013" and seemed to endorse the idea of keeping U.S. troop levels steady at about 68,000 after the withdrawal of 23,000 surge troops completed earlier this fall. Many observers thought the Obama administration favored a quicker post-surge drawdown of troops.
Panetta also told reporters while en route to Australia that Allen has delivered recommendations on U.S. operations in Afghanistan after 2014, including counterterrorism operations and training of Afghan troops after 2014.
Panetta said he has asked the Senate to move ahead quickly on the confirmation of Allen's replacement in Afghanistan, Dunford. Both men had been scheduled to appear before Congress on Thursday.
Meanwhile, Allen will remain the commander of NATO forces in Afghanistan, Panetta said in a written statement.
"His leadership has been instrumental in achieving the significant progress that (the International Security Assistance Force), working alongside our Afghan partners, has made in bringing greater security to the Afghan people and in ensuring that Afghanistan never again becomes a safe haven for terrorists," Panetta said.
carrollc@stripes.comTwitter: @ChrisCarroll_
hladj@stripes.comTwitter: @jhlad