Disabled veterans urge Congress, Trump to fund USPS
by
Nikki Wentling
August 17, 2020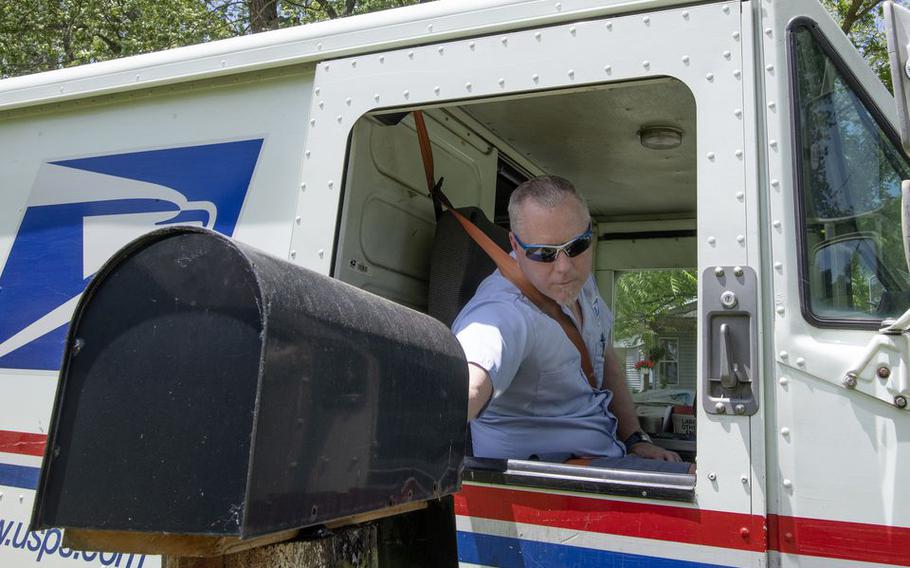 WASHINGTON – Vietnam War veteran Richard Valdez requested four mail-order medications from the Department of Veterans Affairs on July 25. Twenty-three days later, he's still waiting on three of them.
Valdez, 73, receives monthly prescriptions from the VA to manage his symptoms of traumatic brain injury which he suffered in a mortar blast in Vietnam. The ex-Marine typically receives them three to four days after calling in for refills, and he's never seen a delay like what he's experiencing now.
Valdez alerted leadership at Disabled American Veterans, a national veterans organization he belongs to, and he wasn't the only one. National Commander Stephen Whitehead said in a statement Monday that his organization has heard directly from veterans affected by recent mail delays.
The lag is believed to be the result of changes at the U.S. Postal Service made under Postmaster General Louis DeJoy. President Donald Trump appointed DeJoy, a former fundraiser for the Republican National Convention, to the job this summer as the coronavirus pandemic threatened the Postal Service's financial viability. Staff hours have been cut and high-volume mail-processing machines were removed from post offices, according to multiple news outlets.
The changes raised concerns about the viability of mail-in voting ahead of the Nov. 3 general election. But changes have also prompted concern among veterans and lawmakers about delays for mail-order prescriptions and other vital VA mail. The VA fills 80 percent of its prescriptions by mail — about 120 million prescriptions per year arriving daily to 330,000 veterans.
In a letter Friday, a group of lawmakers urged DeJoy to fix the problem. Disabled American Veterans issued its own call Monday, asking Congress and the Trump administration to immediately fund the Postal Service so veterans could get their VA mail without delay.
"Whatever the long-term future of the USPS may be, reducing or delaying mail operations during a national health emergency is not an option," Whitehead said. "Our nation's veterans, particularly those disabled by their service, deserve nothing less than high quality and timely health care and benefits no matter their geographic location, and for the foreseeable future that requires a fully functioning United States Postal Service."
Despite the outcry, the VA has insisted that most orders were still arriving on time. Press Secretary Christina Noel said Friday that prescriptions shipped through USPS are taking an average of three days to be delivered, and more than 95% of mail-in prescriptions have been on time.
However, the department told Disabled American Veterans that it has detected hot spots with delivery delays, including Detroit, Arizona and parts of New York and New Jersey. In areas with delays, the agency has switched to other delivery services, such as Fed-Ex and UPS.
In cases of emergencies, the VA can fulfill those prescriptions in person, Noel said. Mail-in prescriptions are popular, though, in part because of veterans' mobility issues or distance from VA pharmacies.
Valdez, who lives near his VA hospital in San Bernadino County, Calif., worries about rural veterans.
More critical than his medications, the VA was late mailing him information for an upcoming CT scan. He received a letter from the VA informing him that he must complete lab work 15 days before the scan. The letter came last Thursday — eight days before the scan.
Valdez immediately called his VA hospital and was able to make a last-minute appointment.
"If that's happening to me and I'm not living in a rural area, what's happening to those guys?" Valdez asked. "It's not just meds that are a problem, but also time-sensitive information coming from the VA that's being impacted."
Valdez contacted Disabled American Veterans leadership in Washington and had a video conference with his congressman, Rep. Peter Aguilar, D-Calif. He's encouraging other veterans and their families to do the same.
"That's the only way … If enough people make enough noise, call their representatives, senators, call the White House, and say, 'Hey, this isn't what I served for,'" Valdez said.
Multiple organizations, including the NAACP and MoveOn, announced protests Monday, asking Americans to show up at post offices around the country this weekend to call for DeJoy's resignation. DeJoy and Robert Duncan, chairman of the U.S. Postal Service Board of Governors, agreed to testify before the House Oversight Committee on Aug. 24, said Rep. Carolyn Maloney, D-N.Y., the chair of the committee.
House Speaker Nancy Pelosi, D-Calif., said she plans to call the House back from its annual summer recess as soon as Saturday to vote on legislation to fund the Postal Service. The bill has not yet been publicly released. It remained unclear Monday how much support the legislation would garner from the Senate and White House.
Trump said last week that he opposed funding for the Postal Service because he doesn't want to see it used for mail-in voting in November. Trump has long criticized mail-in voting, alleging it leads to rampant voting fraud. Later Thursday, Trump downplayed his remarks and said he would not veto a coronavirus relief bill just because it included funding for the USPS.
On Monday, Trump tweeted, "SAVE THE POST OFFICE!"
Wentling.nikki@stripes.com Twitter: @nikkiwentling
---
---
---
---