'Difficult questions, daunting data:' Senators put focus on suicides among young veterans, service members
by
Nikki Wentling
December 5, 2019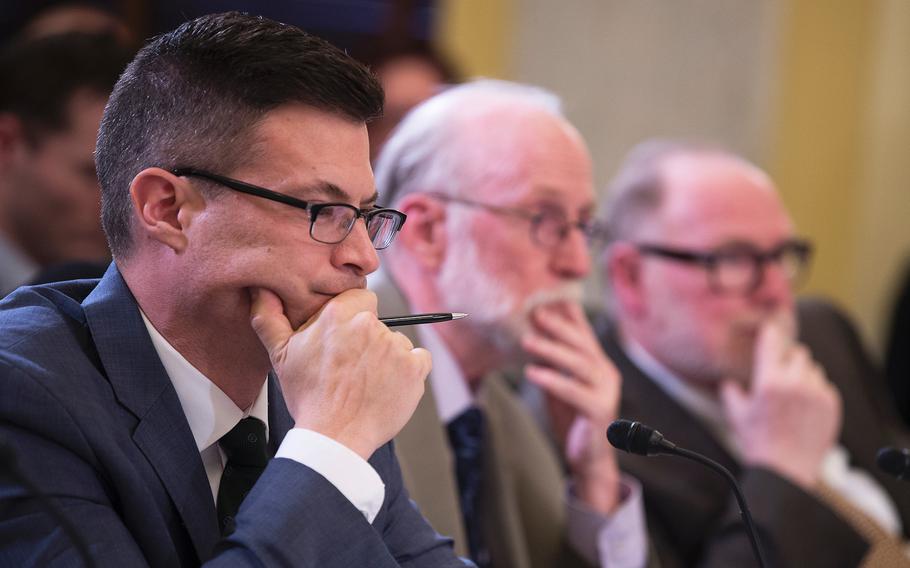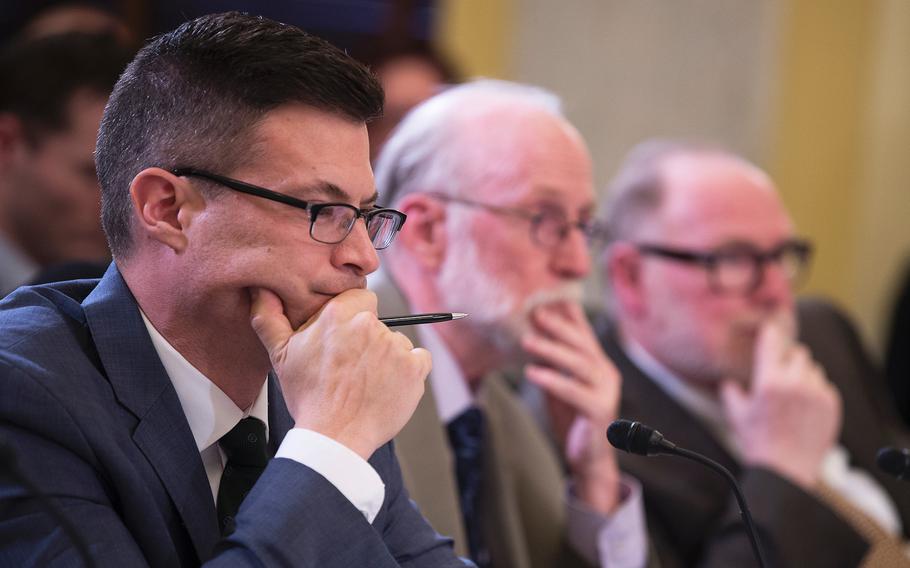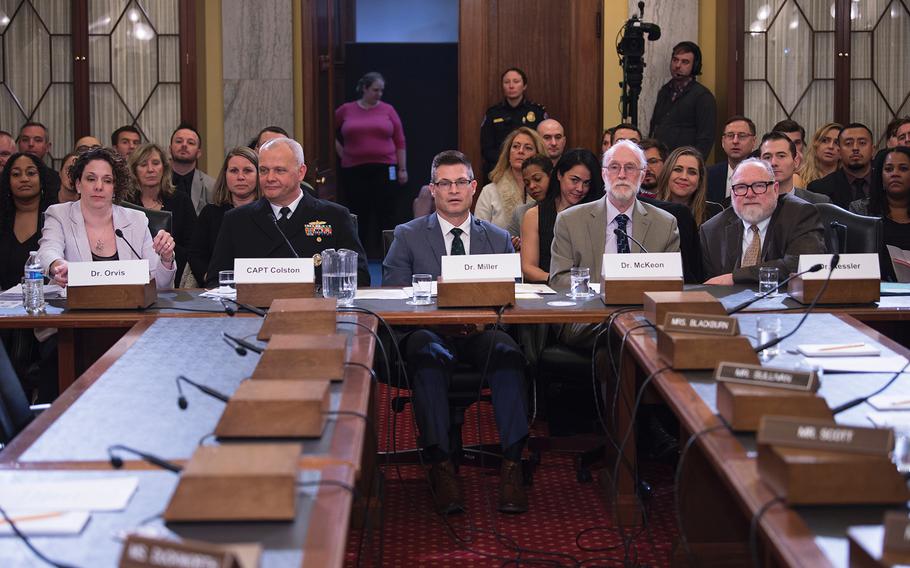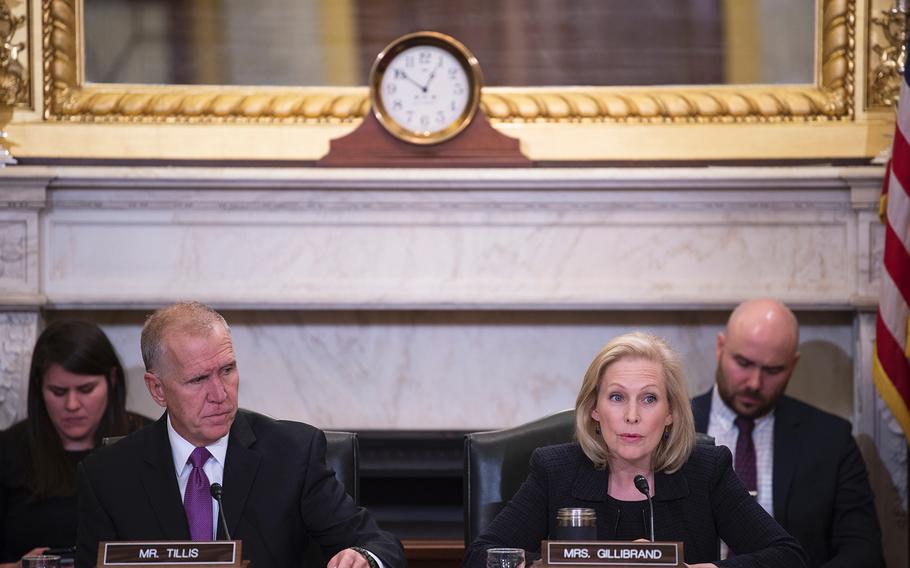 WASHINGTON — Train service members about what to do when a fellow soldier indicates suicidal behavior on social media. Offer access to Mobile Vet Centers for National Guard members during drill weekends. Increase Department of Veterans Affairs outreach to service members transitioning out of the military.
All are recent efforts, touted Wednesday by Pentagon and VA officials, to curb suicides — particularly among the youngest population of veterans and service members.
"Tragically, rates of suicide for our active-duty service members and veteran populations have increased in the latest reports, particularly affecting young men under 30," said Sen. Thom Tillis, R-N.C., chairman of the subpanel on personnel for the Senate Armed Services Committee.
The subpanel heard from government officials, as well as suicide prevention experts, at a hearing Wednesday titled "Servicemember, Family and Veteran Suicides and Prevention Strategies."
The hearing — requested by Sen. Kirsten Gillibrand of New York, the ranking Democrat on the subpanel — followed reports from the agencies that showed veteran and military suicides were on the rise, despite the billions of dollars that Congress has directed toward the crisis.
"The Department of Defense spends more and more each year on suicide prevention, but the results are not nearly good enough," Gillibrand said.
The senators, experts and officials at the hearing focused their attention on young veterans and service members.
The Pentagon's annual suicide report, released in September, showed service members who died by suicide were primarily enlisted men younger than 30. That population makes up about 46% of the military population but accounted for 60% of suicide deaths.
"This report emphasizes the need to target efforts towards the military's youngest population," the report reads.
Karin Orvis, director of suicide prevention at the Defense Department, shared one of the Pentagon's new efforts with senators: to distribute a training video about "red flags" on social media that might indicate suicidal thoughts.
"The intent is for peers to help each other," Orvis said. "We know our young service members are using social media with regular frequency. We've also done research at DOD that shows people do disclose when they're having suicidal ideations or troubles on social media. So, this is a tool to help if you're seeing your buddy saying something. What can you do? What should you do? How should you reach out?"
Orvis said the video has been created but is being tested for its effectiveness before it's distributed throughout the military. The evaluation is expected to be complete in 2020.
Similar to the Pentagon report, the VA's newest suicide report also found higher rates among younger veterans. In 2017, the most recent year from which data is available, veterans ages 18 to 34 had the highest suicide rate, with a reported 44.5 suicides per 100,000 veterans. The rate among that population increased by 76% from 2005 to 2017.
President Donald Trump signed an executive order in January 2018 that aimed to eliminate barriers for transitioning troops to get treatment during their first year after military service.
Matthew Miller, the acting director of the VA's suicide prevention program, said Wednesday that the VA just implemented part of the executive order this week. The VA's new Solid Start program launched Monday. The program promises to proactively contact all transitioning veterans at least three times during the first year after their military service to let them know of VA resources.
"Within the first month of separation, we are contacting ever veteran we receive on a list of those separating, introducing them to the VA, services within the VA, offering them connection and resources," Miller said. "We'll send a letter to reiterate the services available. I look forward to positive results."
Of the veterans who died by suicide in 2017, 62% had not recently received treatment from the VA. The agency found suicide rates among veterans who had recently received health care through the VA increased at a slower pace than veterans who had not — a fact Miller said should spark hope.
"Amidst the difficult questions and the daunting data, there is hope," he said. "Although the rates of suicide are increasing across the nation, we know the rate is rising more slowly for veterans engaged in [VA] care."
In addition to young veterans and service members, officials and experts spoke Wednesday about the need to focus on National Guard members — another population that the Pentagon identified as having a high rate of suicide. According to the Pentagon's annual suicide report, the National Guard had the highest rate of suicide at 30.6 per 100,000 in 2018.
The VA and Pentagon are teaming up to provide guard members with access to mental health care through Mobile Vet Centers during drill weekends, Orvis said. That initiative already began this year, she said.
Gillibrand urged Orvis to make another change and alter a policy that requires mental health professionals to report many service members' mental health concerns to a commander. She argued the policy "creates mistrust and acts as a barrier to treatment."
wentling.nikki@stripes.com Twitter: @nikkiwentling