Dependents at Joint Base Andrews test positive for coronavirus, prompting health emergency declaration
---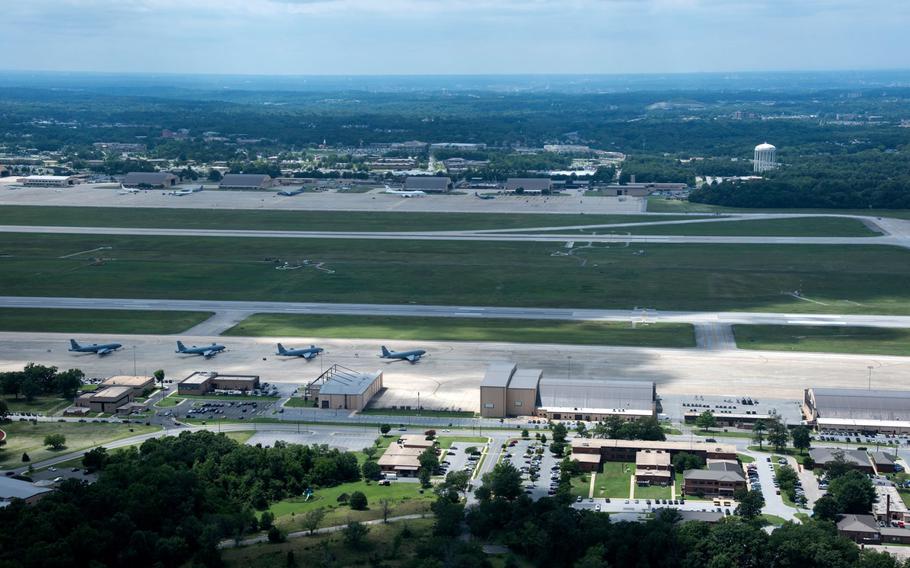 Read more coronavirus coverage from Stars and Stripes.
WASHINGTON — Two military dependents with ties to Joint Base Andrews have confirmed cases of the coronavirus, prompting the commander to declare a public health emergency at the Maryland base that houses Air Force One and other aircraft critical to travel for top U.S. officials.
The public health emergency declaration announced Monday brings the base in line with the Maryland counties that surround the base in the Washington D.C. suburbs, said Air Force Col. Andrew Purath, the commander of Joint Base Andrews and the Air Force's 11th Wing. Maryland Gov. Larry Hogan on Sunday issued an emergency declaration for his state, where at least 58 people have tested positive for the coronavirus, formally known as COVID-19.
During a virtual town hall event broadcast Tuesday on Joint Base Andrews' Facebook page, Purath said the emergency declaration allowed him to take control of decisions that would not typically be under his purview, such as limiting the quantity of essential supplies — such as toilet paper — that individuals can purchase in one trip to the base's commissary or limiting the size of gatherings to 10 people — military or civilian — in any given room on the post.
"We are committed without a doubt to your safety, to your family's safety and to making the best decisions that we can to make sure everyone is safe and healthy on this base," Purath said during the broadcast.
Joint Base Andrews is an example of how military officials are handling their responses to the pandemic at their bases — especially where there have been positive cases, unlike the vast majority of military bases across the United States.
On Monday, Andrews officials announced a dependent of a military retiree had tested positive, and had been quarantined in their home in Charles County, Md. Purath said Tuesday that a second military retiree dependent also had been confirmed through the health clinic on the base. That individual has been transported to a nonmilitary medical facility in the area, Joint Base Andrews officials said.
At least 37 individuals in the Defense Department community had tested positive for the coronavirus as of Monday, Pentagon officials said. The number has steadily increased through recent weeks.
The pandemic has forced closures on posts across the United States and worldwide. At Andrews, Purath ordered a number of closures including the base's theater, its education center, library, and its Military Family Support Center.
The colonel has elected, at least for now, to keep the commissary, the post exchange and on-post lodging open. The commissary will be open only to active-duty service members and their dependents from 9 a.m. to 11 a.m., others can shop there from 11 a.m. to 5 p.m.
Some military retirees in the area depend on commissary access, Purath said, but he needed to prioritize active-duty troops' access to items, as well.
"We have put a lot of effort and honestly taken a little bit of risk in some places because we think we owe that to the community around this base that we support every day."
Purath elected to close the base's east fitness center but has left its west fitness center open only to active-duty military.
Child development centers, the military's on-post day cares, will remain open, but Purath urged individuals who have been cleared to telework to keep their kids at home with them. The federal Office of Personnel Management has made an exception to its typical policy to allow telework-ready employees to work while their kids are at home, he said.
People who can do their jobs from home and have been cleared by their supervisors should telework, Purath urged. Limiting travel to only essential movement could help slow the spread of the virus, U.S. health officials have said.
"Don't lose sight of what we're trying to accomplish here. And what we are trying to accomplish here is limiting travel," Purath said. "This is painful. These are going to be hard things for our airmen and families. it's going to be disruptive."
For service members assigned to Purath's 11th Wing, he has also limited their travel to 50 miles from Joint Base Andrews, as part of a Defense Department-wide travel restriction announced last week that limits troops almost elusively to mission-essential movements.
In one case, Purath said he had to deny an airman in his command an exception to travel next week to California for his own wedding.
"There's a lot of money in that wedding, and I feel horrible about it," he said. "But, right now, it's the right thing to do."
Despite the restrictions on troops and the larger Joint Base Andrews community emplaced so far, Purath said the mission has not been impacted. The 11th Wing that he commands has myriad responsibilities throughout the Washington metro area, but it is primarily charged with the immediate-response helicopter support for contingencies in the area and with securing Andrews' busy and high-profile flight line.
"From an operational view, this [outbreak] has had no impact on our ability to deliver combat capability for the nation," Purath said.
dickstein.corey@stripes.com Twitter: @CDicksteinDC
---
---
---
---