Democrat-introduced stimulus bill includes support for homeless vets, hazard pay for VA employees
by
Nikki Wentling
May 13, 2020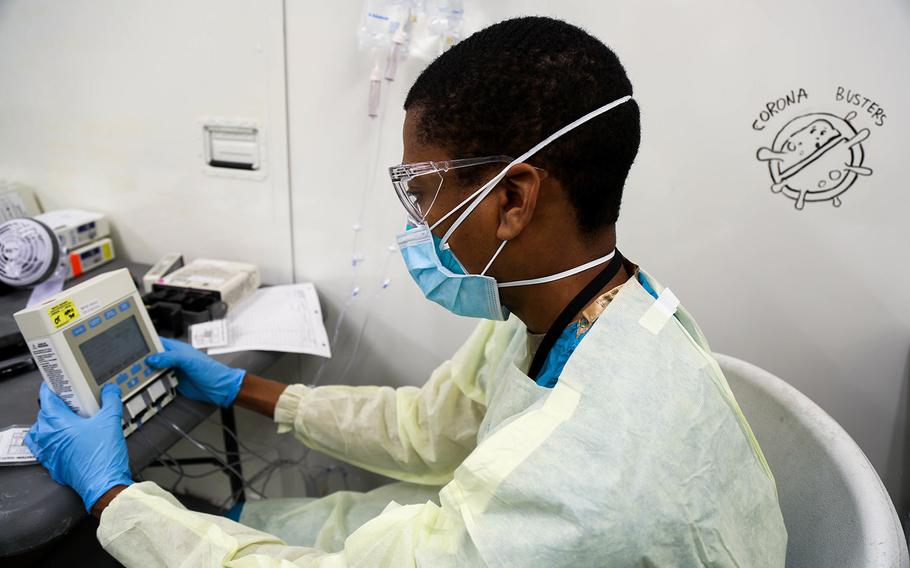 Stars and Stripes is making stories on the coronavirus pandemic available free of charge. See other free reports here. Sign up for our daily coronavirus newsletter here. Please support our journalism with a subscription.
WASHINGTON — Support for homeless veterans, hazard pay for Department of Veterans Affairs employees and expanded medical and mental health care for vets and service members are included in a $3 trillion stimulus bill introduced by House Democrats on Tuesday.
The 1,815-page legislation, which at $3 trillion would be the largest relief package in U.S. history, was criticized by House Republicans as a "liberal wish list" that had no chance of becoming law. Some of its central elements are to distribute another round of direct payments to Americans, send more funding to state and local governments and tribal nations, and boost coronavirus testing and contact tracing.
The Health Economic Recovery Omnibus Emergency Solutions Act, known as the HEROES Act, could be scheduled for a vote as soon as Friday and is likely to pass the Democratic-controlled House. However, the legislation is likely to face barriers in the Senate. Senate Republicans have indicated that not enough time has passed since the $2 trillion CARES Act to consider another relief package.
Included in the massive bill are several measures aimed at supporting veterans and VA employees who have been affected by the pandemic.
The package would establish a $200 billion "Heroes Fund" to provide hazard pay to essential workers, including VA medical staff. The American Federation of Government Employees, which represents thousands of VA workers, criticized the VA on Tuesday for not providing hazard pay.
The department faced a shortage of personal protective equipment for weeks, leading hospitals to ration their supplies of masks. VA nurses across the country openly protested their unsafe working conditions. As of Tuesday, 1,324 employees had contracted the coronavirus and 28 had died from it.
"All front-line employees who have been or could have been exposed to Covid-19 while on the job and were not provided the proper protective equipment — at any point during this pandemic — deserve hazard pay," the federation's president, Everett Kelley, said in a statement.
In a statement to ABC News, VA press secretary Christina Noel said, "Hazard pay is to compensate employees when risks cannot be reasonably mitigated and employees cannot be safely protected, and that is the opposite of the current environment at VA."
In addition to hazard pay, the HEROES Act would ensure VA medical workers receive paid sick leave if they're exposed to the virus or become infected.
Support for homeless veterans was also included in the bill, which would allocate funding for the VA to provide transportation, food, shelter, phones, clothing, blankets and toiletry items to homeless veterans. Under the legislation, the department would be allowed to establish temporary shelters in the parking lots of VA medical centers.
The bill also aims to get homeless veterans into permanent housing. According to the National Coalition for Homeless Veterans, those veterans who received housing vouchers from the government before the coronavirus pandemic but had not yet rented homes have been unable to find housing. Employees at local housing authorities are working from home and are unable to complete the inspections that are required before veterans can move into their rental units. Many landlords have also closed their offices.
The HEROES Act would shorten the bureaucratic process of getting veterans into permanent housing during the pandemic. Housing authorities would be allowed to administer vouchers electronically and forgo in-person inspections.
The stimulus package included several other measures for veterans. It would order the VA to treat all veterans who lost their employer-sponsored health insurance because of the pandemic. According to the latest data from the Bureau of Labor Statistics, veteran unemployment rose from 3.5% in March to nearly 12% in April, and more than 1 million veterans filed for jobless benefits.
The bill would also expand mental health care to members of the National Guard and Reserve who deployed in response to the coronavirus pandemic. Those service members would become eligible for counseling through the VA's Vet Centers.
The VA would be ordered to suspend any debt collection efforts for 60 days after the end of the national emergency. The agency would also be required to extend deadlines for veterans' claims and appeals until after the national emergency has ended.
The bill aims to increase the amount of money that goes to housebound veterans to help them pay for in-home assistance. The benefit would increase by up to 25%, and the VA would supply those veterans and caregivers with personal protective equipment.
"The Heroes Act is critical," said Rep. Mark Takano, D-Calif., the chairman of the House Committee on Veterans' Affairs. "By supporting homeless veterans, suspending debt collection, expanding health coverage, and caring for our most vulnerable, we can help ensure that those who have served our country have an opportunity to succeed."
wentling.nikki@stripes.com Twitter: @nikkiwentling