Defense Department identifies two soldiers killed in Afghanistan
by
Chad Garland Phillip Walter Wellman
March 23, 2019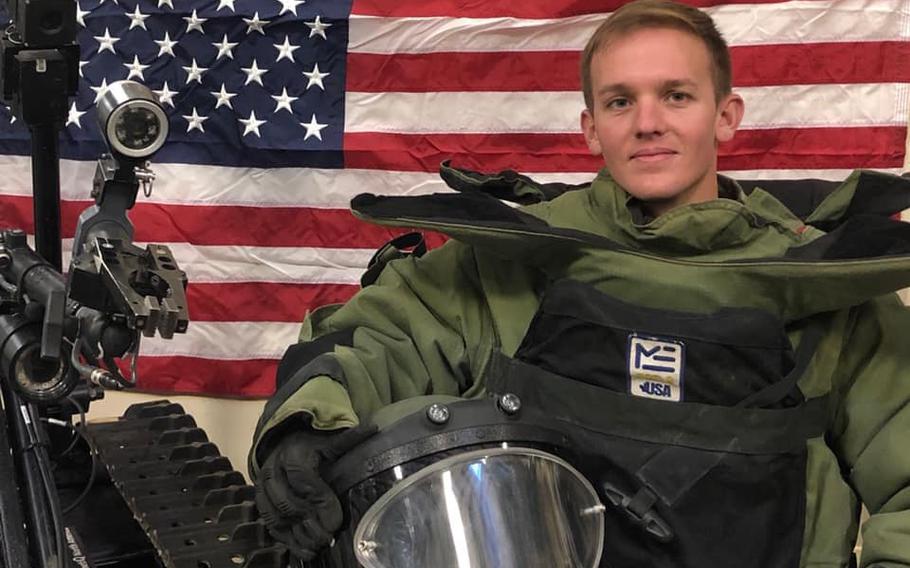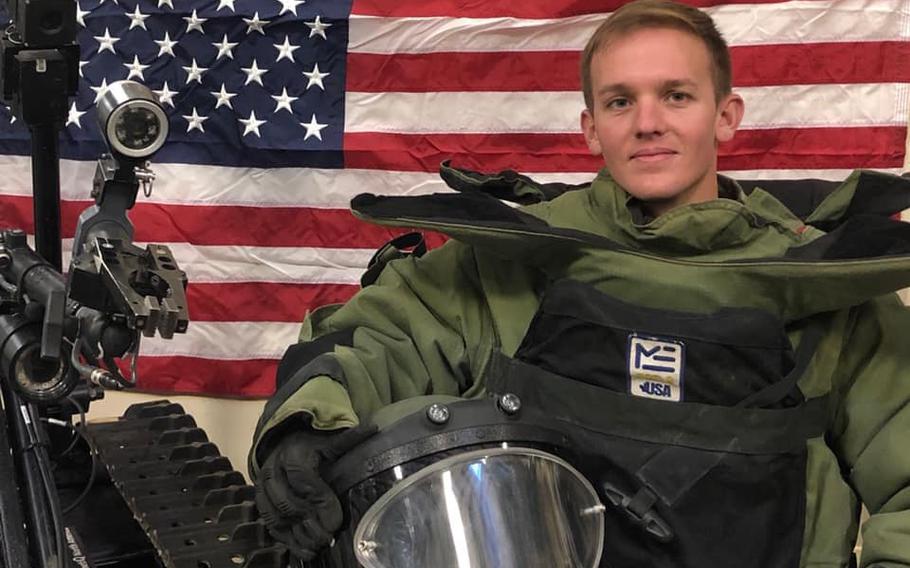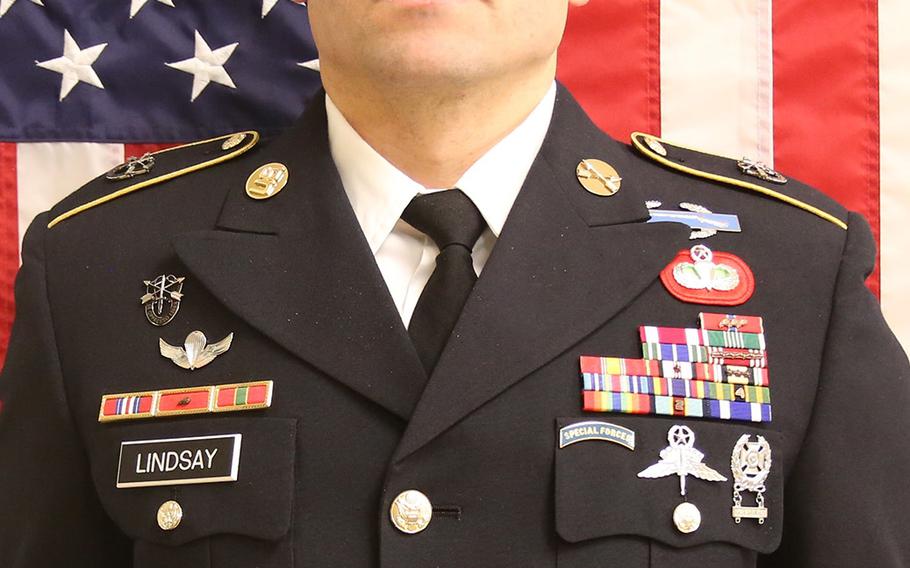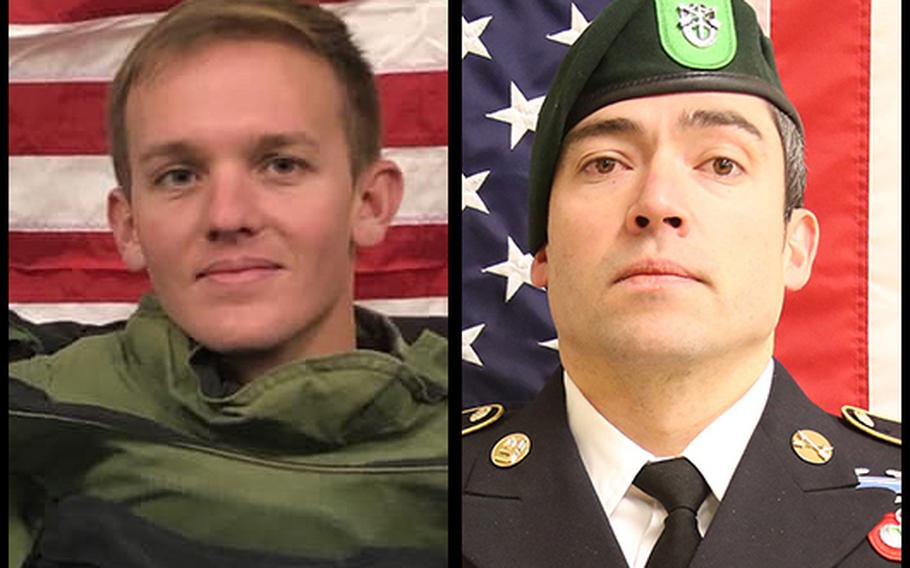 KABUL, Afghanistan — The Department of Defense on Saturday identified the two soldiers who died Friday in Kunduz province, Afghanistan, of wounds sustained while engaged in combat operations.
• Spc. Joseph P. Collette, 29, of Lancaster, Ohio, was assigned to the 242nd Ordnance Battalion, 71st Explosive Ordnance Disposal Group out of Fort Carson, Colo.
• Sgt. 1st Class Will D. Lindsay, 33, of Cortez, Colo., was assigned to 2nd Battalion, 10th Special Forces Group (Airborne), Fort Carson.
The two deaths announced Friday come as Washington continues direct talks with the Taliban aimed at ending the U.S.'s longest war — now in its 18th year. The deaths raised to four the number of American troops killed in Afghanistan this year.
In a telephone interview on Saturday, Caela Marie Collette said her husband, whom she called Joey, was "the most genuine person you'll ever meet."
The couple married in December before his first overseas deployment to Afghanistan. They were waiting to have a proper wedding ceremony, and possibly children together, upon his return to the U.S. this summer. Each has two children from previous relationships.
On Friday, Caela Collette learned her husband had been killed earlier that day.
"We didn't have our full ceremony yet because we didn't have time," Collette said shortly before flying to Dover Air Force Base, Del., to retrieve her husband's remains. "We got married less than a month before he deployed, and then when he returned in June we were going to fly to Florida and have a ceremony there."
"He told me that as soon as 9/11 happened, when we were kids, he knew right then that he wanted to join the Army," Collette recalled. "He was getting out of the Army in February next year and had never been on deployment. He wanted to go on deployment badly."
Collette said that before her husband left for Afghanistan, "he wrote about 30 love letters and hid them in random places around the house for me to find, which I found most of them. So last night, it was really comforting sitting down, reading through those, because it's almost like he was preparing for this exact scenario.
"It's really, really hard for everyone to come to terms with …," she said. "It's just an unbelievable thing. He's the last person on Earth to deserve something like this. But, honestly, out of this, I hope he gets the recognition he deserves."
Joseph Collette's stepfather, Jim Wickline, also confirmed his death to the Lancaster Eagle-Gazette. He said his stepson had joined the Army after graduating from Lancaster High School.
"He was loved by many people," Wickline said. "He was funny and laid back."
Joseph Collette joined the Army in 2010. His awards and decorations include the Purple Heart, the Combat Action Badge and the Senior Explosive Ordnance Disposal Badge, Fort Carson said in a statement.
"The 71st Ordnance Group (EOD) is deeply saddened by the loss of Spc. Joseph P. Collette. We extend our deepest sympathies and condolences to his Family and friends," Col. David K. Green, the unit's commander, said in a statement.
Facebook tributes
On Facebook, members of the EOD community swapped out their profile photos for an image of an EOD badge with a black band across it. In posts and comments, many wrote, "We remember."
Several Facebook users also changed their profile photos to images of the Special Forces beret flash crossed with a black or green band. A religious ministry in the Fort Carson area posted one such photo Saturday.
"Hearts broken for our 10th Group family," Military Ministry of Woodmen Valley Chapel of Colorado Springs, Colo., wrote in a message accompanying the photo.
Lindsay enlisted in the Army in July 2004 and completed One Station Unit Training and Basic Airborne School at Fort Benning, Ga., before completing the Special Forces Qualification Course and getting assigned to 10th Group in July 2006, Lt. Col. Loren Bymer, a U.S. Army Special Operations Command spokesman, said in a statement. He deployed five times to Iraq, to Tajikistan in 2016 and to Afghanistan.
He is survived by his wife and four daughters.
"The 10th SFG (A) Family is deeply saddened at the loss of Sgt. 1st Class Will Lindsay," Col. Lawrence Ferguson, the group's commander, said in a statement.
"Will was one of the best in our formation, with more than a decade of service in the Regiment at all levels of noncommissioned officer leadership. We will focus now on supporting his Family and honoring his legacy and sacrifice."
Lindsay's awards and decorations include the Bronze Star Medal with four oak leaf clusters, the Purple Heart Medal, the Meritorious Service Medal with one oak leaf cluster, the Army Good Conduct Medal with three oak leaf clusters, the National Defense Service Medal, the Global War on Terrorism Service Medal, the Combat Infantryman Badge, the Military Free Fall Jumpmaster Badge, the Master Parachutist Badge, Chilean Airborne Wings and the Senior Instructor Badge.
Procession planned
Wickline said that after arriving in Dover, Collette's remains would be sent to Rickenbacker International Airport in Columbus, Ohio, probably on Sunday, to be followed by a procession to a local funeral home. Lancaster is about 33 miles south of Columbus.
The Lancaster Fire Department will be a part of the procession, assistant Chief K.J. Watts told the local newspaper. The procession could be later in the week, he said.
"You hit the jackpot with this one," wrote Heather Masteller in reply to the post by Caela Collette.
In other posts, Masteller said she had grown up with the soldier, who introduced her to her husband and best friend. "I will forever be sad you didn't have as much time as the rest of us," she wrote. "You deserved it. He deserved it. His kids deserved it."
News of the latest American deaths came nearly two weeks after the most recent round of direct negotiations between U.S. and Taliban officials wrapped up in Doha, Qatar, after nearly a fortnight, with both sides saying progress had been made.
But as the negotiations continue, so do U.S. and Taliban military operations throughout the country.
Few details of the operation on which Collette and Lindsay were killed have been released, although the Pentagon said it occurred in the northern province of Kunduz.
Afghan troops backed by U.S. forces recently began military operations against insurgents in Kunduz province, a hotbed of Taliban activity, provincial council member Aminullah Ayedin told Stars and Stripes.
Scores of insurgents have been killed in the operations, as have more than a dozen civilians, Ayedin said.
Relatively few of the roughly 14,000 U.S. troops deployed to Afghanistan go into combat or serve near the front lines as they assist NATO's training-and-advising mission. However, some assist a separate U.S. counterterrorism mission that targets groups like al-Qaida and the local Islamic State affiliate.
In January, Army Ranger Sgt. Cameron Meddock, 26, and Green Beret Sgt. 1st Class Joshua "Zach" Beale, 32, died in separate incidents.
Last year, 13 Americans were killed in combat in the country and two others died in noncombat incidents. Since 2001, more than 2,400 American troops have been killed in Afghanistan. More than 20,000 have been wounded since the beginning of the war.
wellman.phillip@stripes.comgarland.chad@stripes.com Twitter: @chadgarland