Coronavirus outbreak at Parris Island forces Marines to stop shipping recruits to boot camp
---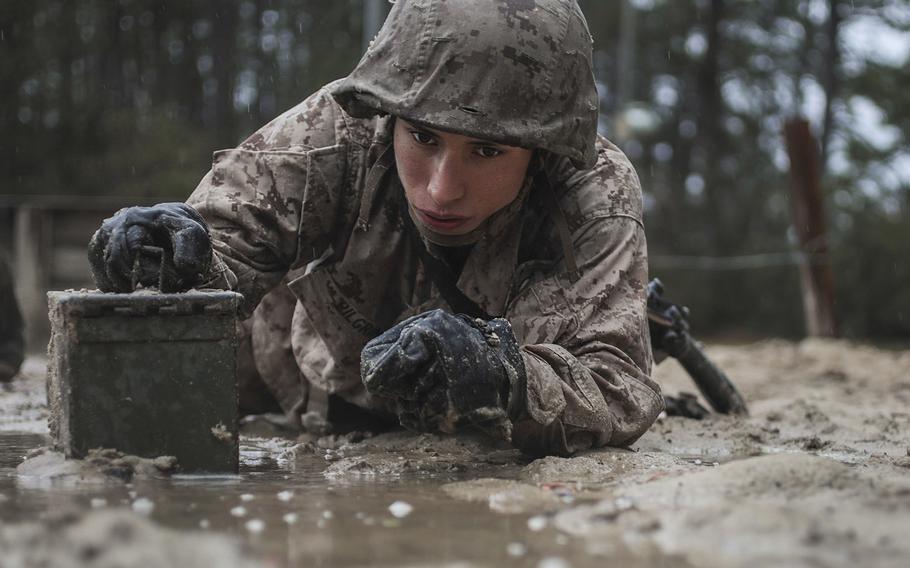 Stars and Stripes is making stories on the coronavirus pandemic available free of charge. See other free reports here. Sign up for our daily coronavirus newsletter here. Please support our journalism with a subscription.
WASHINGTON — An outbreak of coronavirus at the Marines' Parris Island recruiting depot in South Carolina has forced the service to temporarily stop new recruits from heading there for boot camp.
The increase in illnesses at the base happened over the weekend, according to Capt. Bryan McDonnell, a spokesman for Marine Corps Recruit Depot Parris Island. The uptick in cases comes after acting Navy Secretary Thomas Modly announced last week that two Marine recruits tested positive at Parris Island.
Base officials conducted an investigation and isolated everyone who was in contact with the two Marines, McDonnell said. Additionally, two other Marines stationed at the base have tested positive for the virus, though they work separately from recruit training.
McDonnell said the outbreak was less than 50 people, though he would not provide a specific number due to a new Pentagon directive that prevents military installations from individually reporting the number of coronavirus cases at their bases.
McDonnell said the base was prepared to deal with the coronavirus cases due to screening measures put in place for recruits and the contact tracing of people who have tested positive for the virus.
The coronavirus cases are "localized and contained," he said.
The suspension on shipping new recruits is a precautionary measure intended to protect more recruits, the training personnel, and the installation community from the virus, according to a Marine Corps statement Monday.
"The preservation of our Marines, recruits and their families is the highest priority for Marine Corps recruiting during this national emergency," Gen. David Berger, the commandant of the Marine Corps, said in the prepared statement. "With that in mind, we've paused this week's shipping of new recruits to Parris Island and will revise our overall shipping plan to ensure we are able to meet the nation's needs while protecting its next generation of Marines."
The statement did not say how many new recruits would be affected by the temporary suspension. Marine Corps Recruit Depot Parris Island is one of two locations for training new recruits, with the other at Marine Corps Recruit Depot San Diego in California.
McDonnell said the base is planning to have a 14-day isolation period before recruits begin their training once recruit arrivals at Parris Island resume.
He could not give a date for when recruit arrivals would begin again, other than to say it was "conditions based."
Recruits now at Parris Island will continue with their training "with continued emphasis on personal and environmental cleanliness and social distancing," according to the Marine Corps.
The statement tells new recruits to contact their recruiters to make certain they understand changes to their shipping dates.
---
---
---
---