Coronavirus impact pushes Boeing $168 million over budget on new Air Force One planes
by
Rose L. Thayer
May 4, 2020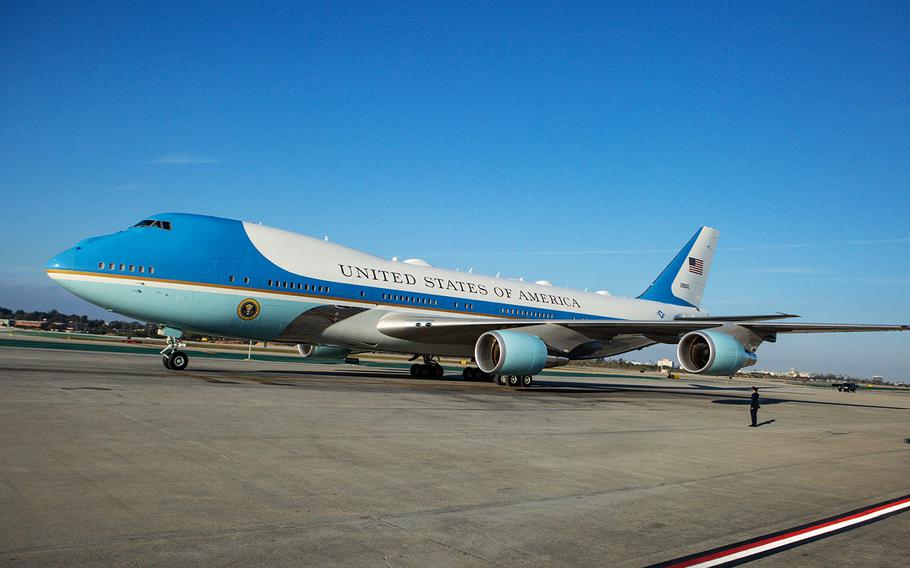 Stars and Stripes is making stories on the coronavirus pandemic available free of charge. See other free reports here. Sign up for our daily coronavirus newsletter here. Please support our journalism with a subscription.
Boeing expects a cost overrun of $168 million on the new Air Force One planes caused by work-from-home staffing problems during the coronavirus pandemic, according to a top official at the aerospace company.
However, the company still expects the two planes to be operational by 2024, said Greg Smith, Boeing executive vice president of enterprise operations and chief financial officer. Smith also told reporters last week that the planes arrived in San Antonio, Texas, about two months ago for an extensive customization process to convert the aircraft into secure, mobile command centers.
"As we have had folks working virtually, particularly on the engineering side, as well as that has gone, it certainly has created some inefficiencies that has caused us to reevaluate our estimate to complete those efforts," he said.
A company spokeswoman would not elaborate on what exactly caused the delays and referred only to Smith's comments.
Smith said the Air Force One program was one of a number of programs impacted by the coronavirus pandemic. But he said some of those funds could be recouped through the coronavirus aid package passed in March by Congress, which set aside about $500 billion for loans to help big corporations impacted by the virus. About $17 billion of that was largely set aside for Boeing, the New York Times reported.
The replacement of the Air Force One aircraft began in 2011 and delivery of the planes was expected to cost about $5.3 billion. President Donald Trump announced in July 2018, he had renegotiated the contract to a fixed $3.9 billion for delivery of the two planes.
Because of the fixed contract, the additional $168 million is at Boeing's expense, not the Air Force.
However, the total acquisition of the new planes is still expected to cost the Air Force $5.3 billion, said Ann Stefanek, spokeswoman for the Air Force. But that price encompasses all costs associated with the aircraft beyond receiving two "presidential, mission-ready aircraft."
Last month, the Air Force awarded Boeing an $84 million contract to modify commercial manuals for the planes. "It is typical for the tech manuals to be a separate contract," and is part of the total expected cost, Stefanek said.
Both planes are 747-8 aircraft that, when used commercially, can carry more than 400 passengers, according to Boeing's website. To become Air Force One-ready, personnel from Boeing and the Air Force will make electrical power upgrades, install a mission communication system, a medical facility, an executive interior and autonomous ground operations capabilities, according to a March 11 news release from the Air Force Life Cycle Management Center, located at Wright-Patterson Air Force Base in Ohio. They are set to be in use for 30 years.
The current planes began service in 1990 under President George H.W. Bush and feature 4,000 square feet on three levels, according to the White House website.
Thayer.rose@stripes.com Twitter: @Rose_Lori
---
---
---