Coronavirus drawdown: 740 military personnel return home from service in hospitals in Texas, California
by
Rose L. Thayer
September 23, 2020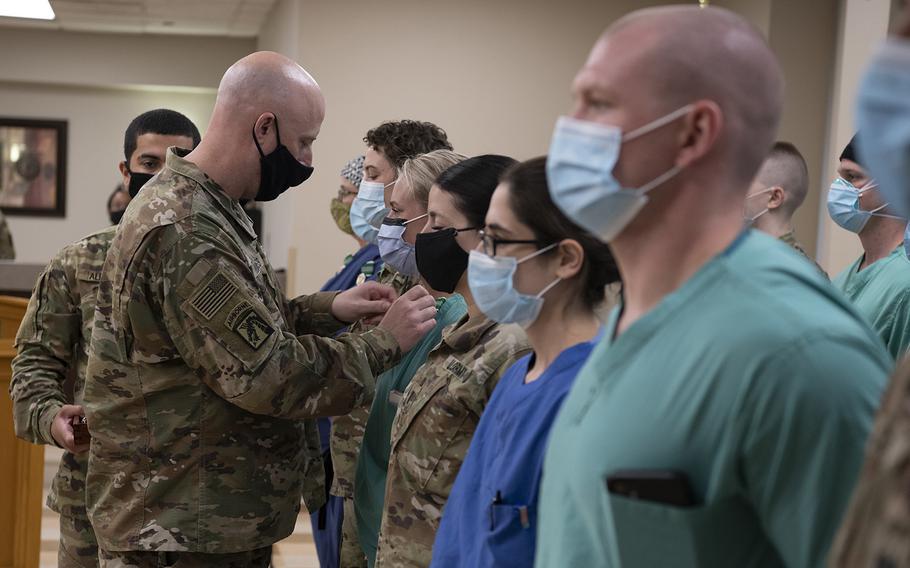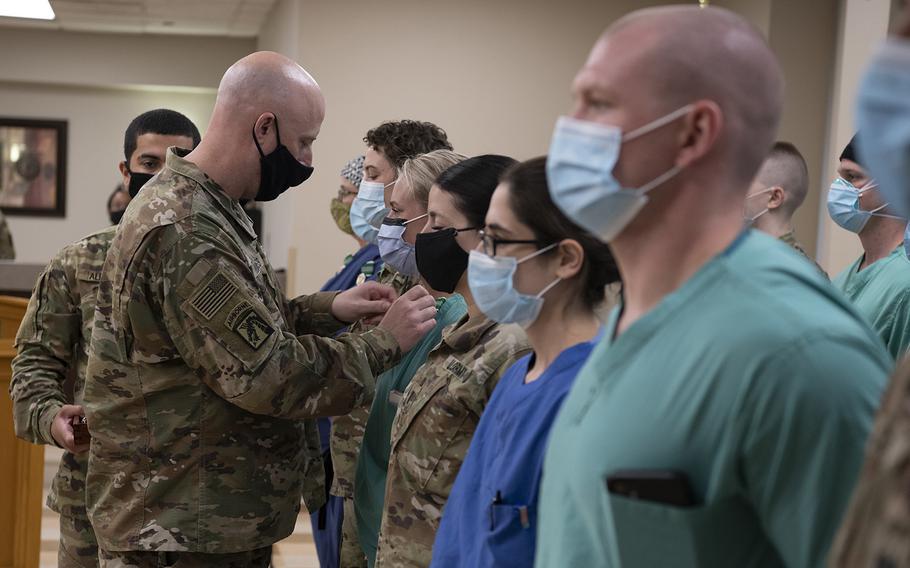 Stars and Stripes is making stories on the coronavirus pandemic available free of charge. See other free reports here. Sign up for our daily coronavirus newsletter here. Please support our journalism with a subscription.
AUSTIN, Texas — About 740 military troops serving on the front lines of the coronavirus pandemic in Texas and California returned to their home duty stations during the past month as demand for their work decreased, military officials announced Wednesday.
Since July, members of the Army, Navy and Air Force have served at 23 hospitals in 18 cities at the request of the Federal Emergency Management Agency, according to a news release from U.S. Army North, which has overseen the mission for U.S. Northern Command's Joint Force Land Component Command.
Lt. Gen. Laura Richardson, commander of Army North and the Joint Force Land Component, said they remain "in constant coordination" with FEMA to monitor coronavirus conditions in Texas and California.
"As demand for federal military support declines, so too can our presence as we reset for potential, future missions directed by the Department of Defense," she said.
The drawdown of personnel began about three weeks ago as these medical professionals and support staff were no longer required, according to the release. On Aug. 30, 100 Air Force personnel were the first troops to return to their home station after working at five California hospitals.
The next to end their mission were about 480 Army and Navy troops at 13 Texas hospitals. They returned to their units between Sept. 8-10. These soldiers and sailors were followed a few days later by 60 Air Force personnel who concluded operations at three California hospitals on Sept. 12.
The last to leave were 100 Army and Navy service members who returned Wednesday from three Texas hospitals.
"The Department of Defense remains postured to provide capacity and capability when requested by FEMA, in support of local authorities, and is in the [coronavirus] fight for as long as needed," according to the news release.
Texas cities to receive the support were San Antonio, Houston, McAllen, Corpus Christi, Victoria, Harlingen, Edinburg, Del Rio, Eagle Pass and Rio Grande City. In California, cities that received military support were Lodi, Rancho Mirage, Visalia, Fresno, Stockton, Hanford, Los Angeles and Torrance.
Thayer.rose@stripes.com Twitter: @Rose_Lori