Contracting coronavirus won't disqualify you from serving in the military, but a hospital stay for it might
by
Corey Dickstein
May 8, 2020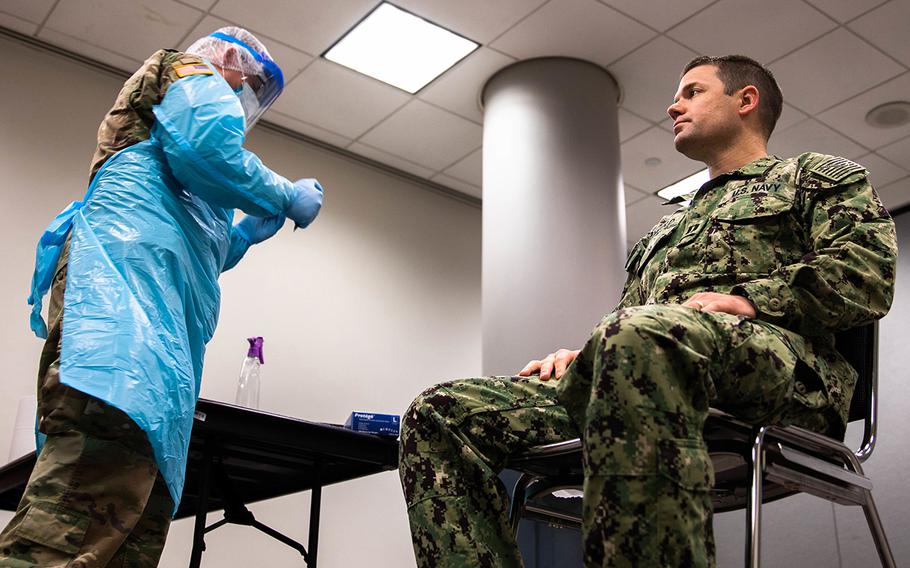 Stars and Stripes is making stories on the coronavirus pandemic available free of charge. See other free reports here. Sign up for our daily coronavirus newsletter here. Please support our journalism with a subscription.
WASHINGTON — A past diagnosis of the coronavirus will not disqualify individuals from joining the U.S. military, a defense official said Friday, after the Pentagon clarified guidance issued this week that appeared to bar all people who recovered from the illness from serving.
The updated guidance does bar from military service individuals who require hospitalization for complications from the virus, which has caused an international pandemic that has shut down much of the United States and killed more than 75,000 Americans, the official said. Those individuals can apply for a service-issued waiver to attempt to enter the military, said the official, who was not authorized to speak publicly about the policy and requested anonymity.
The initial policy labeling a confirmed history of the coronavirus "permanently disqualifying" a person from military service was issued to the Military Entrance Processing Command in a memorandum that leaked over social media on Monday and was later published by several news organizations. Pentagon officials confirmed the memo's authenticity, but they said it would be updated to avoid the appearance that the military was banning all coronavirus survivors.
The decision to disqualify individuals who require hospitalization was made because the Pentagon assumes those individuals faced a "critical case" of the coronavirus, the official said. The guidance is meant to be temporary to provide the Defense Department more time to better understand the long-term impacts the coronavirus might inflict on the human body, the official said.
More than two months into the pandemic, public health officials have said scientists still do not have a full understanding of the virus. They know it does not cause symptoms in many individuals who contract it. But it causes massive damage to others' lungs.
As of Friday, more than 1.25 million Americans had been diagnosed with the virus and 75,650 of them died after contracting it, according to Johns Hopkins. The Pentagon said Friday that 5,171 of its service members had tested positive for the coronavirus. Among them, 1,987 had recovered, 114 faced hospitalization at some point, and two died of complications caused by the virus.
Among the questions yet to be answered include whether an individual's exposure to the virus ensures future immunity, according to the national Centers for Disease Control and Prevention. The CDC is conducting testing aimed at answering that question.
Prospective service members who have been diagnosed with the coronavirus but were not hospitalized can enter initial training after they spend 28 days in "home isolation," the official said about the updated policy.
It was not clear Friday whether the Pentagon was considering policy changes for its active-duty or Reserve troops who have contracted the disease, such as barring those who faced hospitalization from reenlistment.
dickstein.corey@stripes.com Twitter: @CDicksteinDC
---
---
---