Congresswoman, civil rights groups join call to remove swastikas from veterans cemeteries
by
Rose L. Thayer
May 18, 2020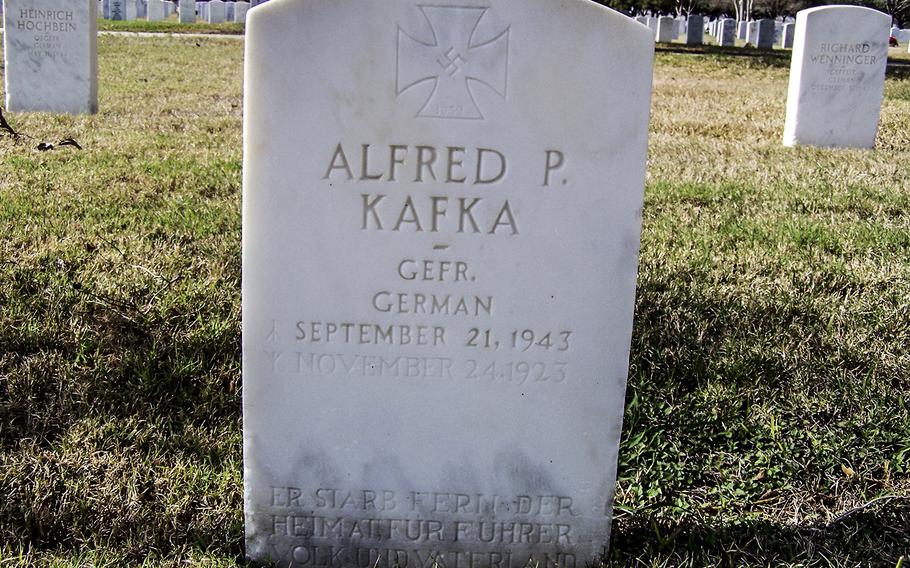 AUSTIN, Texas — A member of Congress and some civil rights organizations have joined a military religious freedom organization in calling for the removal of swastikas on German prisoners-of-war headstones in veteran cemeteries in Texas and Utah.
The headstones should be removed because the symbols are "a stain on the hallowed ground where so many veterans and their families are laid to rest," Rep. Debbie Wasserman-Schultz, D-Fla., said in a statement.
The Southern Poverty Law Center and the American Jewish Committee, two nonprofit groups that combat extremism, have also joined Military Religious Freedom Foundation, which is known for advocating for religion-focused civil rights of service members, to request the swastikas be removed from the headstones of three German prisoners of war from World War II buried in Fort Sam Houston National Cemetery in San Antonio and Fort Douglas Post Cemetery in Salt Lake City.
The MRFF, which is based in New Mexico, wrote a letter last week to the Department of Veterans Affairs, which is responsible for the cemeteries, requesting the swastikas be removed after a Jewish veteran and client of the organization noticed one in the Texas cemetery. But the VA responded it will continue to preserve the headstones, citing the National Historic Preservation Act of 1966, which assigns stewardship responsibilities to federal agencies to protect historic resources, including those that recognize divisive historical figures or events.
There are 13 VA cemeteries with POWs interred from a handful of countries that the United States fought during World War II, according to the VA's National Cemetery Administration's website.
The two headstones in Texas and the one in Utah also display the German phrase that translates to read: "HE DIED FAR FROM HOME FOR FUHRER, PEOPLE AND FATHERLAND."
"It is deeply troubling and terribly offensive that swastika-adorned headstones that include messages honoring [Adolf] Hitler continue to stand in this nation's veterans administration national cemeteries," Wasserman-Schultz said. "Allowing these gravestones to remain with the swastikas and messages in place – symbols of hatred, racism, intolerance, and genocide – is offensive to veterans who risked, and often lost, their lives defending this country and our way of life."
Noting current VA personnel are not responsible for the "mistakes of past cemetery managers," a "refusal to act, now that those mistakes have come to light is far from a neutral act," Eric K. Ward, a senior fellow at the Alabama-based Southern Poverty Law Center, wrote last week in an article on the center's website. "The veterans administration has a responsibility to veterans and active-duty troops to disavow symbols of hate."
The American Jewish Committee, a Jewish advocacy organization, wrote in a Facebook post that the swastika has "no place in America or anywhere else. That is especially true in a cemetery for American heroes, who made the final sacrifice for democracy and freedom."
MRFF, which was founded in 2005 by Air Force veteran Mikey Weinstein, has often filed complaints over the years with various agencies and commands within the VA and Defense Department. In some cases, the group's complaints have led to lawsuits.
But MRFF's numerous complaints about religion-related issues within the military have captured the attention of congressional lawmakers beyond just Wasserman-Schultz. A group of 20 Republican representatives last week sent a letter to Defense Secretary Mark Esper calling for a review of Army actions taken following complaints from the MRFF that have restricted the outreach of some chaplains.
"We are growing frustrated as senior military leaders, often out of ignorance, continue to violate the religious liberty and clearly expressed, explicit intent of Congress when it comes to chaplains," the letter reads. "Far too often, commanders react in a knee-jerk fashion to loud complaints from vocal anti-religion activists only to have their decisions immediately overturned upon scrutiny, but often only after congressional intervention pressing the services to adhere to their own regulations (let alone the Constitution)."
Thayer.rose@stripes.com Twitter: @Rose_Lori
---
---
---