Congressman threatens to subpoena VA officials implicated in wrongdoing
---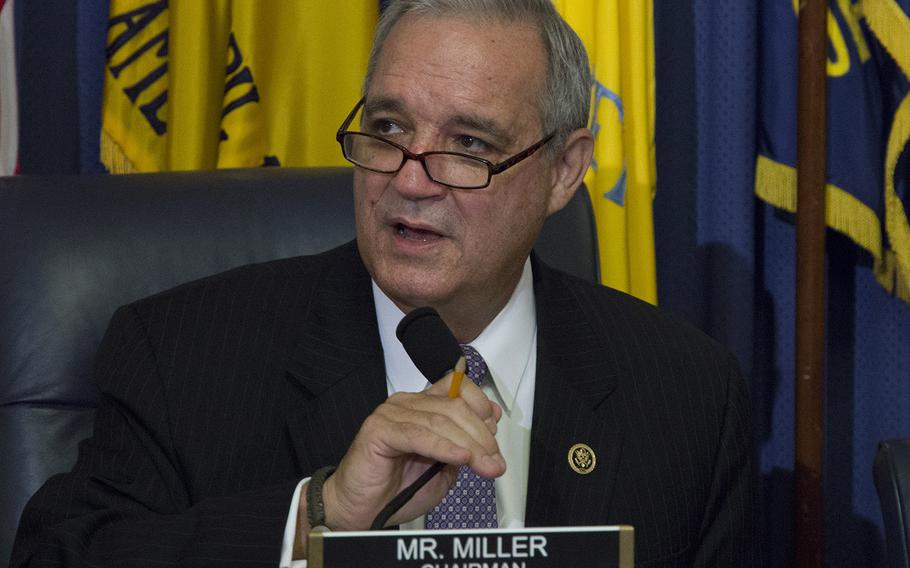 WASHINGTON — The chairman of the House Committee on Veterans Affairs is threatening to subpoena VA senior executives at the center of a damning investigation into a questionable hiring scheme if they refuse to appear at a hearing Wednesday.
Rep. Jeff Miller, R-Fla., requested their attendance Oct. 1, in the wake of a VA Inspector General's report that found two regional directors manipulated the agency's hiring system for financial gain and included evidence that former Under Secretary for Benefits Allison Hickey was involved. Hickey resigned Friday, and Miller is now requesting that her subordinate, Principal Deputy Under Secretary for Benefits Danny Pummill, testify in her place, along with the two directors.
"The allegations in the IG's report underscore the immediate need to change the culture at VA, and I will not allow bureaucratic foot dragging to interfere with Congress' role in this process," Miller said Friday in a statement. "The employees referenced in this report – all of whom enjoy generous, taxpayer-funded salaries – owe the American people an explanation for their actions."
But in a letter obtained by Stars and Stripes, VA Deputy Secretary Sloan Gibson told Miller that making those officials appear before the committee could violate their constitutional right against self incrimination, since there is an ongoing Department of Justice review of potential criminal actions uncovered by the report.
"In this matter as in all cases of alleged senior leader wrongdoing, we will do the right thing, but we have to do it in the right way," Gibson wrote. "We must first let DOJ complete its review. The department will then determine whether and what accountability actions may be warranted."
The VA Office of Inspector General made criminal referrals to the Department of Justice for Philadelphia VA Regional Office director Diana Rubens and St. Paul (Minn.) VA Regional Office director Kimberly Graves. Both are accused of engineering the reassignments of their predecessors in order to move into their favored regional director slots. Between them, they received $400,000 in moving compensation. Rubens received nearly $300,000 to move 140 miles from Philadelphia to Washington.
Neither has been charged with a crime. Both are still on the job and have not been placed on administrative leave, according to VA spokesman James Hutton.
Lawmakers have become increasingly frustrated with what they see as a lack of accountability at the VA for senior officials implicated in wrongdoing. In a response letter to Gibson, obtained by Stars and Stripes, Miller rejected the notion that the officials' rights would be in jeopardy and reiterated his call for them to testify.
"Rest assured that should either witness have a good faith basis to believe that their answers to particular question(s) may be incriminating, they may invoke their privilege at the hearing as a basis for declining to answer such questions," he wrote.
The report recommended the VA consider disciplinary action against Hickey, Pummill and Deputy Under Secretary for Field Operations Beth McCoy. Hickey, whose emails show her helping facilitate Rubens' and Graves' moves, is the highest-ranking casualty of an ongoing crisis in veterans health care since former VA Secretary Eric Shinseki resigned under pressure in May 2014.
As the head of the Veterans Benefits Administration, Hickey was responsible for veterans' compensation claims and oversaw more than 20,000 employees. The former Air Force brigadier general has received fierce support from some colleagues and condemnation from some lawmakers and at least one major veterans group.
A Philadelphia VA employee who spoke on the condition of anonymity for fear of retaliation said the continued employment of those at the center of the investigation has cast a cloud over the office.
"People are just waiting for some closure," he said. "It's bizarre when we can actually see our leaders exposed … as cynical kleptocrats." Rubens, Graves and Pummill did not respond to interview requests made through the VA.
druzin.heath@stripes.com Twitter: @Druzin_Stripes
---
---
---
---