Congressional members react to attacks with support, questions
by
Claudia Grisales grisales.claudia@stripes.com
April 14, 2018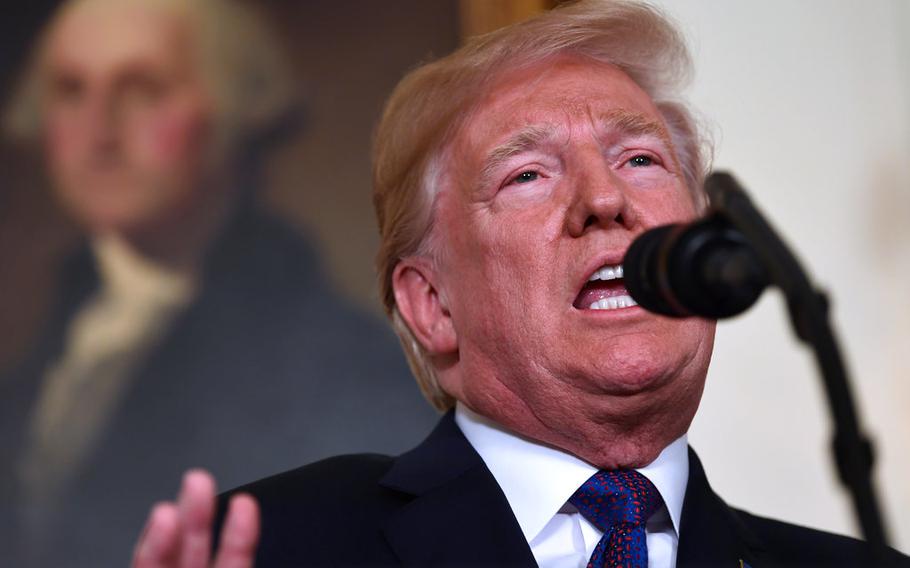 WASHINGTON — Congressional members quickly weighed in on attacks by U.S. and allied forces on chemical weapons facilities in Syria late Friday night, with key Republicans expressing support, while others questioned the president's move.
Among those supporting the strikes, Rep. Mac Thornberry, R-Texas, chair of the House Armed Services Committee, said while tough questions remain regarding the future U.S. role in Syria, that should not detract from the "justness" of the strikes.
"Assad's use of chemical weapons against innocent civilians is unacceptable. Equally concerning, the attack is part of a trend of Russian supported chemical weapons attacks across the world," Thornberry said. "The United States and our allies cannot let these attacks stand. I support the President's decision to undertake this strike together with our allies."
Thornberry led a long list of supportive Republicans on the strikes. However, a large share of Democrats, and some Republicans, questioned the move, criticized the president's tweets ahead of the strikes and raised questions about the U.S. role in Syria.
While Sen. John McCain, R-Ariz., chair of the Senate Armed Services Committee, lauded the move, he warned against airstrikes disconnected from a broader strategy.
"I applaud the President for taking military action against the Assad regime for its latest use of chemical weapons, and for signaling his resolve to do so again if these heinous attacks continue. I am grateful to our British and French allies for joining us in this action," said McCain, who has been battling brain cancer from his home since December. "To succeed in the long run, we need a comprehensive strategy for Syria and the entire region. The President needs to lay out our goals, not just with regard to ISIS, but also the ongoing conflict in Syria and malign Russian and Iranian influence in the region."
Among Democrats, and a small minority of Republicans, much concern was raised over the president's war powers and a lack of an overall plan in Syria.
"These offensive strikes against Syria are unconstitutional, illegal, and reckless," tweeted Rep. Justin Amash, R-Mich. "The next speaker of the House must reclaim congressional war powers."
Several recent efforts have been underway on Capitol Hill to address the president's war powers, which some say are outdated. The president's authority to use military force, or AUMF powers, were issued in response to the 9/11 terrorist attacks in 2001 and 2002 when the United States went to war in Afghanistan and Iraq.
The AUMFs gave the president wide-ranging authority to direct the military to fight terrorist groups such as al-Qaida, the Taliban and Islamic State around the world.
"One night of airstrikes is not a substitute for a clear, comprehensive Syria strategy," said House Minority Leader Rep. Nancy Pelosi, D-Calif. "The President must come to Congress and secure an Authorization for Use of Military Force by proposing a comprehensive strategy with clear objectives that keep our military safe and avoid collateral damage to innocent civilians."
Sen. Jack Reed of Rhode Island, the ranking Democrat on the Senate Armed Services Committee, said President Trump's tweets added to the volatility of the potential strikes and agreed a comprehensive plan is needed.
On Wednesday, Trump warned Russia through Twitter to "get ready" for a U.S. attack on Syria. The next day, Trump followed up that threat by saying it could happen "very soon or not soon at all."
"President Trump's impulsive tweets boxed him in. ... Over the last year, President Trump has marginalized the efforts of our diplomatic personnel while pursuing military operations that are disassociated from any broader Syria-specific or regional strategy."
On Friday, Reed, House Minority Whip Sen. Dick Durbin, D-Ill., and Sen. Bob Menendez, D-N.J., sent a joint letter to the White House asking for the administration to articulate a legal basis for military action in Syria.
"The use of U.S. military capabilities to conduct offensive action against another nation is a momentous decision that poses serious risks to the lives of U.S. military personnel involved and the possibility of escalation into a broader conflict," they wrote. "This issue is of critical importance and the American people should be fully informed about your rationale for deploying American military power and the objectives of any U.S. military action in Syria."
grisales.claudia@stripes.com Twitter: @cgrisales