Congress warns Pentagon that tenant bill of rights is 'not a suggestion'
---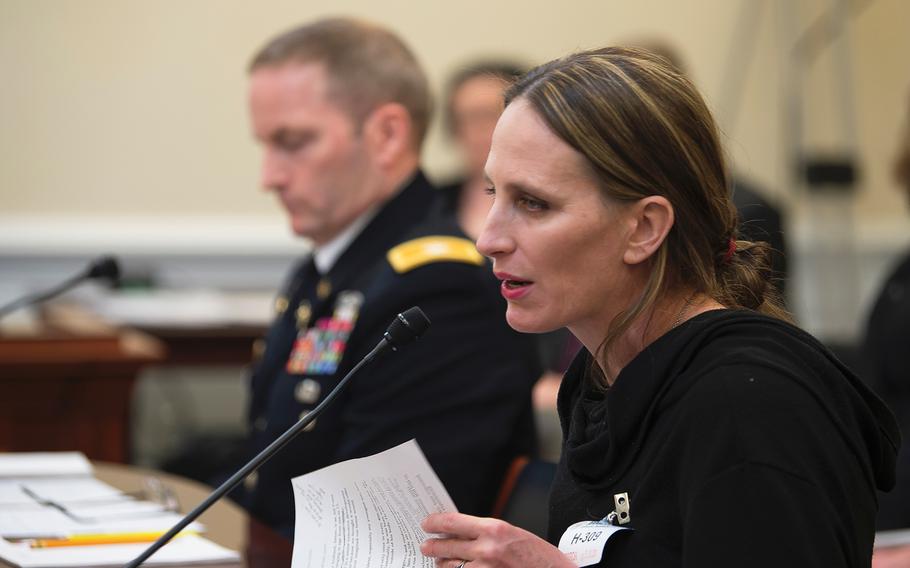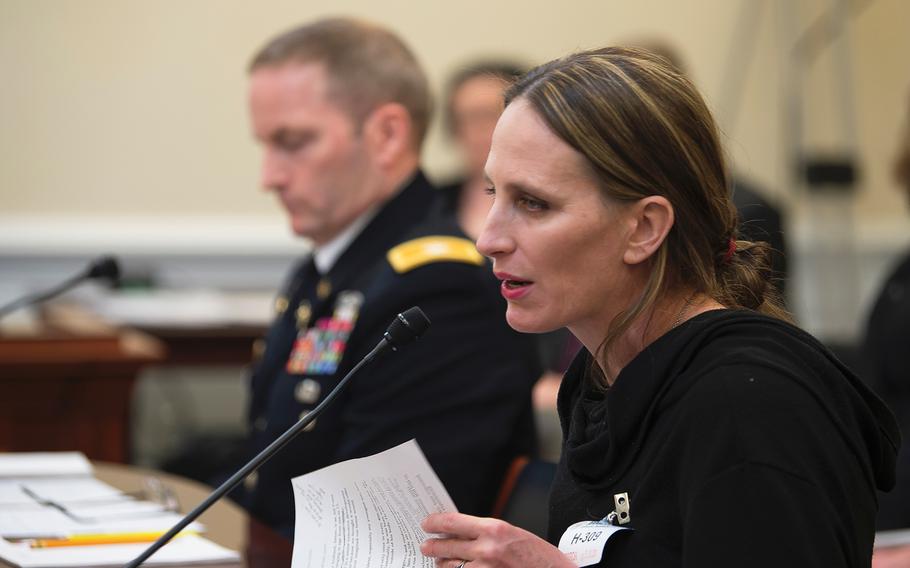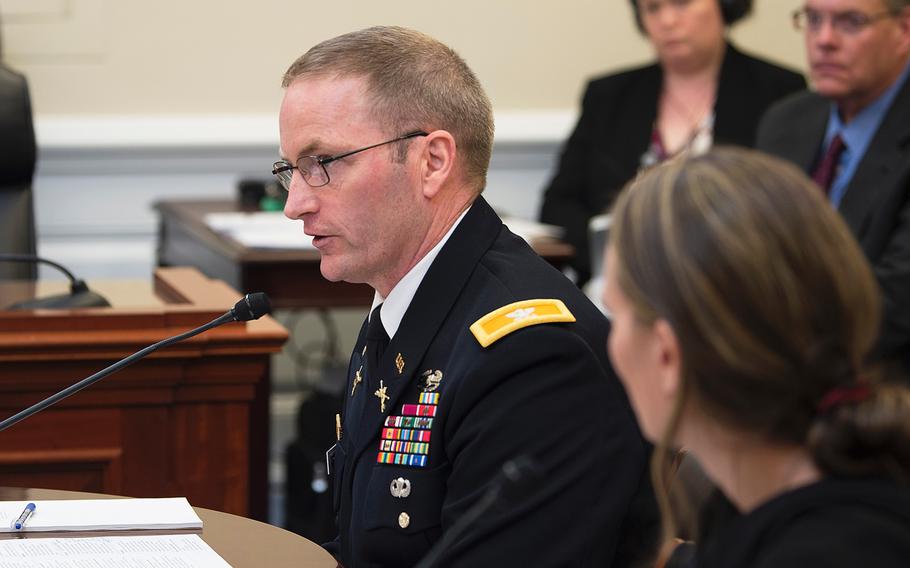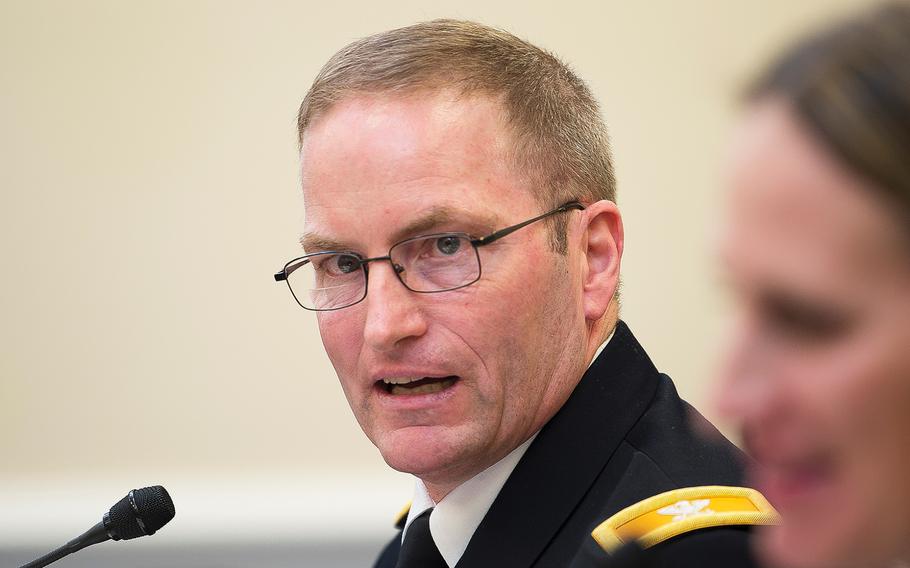 The three additional rights that Congress mandated the Defense Department provide military housing tenants — access to a home's maintenance history, a process to resolve disputes and the ability to withhold rent until disputes are resolved — could be added by May 1 to the recently signed tenant bill of rights, Pentagon official Pete Potochney said Tuesday.
The tenant bill of rights, which was signed a week ago by Defense Secretary Mark Esper, includes 15 of 18 rights that Congress mandated be provided through the 2020 National Defense Authorization Act to the roughly 10% of military service members and their families who live in stateside base housing managed by private companies.
The three rights left out caused concern for some lawmakers Tuesday during a hearing of the House Appropriations Committee subpanel on military construction, veterans affairs, and related agencies.
"This is not a suggestion. It's not optional in the NDAA. It's mandatory on the Department of Defense to start implementing these things," said Rep. Matt Cartwright, D-Penn.
After last week's roll out of the bill of rights, which is set to take effect May 1, the Pentagon received backlash from some lawmakers. Sens. Jim Inhofe, R-Okla., and Jack Reed, D-R.I., the chairman and ranking member of the Senate Armed Services Committee, expressed their concern that the document was incomplete.
"Considering we made our position clear at the numerous hearings we held last year and in our initial version of the defense authorization bill back in May 2019 — and they were enacted into law on an overwhelmingly bipartisan basis — we are extremely disappointed to see these glaring holes," the senators wrote in a prepared statement. "We prioritized meaningful reforms like these in our bill because they give military families due recourse and force the [Defense Department] and housing companies to be accountable to the families they serve. The department's release is yet another missed opportunity."
Esper has said the three rights were left off because of the way that they interfere with the contracts signed between military departments and the 14 private companies that manage base housing.
Potochney, the acting assistant secretary of defense for sustainment, reiterated that point in Tuesday's hearing, and told Cartwright: "We are working with privatized partners for a process that will allow them to deliver on the commitment that's in the tenant bill of rights. If we were to post them right now, we wouldn't have a means to deliver to fulfill that promise to our residents."
"Why would the landlords' opinions or desires or wants have anything to do with it?" Cartwright responded.
The exchange came at the close of the nearly three-hour hearing, which included testimony from two tenants, representatives of five private housing companies and Elizabeth Field, director of defense capabilities and management at the Government Accountability Office.
Army Col. Scott Gerber, a housing tenant, also advocated for the bill of rights.
"Tenants need to have a level playing field" and enacting the missing rights allows for that, he said. "We have to establish oversight."
Gerber and his family, who leased a house at Fort Meade, Md., is one of 11 families to sue Corvias, a private military housing company, for poor housing conditions. More than a dozen lawsuits from military families claiming they experienced negligent maintenance and unsafe living conditions from private housing companies are pending across the country.
A lawsuit filed last month against Lincoln Military Housing for a Navy member's home at Camp Pendleton, Calif., indicates that some of the behavior that Congress condemned in hearings more than a year ago is still taking place. Lincoln is facing at least nine ongoing lawsuits in the San Diego area.
Gerber chose litigation after battling the company to remediate toxic mold and leaks found in the home. His wife, a former distance runner, developed asthma from the condition of the house, he said.
"Our situation wasn't unique," Gerber said. "I've deployed to combat three times. I've executed over 400 combat patrols. I carry a list of 42 friends and comrades we lost in combat, six of them under my command. So when I see what we saw at Fort Meade, it's personal. We cannot send people into harm's way wondering if their family is in danger because of the house they live in."
"You face enough enemies in combat, your house shouldn't be among them," said Rep. Debbie Wasserman-Schultz, D-Fla., the subpanel chairwoman.
Ranking Republican member Rep. John Carter of Texas asked the representatives of the housing companies what is the origin of so many water problems within military housing. They answered that issues ranged from aging homes to construction defects.
A Hampton Roads, Va., neighborhood inherited from the Navy has a systemic problem with improperly installed air conditioning ducts and vent covers, Jeff Guild, vice president of Lincoln Military Housing, offered as an example.
Rick Taylor, president of facility operations, renovations and construction for Balfour Beatty Communities, referenced a defective product used to build homes at Tinker Air Force Base, Okla., while also noting the aging homes at the base show a pattern of problems with heating, ventilation and air conditioning.
"It's not consistent across all of the portfolio," Taylor said. "Where we have incidents of mold, we look for pattern issues that we need to address."
To generate money to fix this ongoing problems, Heath Burleson, a partnership adviser with Corvias, said a steady, more predictable flow of rent, paid though service members' basic allowance for housing, or BAH, would help. Reductions in troop levels and a 5% drop in BAH have led to cash flow concerns, while also reducing outside capital investment opportunities.
"You took these contracts knowing what the BAH was," Wasserman-Schultz said. "To come and suggest that our tenants aren't paying you enough money is mind-blowing. I hope you're not suggesting the solution is put more money in your pocket."
"We need to figure out stabilization of BAH," Burleson said.
In later testimony, Field said the GAO recently initiated an audit of how BAH is calculated. She also said a report on the Defense Department's oversight of military housing triggered by the 2018 Reuters news coverage of the conditions of some base housing is due to be released this month.
Meanwhile, the Defense Department's Office of Inspector General announced Tuesday that it will begin its congressional mandated evaluation of base housing this month.
"We are only at the beginning of our oversight role here," Wasserman-Schultz said.
thayer.rose@stripes.com Twitter: @Rose_Lori
---
---
---
---