Congress on a collision course with Trump over scrubbing Confederate references from military bases
by
Steve Beynon
July 1, 2020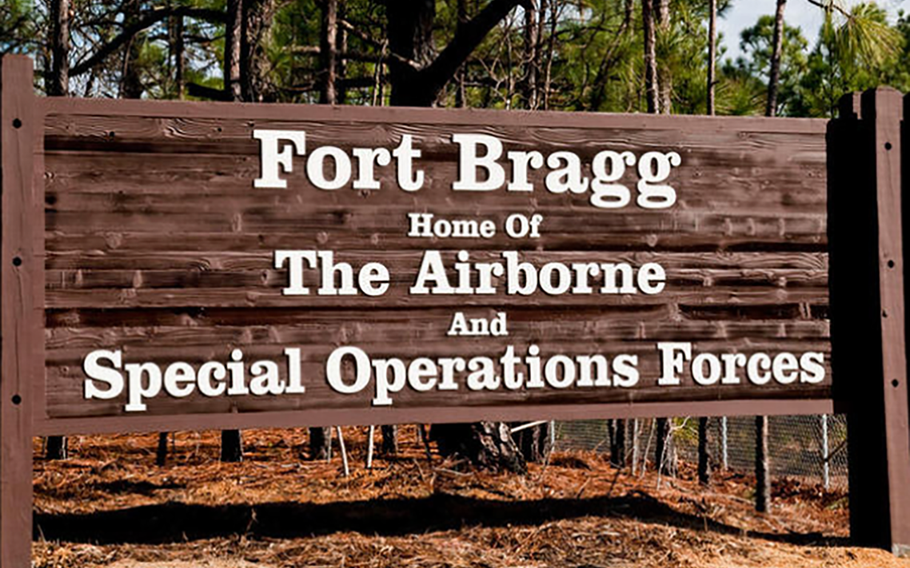 WASHINGTON — President Donald Trump has threatened to veto the annual defense funding bill over a Senate amendment to rename U.S. military bases that honor Confederate generals from the Civil War.
"I will Veto the Defense Authorization Bill if the Elizabeth "Pocahontas" Warren (of all people!) Amendment, which will lead to the renaming (plus other bad things!) of Fort Bragg, Fort Robert E. Lee, and many other Military Bases from which we won Two World Wars, is in the Bill!," Trump tweeted late Tuesday night.
The House and Senate versions of the 2021 National Defense Authorization Act, which sets yearly policy and funding priorities for the Pentagon, include amendments that would rename bases honoring Confederates generals.
Sen. Elizabeth Warren, D-Mass., introduced an amendment June 9 to the Senate Armed Services Committee's NDAA draft that would rename military bases and assets honoring Confederates within three years. It was passed by the Republican-led committee.
"This bill denies those honors to military leaders who killed U.S. soldiers in defense of the idea that black people are not people, but instead are property to be bought and sold," Warren said.
A House measure introduced Wednesday would ban Confederate battle flags on military bases with the exception of museums and graves. A second House bill would examine renaming the military bases.
Defense Secretary Mark Esper and Army Secretary Ryan McCarthy said in early June that they were open to a conversation about changing the names of 10 Army posts named in honor of Confederate generals after recent protests on systemic racism and police brutality sparked debates about how to deal with public symbols of the Confederacy in monuments as well as the names of military installations.
Shortly after Esper's and McCarthy's comments, President Donald Trump tweeted his administration would not consider the changes. Trump's pushback was followed by a White House briefing at which Press Secretary Kayleigh McEnany said renaming military bases that honor Confederates was an "absolute nonstarter" and it would be a dishonor to troops who deployed from those bases.
But lawmakers on Capitol Hill have moved to use the 2021 NDAA as a vehicle to rename bases and banish Confederate flags after the May 24 killing of George Floyd by police in Minneapolis and subsequent nationwide protests over police brutality.
Congress has turned more attention to scrubbing Confederate references on military bases to reconcile with racial injustice — something the services have the power to do on their own, though some have yet to do.
"It has been more than 150 years since the end of the Civil War," Warren said. "But ten U.S. Army posts around this country currently bear the names of officers of the Confederate States of America. Think about that. These bases were named to honor individuals who took up arms against our nation, in a war that killed more than half a million Americans."
A veto of the proposed $740 billion NDAA could have severe consequences that include delaying $1 billion for research related to the coronavirus pandemic, no funding for new aircraft or ships, and no 3% pay raise for troops. Senate Minority Leader Chuck Schumer, D-N.Y., called Trump's bluff, saying Warren's amendment is here to stay, and rejecting military funding would be political suicide.
"I dare President Trump to veto this vital bill that contains a pay increase for our troops in the name of protecting the Confederacy," Schumer tweeted Wednesday. "The amendment is in the bill, it's bipartisan, and it will stay in the bill. President Trump: If you want to veto this legislation, make our day."
On Wednesday, the House Armed Services Committee began debating its version of the 2021 NDAA.
The House bill introduced June 11 by Reps. Don Bacon, R-Neb., and Anthony Brown, D-Md., would put together a commission to review and make recommendations on renaming military installations and other Defense Department property within a year.
"This is not an issue that requires a lot of study, a vast majority of civilians, Congress and senior [military] leadership support this," Brown said during a debate on the amendment. "The history and cause of the Confederacy is based on slavery and oppression...these are officers that led a rebellion against the United States."
Republicans on the committee backed the broad idea of taking down the Confederate names, but they expressed concern about the strict one year timetable.
"I'm open to a process...certainly there were crimes committed by soldiers on both sides," said Rep. Austin Scott, R-Ga. "I hope the dialogue can continue...I would just suggest there are things named after people who fought on the side of the North who committed war crimes as well...I don't think it should be targeted just at people who fought in the Confederate army."
The 10 Army posts named in honor of Confederate generals are Camp Beauregard and Fort Polk in Louisiana; Fort Benning and Fort Gordon in Georgia; Fort Bragg in North Carolina; Fort A.P. Hill, Fort Lee and Fort Pickett in Virginia; Fort Rucker in Alabama, and Fort Hood in Texas. The installations were named primarily during the south's Jim Crow era in the 1910s and 1940s.
The Navy also has two ships related to the Confederacy: the guided-missile cruiser USS Chancellorsville, named after a Confederate victory in 1863 during the Civil War, and the oceanographic survey ship USNS Maury, named after Matthew Fontaine Maury, who was an important oceanographer. Maury resigned his commission in the U.S. Navy to serve in the Confederate navy, according to a report by U.S. Naval Institute News.
On Wednesday, Brown, an Iraq War veteran, also introduced an amendment into the NDAA without opposition that would ban the display of Confederate flags on military bases.
The Marine Corps and Navy have banned the Confederate battle flag from all installations, ships and aircraft. However, the Army still has not made a decision on the matter for the service.
Yet base commanders have the power to remove the flags themselves. In June, U.S. Forces Korea commander Gen. Robert Abrams banned the battle flag from bases in the region.
"Prohibiting the display of the Confederate flag — a symbol that for so many represents white supremacy, oppression and terror - on Department of Defense installations is an important step in that reckoning," Brown said. "Our armed services must foster a diverse, inclusive and welcoming environment for all Americans to serve the country they love. The display of the Confederate flag and related racist symbols have no place in our military."
beynon.steven@Stripes.com Twitter: @StevenBeynon
---
---
---