Committee arrives in Texas for two-week review of command climate at Fort Hood
by
Rose L. Thayer
August 31, 2020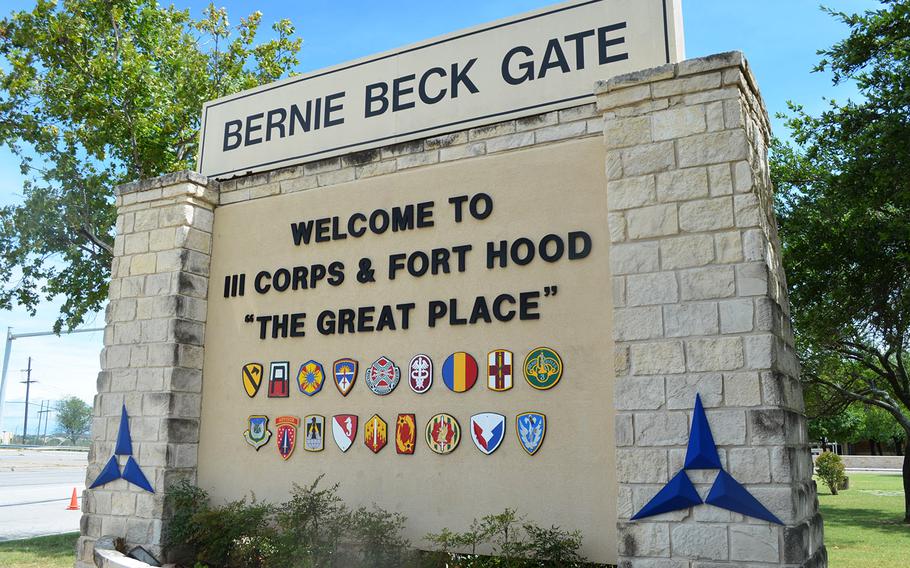 AUSTIN, Texas — The five civilians selected by the Army to conduct an independent review of the command climate and culture of Fort Hood arrived Sunday in the nearby city of Killeen to begin a "two-week fact-finding mission," the Army said Monday.
Announced in July, the Fort Hood Independent Review Committee was created by Army Secretary Ryan McCarthy following the disappearance and death of Spc. Vanessa Guillen, which triggered outcry for reform at the central Texas base from veterans, advocacy organizations and members of Congress.
Guillen, 20, went missing from Fort Hood on April 22 while working in an arms room with the 3rd Cavalry Regiment's Engineer Squadron. Her remains were found June 30 alongside a river about 30 miles from the base. She was killed by a fellow soldier who later killed himself.
Aside from Guillen's death, four other soldiers at the base have died by homicide this year, according to the information from the Fort Hood Public Affairs Office.
During their two weeks in Texas, committee members will "examine the command climate and culture at Fort Hood and the surrounding military community to determine whether they reflect the Army's commitment to safety, respect, inclusiveness, diversity and freedom from sexual harassment," according to an Army news release about their arrival. Members plan to meet with unit leaders, soldiers, local officials, law enforcement and community groups.
Guillen's death also raised concerns about the implementation at Fort Hood of the Army's Sexual Harassment/Assault Response Prevention Program, known as the SHARP program. Guillen's family said that prior to her death, the soldier told them she had faced sexual harassment on base.
Last week, Fort Hood soldier Sgt. Elder Fernandes was found dead in Temple after a weeklong search for him. Prior to his disappearance, Fernandes filed a report of abusive sexual contact. At that time, Fort Hood commanders said they had recently closed the investigation because Fernandes' allegations against another soldier were "unsubstantiated."
The committee is just one of several inspections and investigations ongoing at Fort Hood. The inspector general for U.S. Army Forces Command is reviewing the base's SHARP program and Guillen's former unit initiated an inquiry into how it implements the program. The Government Accountability Office also announced last week that it will review that program Army-wide at the request of members of Congress.
Prior to traveling to Texas, committee members spent several days in Virginia reviewing historical data, attending background sessions and finalizing administrative details.
Its members are former FBI inspector Chris Swecker, Army veteran Jonathan Harmon, Army veteran Carrie Ricci, Marine Corps veteran Queta Rodriguez and Army veteran Jack White. They have a combined 75 years of experience as active-duty military and law-enforcement personnel and they have broad expertise with the law and government investigations, according to the news release. All but Rodriguez now work as attorneys. She is regional director of FourBlock, a nonprofit that helps veterans find civilian careers.
An interim program report is due in mid-September and a final report by Oct. 30, according to the Army news release.
James McPherson, undersecretary of the Army, and Gen. Joseph Martin, the vice chief of staff of the Army, will lead an implementation team to consider every recommendation and implement changes, as appropriate.
Sen. John Cornyn, R-Texas, sent a letter Aug. 24 to McCarthy urging him to "rapidly respond" to the findings of the committee.
"In the meantime, it is clear that more resources must be devoted to the safety of our service members at Fort Hood in order to improve their safety while awaiting the findings of the investigations," Cornyn wrote. "A loss of even a single soldier is an unacceptable tragedy, and the painful events at Fort Hood this year have raised urgent concerns that our nation must address."
thayer.rose@stripes.com Twitter: @Rose_Lori