Commission: Women should be eligible for the draft
---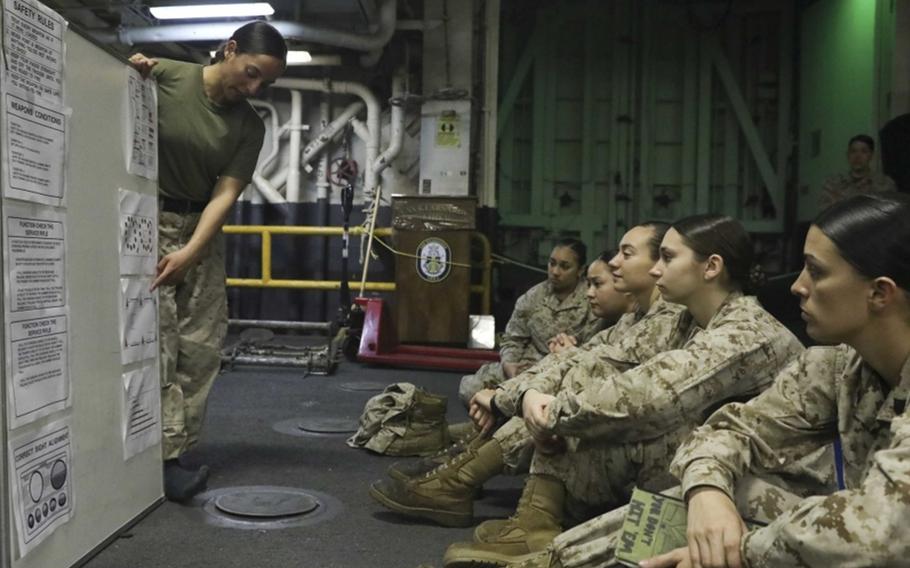 WASHINGTON — A congressionally mandated commission recommended Wednesday that women should be eligible for the draft and required to sign up at 18.
Congress created the National Commission on Military, National and Public Service in 2017 to develop recommendations about the need for a military draft and how to foster an interest in all types of national service among young Americans. In their final report, which was shared with the Pentagon, White House and Congress this week, commissioners recommend extending selective service registration to women.
"Women are as likely as men to be qualified for military service," said Debra Wada, vice chair of the commission and the former assistant secretary of the Army. "Ensuring they are part of the registration pool will only make sure we're more prepared. It signals that all Americans may be expected to serve in a national emergency."
Conscription into the military hasn't been used in more than 45 years, but adult men are still required by law to sign up for selective service at 18. The commission proposed that Congress introduce legislation to amend the Military Selective Service Act to eliminate male-only registration. The policy change would expand draft eligibility to all Americans ages 18 to 26.
Over a period of nearly three years, commissioners held public meetings and hearings, spoke to people in 42 cities, consulted more than 530 organizations and collected 4,300 public comments. The topic of extending the draft to women "evoked a range of passionate and heartfelt views," the commissioners wrote.
In the end, they decided the male-only military draft excludes women from a fundamental civic obligation, reinforces gender stereotypes about women's roles and omits a skilled population from being called into military service during emergencies.
The commission found that 29% of men and slightly more women, at 29.3%, are qualified to meet the initial physical and educational standards to serve in the U.S. military, Wada said.
"Ultimately it comes down to making sure that at a time of critical need, we have access to highly qualified individuals," she said.
More than 224,000 women serve in the U.S. military. Former Secretary of Defense Ash Carter ordered the opening of all combat roles to women five years ago, and at least 30 women have successfully completed Army Ranger School, according to the report.
The policy change is long overdue, commissioners said.
The report, titled "Inspired to Serve," listed dozens of recommendations to increase Americans' participation in military, national and public service. It aims to make a "service year" a rite of passage for young Americans and boost standards for civic education from kindergarten through high school.
U.S. Sen. Jack Reed, D-R.I., said Wednesday the report came at a "pivotal moment," as the country grapples with the coronavirus pandemic.
"Our national service infrastructure, from the military, to public and community service, has been called into action to fight the COVID-19 virus," Reed said. "This is not a report that should sit on the shelf, this is a call to action. These recommendations can serve as a guidepost for what the future of national service looks like."
Rep. Michael Waltz, R-Fla., a combat veteran, said he would work with other lawmakers to turn language in the report into legislation.
"Whether it be in the National Defense Authorization Act or stand alone, we are going to make this happen," he said.
Wentling.nikki@stripes.com Twitter: @nikkiwentling
---
---
---
---