Combat controller will receive Air Force Cross for actions in Afghanistan ISIS fight
by
Corey Dickstein
September 12, 2019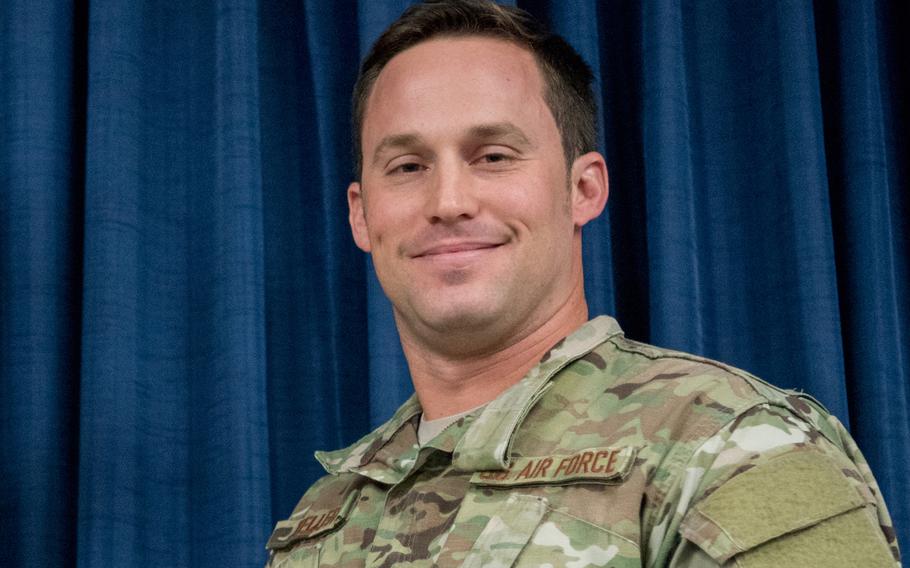 WASHINGTON — Air Force Staff Sgt. Daniel P. Keller had already been fighting for 15 hours when a house rigged with improvised explosives just feet away from the combat controller blew up, forcing him to the ground, injured and dazed.
The sudden blast in the midst of the fight with Islamic State-aligned terrorists in a rocky valley of eastern Afghanistan's Nangarhar province would leave Keller with a traumatic brain injury. But he kept fighting, eventually braving enemy fire numerous times and directing critical airstrikes on ISIS enemies that would ensure 130 members of the U.S.-Afghan commando force escaped alive and directly led to the deaths of 50 terrorists, according to the Air Force.
For those actions on Aug. 16, 2017, Keller will receive the Air Force Cross on Friday from Gen. David Goldfein, the Air Force chief of staff. He'll become just the 11th airman to receive the service's second highest honor for battlefield valor in the post-9/11 wars. One of those airman, another combat controller Tech. Sgt. John Chapman, had his Air Force Cross for actions in Afghanistan in 2002 upgraded last year to the Medal of Honor.
Keller, 34, who has been promoted to technical sergeant since returning from Afghanistan, learned he would receive the Air Force Cross on Wednesday. The airman, assigned to the Kentucky Air National Guard's 123rd Special Tactics Squadron, will receive the award in a ceremony at the Kentucky Guard's Louisville headquarters.
"It's very humbling," Keller said Thursday. "It's also – you think about all the other guys in these events, and the amazing stuff you see guys do in combat that might not be recognized. It's weird, man. I'm very honored and humbled that the Air Force thinks what I did that day deserves this recognition."
Keller's memories of that day are painful. He lost a "good friend," Army Staff Sgt. Aaron Butler, a Green Beret, who died from injuries suffered when the house exploded. Three Afghan commandos also died on the mission and 30 members of the force suffered injuries.
But more troops would have died had Keller not taken the actions he did, according to his Air Force Cross citation.
After the explosion knocked him to the ground, Keller quickly returned to his feet and began repelling enemy fighters about 150 meters away with his M4 carbine. Meanwhile, he directed strikes from American aircraft and coordinated a medical evacuation for 13 critically injured troops.
Keller helped move those troops to the helicopter landing zone "under a hail of enemy fire," according to the citation. He then took it upon himself to make certain those men could be removed from the battlefield.
"When medical evacuation helicopters were unable to identify the landing zone, he sprinted to the center of the field, exposing himself to enemy fire in order to marshal in both aircraft and aid in loading the casualties," the citation reads.
The fighting continued. Keller volunteered to walk the 2.5 kilometers to a nearby combat outpost to escort wounded teammates who could not be exfiltrated by helicopter. When ISIS launched another attack from three directions, Keller again repressed it with his M4 and coordinated with another combat controller to direct strikes that enabled the American and Afghan commandos to escape the fighting, according to the citation.
The deployment was Keller's second to Afghanistan as an Air Force combat controller, he said. That firefight was just one of 51 that he found himself in against ISIS fighters during the deployment from April to October 2017, according to Air Force records. In addition to the Air Force Cross, Keller received a Purple Heart and a Bronze Star Medal for meritorious service from that deployment.
Keller and the commando team would spend much of the deployment away from fortified compounds, instead conducting "clear and hold operations." The forces would seize ground from ISIS and remain in place until the local villagers, who had fled when the terrorists had taken over large portions of Nangarhar, could return to their homes.
"The fighting was real – and it's still going on. People are still getting hurt and getting killed in that fight today," Keller said. "I think it's amazing what a small group, like a special forces team and their partner forces, is capable of doing against these larger number [of ISIS fighters] who are dug in after taking over these people's homes and villages."
Witnessing local Afghans return to their lives after ISIS was defeated in their villages was rewarding, he added.
"You can see that it's effective as you see the crops returning and seeing lights on at night in these places behind you that you just pushed through and cleared," Keller said. "To be part of that, to assist those people and our [special forces] guys – it was an honor."
Keller remains on active-duty as a full-time Kentucky Air National Guard member, where he has served since 2012. He previously served in the Navy from 2003 to 2009.
Keller is the second Air Force member to receive a high-level valor award for his actions in that battle. Staff Sgt. Pete Dinich, a pararescueman with 24th Special Operations Wing, received the Silver Star on Sept. 6 for his actions during that fight, according to the Air Force.
dickstein.corey@stripes.com Twitter: @CDicksteinDC