Coast Guard member charged with shipmate's death in Alaska found not guilty
by
Rose L. Thayer
September 21, 2020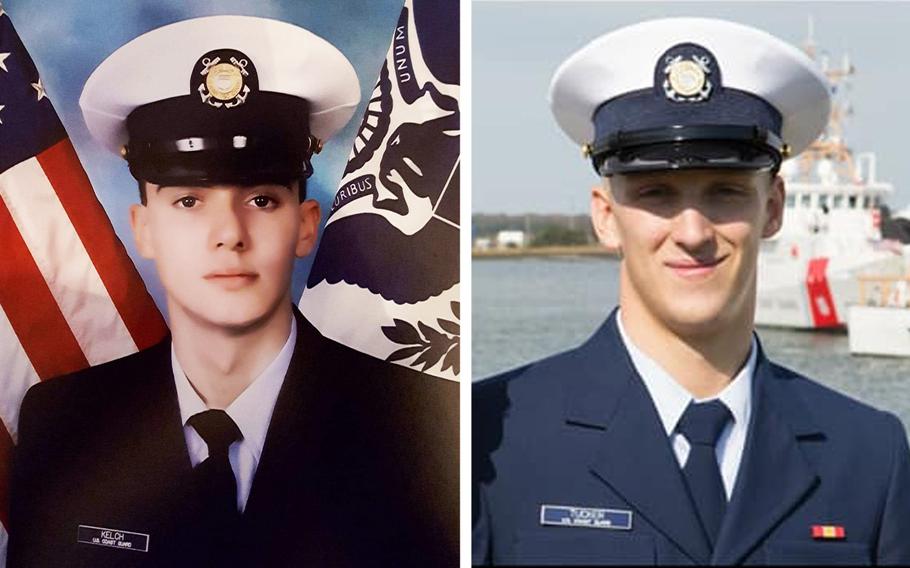 AUSTIN, Texas — A Coast Guard member accused of causing the January 2019 death of his friend and fellow shipmate in Alaska was found not guilty of the charge during a court-martial that ended Thursday.
A military judge in Alameda, Calif., found Seaman Ethan Tucker, 22, not guilty of involuntary manslaughter and negligent homicide in the death of 19-year-old Seaman Ethan Kelch as a result of the eight-day trial, according to a news release from the Coast Guard Pacific Area.
Tucker pleaded guilty to making a false statement, consuming alcohol underage and a general article that included much of the bad behavior that occurred on that night, said Navy Cmdr. Justin Henderson, Tucker's defense attorney.
"He was genuinely trying to take responsibility and be accountable for those actions," Henderson said. "We the defense proposed that plea so that he could take that level of responsibility."
The judge did find Tucker guilty of assault consummated by battery.
Tucker was sentenced to a bad-conduct discharge, reduction to paygrade E-1, and 14 months confinement.
Tucker and Kelch were crew members on the cutter Douglas Munro, based out of Kodiak, Alaska. While the ship was in port for repairs at Dutch Harbor on the night of Jan. 26, 2019, the two men, along with Seaman Trevin Hunter, left the ship and went to a remote area along the water, Henderson said.
"They went on a little hike out to a remote part of the island where these three guys all got drunk," he said. "They went out there, didn't tell anybody where [they were] going and had no emergency contact capability. They put themselves in this dangerous situation."
Through Hunter's testimony and videos from his cellphone, Henderson said he was able to prove Tucker and Hunter were actually trying to stop Kelch from drunkenly going into the frigid water.
"In the first four videos, they are goofing around," he said.
As the videos progress, the joking stops. The men became serious as they shouted and fought to keep Kelch safe.
While Hunter eventually made his way back to the ship, Tucker collapsed about halfway to the ship on the side of a road. The people who found him the next morning testified when Tucker awoke, he immediately said they needed to go back for Kelch, Henderson said.
Kelch was found unresponsive following an air and ground search the next day and later pronounced dead from bleeding in his skull caused by blunt force trauma to the head, according to Tucker's previously released charge sheet.
During the sentencing phase of the court-martial, Tucker spoke to the Kelch family for the first time since the incident.
"It was extremely emotional. He was a wreck. He's been in this unfulfilled mourning process for a year and a half," Henderson said. "I've heard from both families. The trial was a disaster. It was awful to go through this, but at least they can finally start mourning now."
Kelch was from Virginia Beach, Va., according to his obituary. He was buried in Arlington National Cemetery last month, according to the cemetery's website.
Tucker, who is from Ludington, Mich., was arrested in August 2019 and he had originally faced a murder charge from the incident. Though he pleaded guilty to some of the charges against him, part of the agreement was the prosecution would move forward with the lesser charges of manslaughter and negligent homicide
"We were confident. We knew he didn't kill his buddy," Henderson said.
Tucker joined the Coast Guard in August 2017 and then joined the crew of the Douglas Munro on Nov. 13, 2017, as his first assignment following boot camp, according to his service record. On June 4, he was reassigned to Coast Guard Base Alameda, Calif.
He received three days credit for each of the 85 days he's already spent in the brig, and will be released about January. He will begin his sentence at Naval Consolidated Brig Miramar, where he previously served pretrial confinement.
While much of the country's legal system remains on hold because of the coronavirus pandemic, the military has continued proceedings with a variety of measures in place to prevent the spread of the virus.
For Tucker's trial, the proceedings were held in a large conference room instead of a courtroom so all participants could remain at least six feet apart, Henderson said.
Remote viewing locations were set up and space in those observations rooms were limited, according to the Coast Guard Pacific Area Public Affairs Office. All tables and chairs were wiped down during each recess and the witness stand was cleaned between each witness. Everyone also was required to wear face coverings.
thayer.rose@stripes.com Twitter: @Rose_Lori